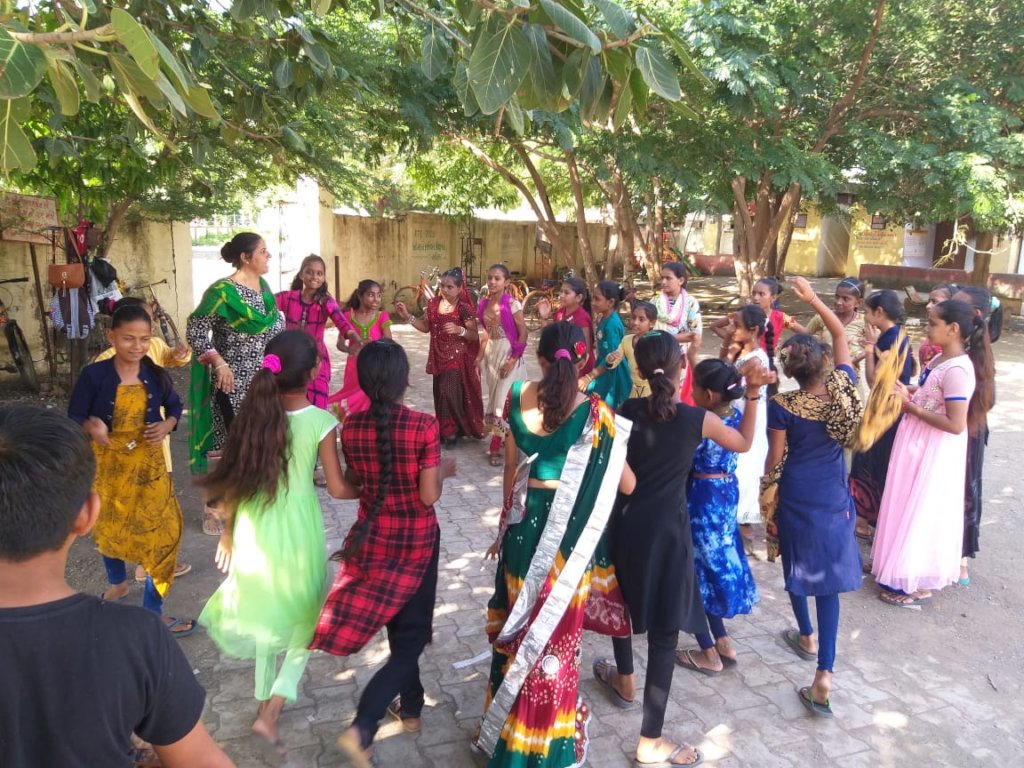 Balsena:
Balsena is an independent children's collective of children in Bhavnagar. During the past 3 months children participated in various activities.
Exposure Visit:

251 Children from Balsena visited exhibition on life of Gandhiji. The children learnt about life of Gandhiji and about his Satyagraha. The exhibition was set up in form of Gandhi Aashram in Ahmedabad which provided children with an opportunity to see that as well. They learnt about spinning and its importance.

Shaishav visit:

Since the exhibition was near Shaishav office we took this opportunity for children to visit office as well. Many new children had not seen it. They got introduced to office and child line staff and their work.

Navaratri celebration:

Navaratri is a festival of Gujarat which continues for 9 nights, where people gather in night to celebrate by dancing together. Balsena children celebrated Navaratri in their zones. 288 children participated in the same.

Leadership camp:

Leadership camp was held on 7th – 9th November with council members and active members. 57 children took part in this camp. The theme of this residential camp was communication, creativity and self-awareness. Children learnt about what is communication, types of communication, realising their dreams, bringing out their creativity etc. For example children were given one scarf and were told to come up with different uses for the same. The children came up with more than 150 uses of a scarf. Children also learnt to do presentation in different manner. They presented what they learnt through different mediums like theatre play, songs, news reading, speaking etc. In communication they also learnt about communicating through body language, talking clearly, asking for clarification listening intently.

When one of the child fell sick during the camp all the children took care of him very nicely. They made sure he ate, didn't feel cold, took medicine and was comfortable. We were touched and felt very happy when we saw this.

Council and active children's meeting:

3 meetings of council and active children were held. 44 children attended these meeting on an average. Children discussed about programs in their point, issues that came up in Child Protection Committee meeting, challenges they face, and about taking actions after bullying research. Children presented problem that some of their parents consume alcohol, and they solved problem by deciding that they would take way of Satyagraha of Gandhiji, and would keep fast if their parents drink.
Zonal Sports:

Sports days were celebrated in zones with games like bear dance, back to back, magician villain and elf, etc. 290 boys and 299 girls participated in the zones. Children learnt to keep their body balanced, listening carefully, focusing and thinking on their feet.
Annual Day:
On 22nd December Balsena celebrated it's 17th Birthday and Tarunsena celebrated it's 12th birthday as an annual day. The theme was sports. Around 600 children participated on the annual day. The day started with a rally followed by flag hoisting of Balsena and Tarunsena. Children played various cooperative team games. The games teach about cooperation, team building, and focus, being here and now and of course a lot of fun. Mr. Bimal was chief guest for the annual day. He is a mountaineer and a marathon runner. He spoke to children about importance of staying fit and playing sports.
Celebration of 25 years of work in Bhavnagar:
Shaishav celebrated 25 years of work in Bhavnagar on 11th and 12 January. Balsena children participated in the event of human library and playing cooperative games with guests. During session of human library Balsena children interacted with the guest about their life stories and how Balsena has impacted their life. Children lead the session of games, they inspired the adults to bring out their inner child and play. Children and adults immensely enjoyed both the session.