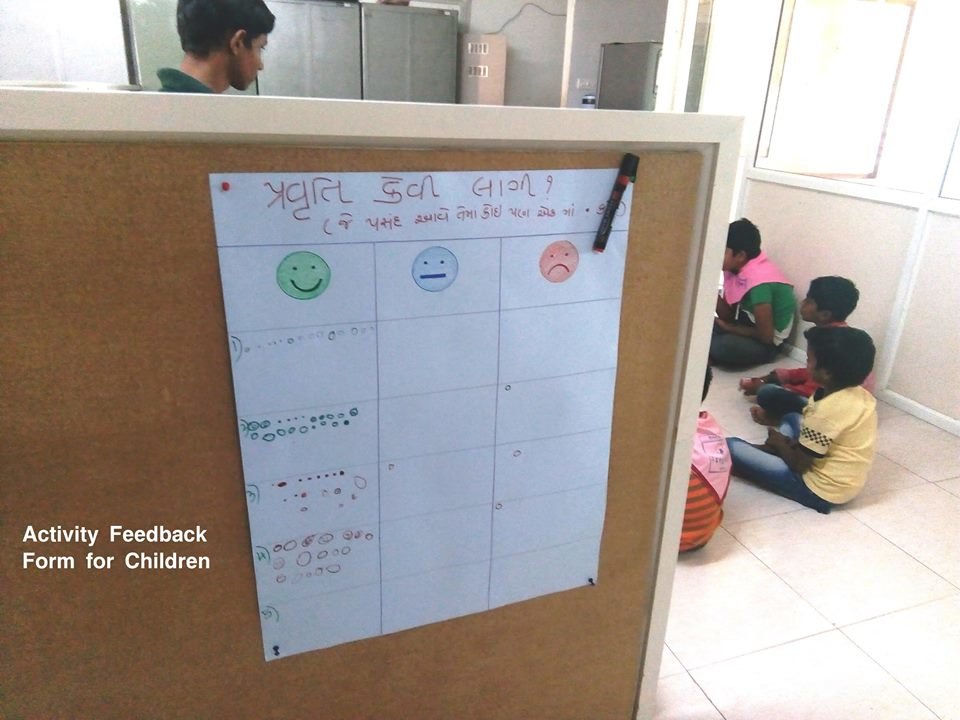 In December, Kishor Mandal (event for adolescent boys) and Kishori Mandal (event for adolescent girls) were held. 109 girls attended Kishori Mandal and 93 boys attended Kishor Mandal. This year's theme was decision making, goal setting, and leadership. Some activities were strategic and required critical thinking and presenting arguments. Others were more energetic and encouraging team members to cheer each other into completing an exercise.
One activity involved body image where groups of children were each given a bar of soap and asked to create a pitch to sell the product. Ultimately, the activity was to get children thinking about how advertisements change how they perceive their own self-image. For the girls, Rakshaben Bhatt, a high school english teacher and historical photographer, presented a powerpoint of photos she took in Ladakh. The girls were very curious and enamoured by the beautiful landscapes. For the boys, Sanjaybhai Desai, trustee of Bhavnagar Blood Bank, past trustee of Shaishav and current principal of Visuddhanand High School talked about how to be a leader. The children listened to stories about the honored guests' lives, accomplishments, and challenges. They were also encouraged to give feedback on each activity so that Shaishav could adjust future program to their interests.
January started off with the Annual Balsena Event. 275 children from 12 different points were taken to a local school for fun, food, and activities with the Shaishav bus. Participatory activities were planned that would allow the children to fully engage in discussions about important values such as leadership, problem solving and decision making. The children watched the film Poorna, which is about a 12 year old girl from Telegana whom climbed Mt. Everest. It is a story about willpower, and courage triumphing over personal fears and limitations. The film was well received and they still talk about fondly nearly a month later!
3 activities in 3 different classrooms were set up. In the first classroom, an activity about leadership was planned. In this game, children were split in to groups where all but one child wore a blindfold, the child that wasn't wearing blindfold needed to guide the group through an obstacle course setup in the room. Prior to tying the blindfolds, a few minutes were given for the children to strategize about how the leader will accomplish this. The leaders were only allowed to use non-verbal cues, meaning gestures like tapping or gently pushing. Each group had unique ways of communicating with their leaders and the activity was well received.
In the second classroom, an activity about problem-solving was planned. They were given straws and rubber bands and had to decide together how many rubber bands they wanted to pick up using the straws. The twist was that the straw had to be held between their mouths and they had to pass the rubber bands from one straw to another without their hands and put it in a basket. So, it was an exercise about how to quickly create and execute an efficient process.
In the third classroom, an activity about decision-making and the importance of time was executed. The kids were asked to think about how much time the spent on several activities during their daily life. For instance, how much time did they spend watching tv? They were asked to cut a length of ribbon that was in proportion to how much time they estimated…as honestly as they could! The activity was meant to get kids thinking about how they spent their time and what activities they could do instead.
At the end of the day, the Balsena President and Vice President gave a presentation on the highlights of the years and accomplishments of Balsena members.