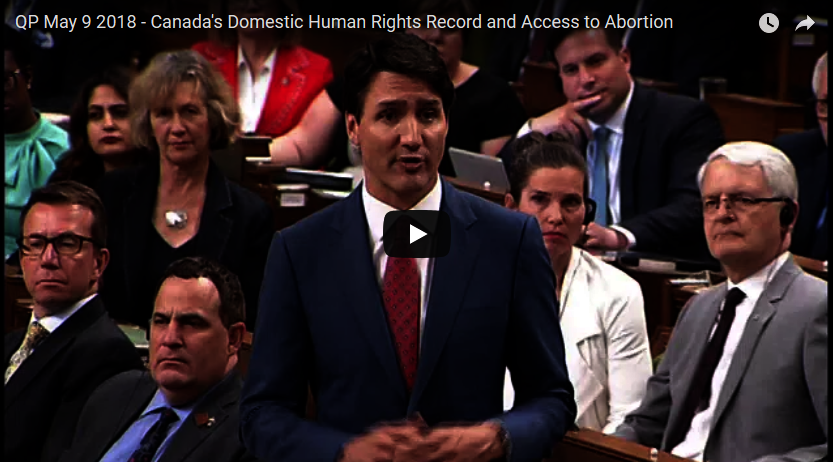 Canada had its third Universal Periodic Review (UPR) at the United Nations.
What is the UPR? It is a UN human rights process where each country's human rights record is reviewed by other UN members, and it was Canada's turn. The UPR is a powerful tool to hold governments accountable for sexual and reproductive rights violations, and to advocate for change.
Sexual and reproductive rights are human rights. Action Canada for Sexual Health and Rights worked tirelessly to prepare for Canada's review, ensuring that violations of sexual and reproductive rights were raised. We prepared a report on Canada's track record focusing on unequal abortion access, lack of comprehensive sexuality education, and the criminalization of sex work. We spent weeks visiting embassies here in Canada to ensure that UN member states would raise our issues during Canada's UPR Review.
Canada now has until September to decide which recommendations it will accept or reject. Last week in advance of the UPR Parliamentarians across parties, including Prime Minister Justin Trudeau, rose in Parliament to declare that abortion is a right.
Click here to read our report for Canada's UPR Review
Because of our advocacy work, this is the first UPR review in which Canada received recommendations related to sexual and reproductive health and rights!
Here's what countries are asking Canada to do:
Ensure equal access to abortion
Ensure equal access to comprehensive sexuality education across provinces and territories
Support programs to advance gender equality and prevent gender-based violence
Step up measures to address systemic discrimination against LGBTQ2SI people and communities
Take steps to investigate and prosecute perpetrators of forced sterilization
Ensure universal access to health care
Click here for the full list of UPR30 sexual rights recommendations for all countries under review.
Sexual Right Recommendations at UPR30
The 30th session of the Universal Periodic Review (UPR) was held at the UN Human Rights Council, in Geneva, from 7-18 May 2018.
Fourteen countries were reviewed during UPR30: Azerbaijan, Bangladesh, Burkina Faso, Cabo Verde, Cameroon, Canada, Colombia, Cuba, Djibouti, Germany, Russian Federation, Turkmenistan, Tuvalu, and Uzbekistan.
The UPR outcome for each State reviewed during UPR30 will be adopted at the 39th session of the HRC (September 2018). The outcome report indicates which recommendations the State agrees to implement and its responses to other recommendations. This is the only opportunity for civil society to make an oral statement during the official UPR process. The SRI, in collaboration with partners and allies, will work to ensure that sexual and reproductive rights are visible during this segment of the UPR process.
The intervening period is an opportunity to engage in dialogue with States on accepting relevant recommendations – and, at the same time, not accepting those recommendations that are inconsistent with human rights norms and standards. It is also a means for gaining the support of media and the general public.
Below are some sexual rights related highlights from each UPR30 review. Click here for the full list of recommendations made related to sexual rights, including State responses to date.
Links: