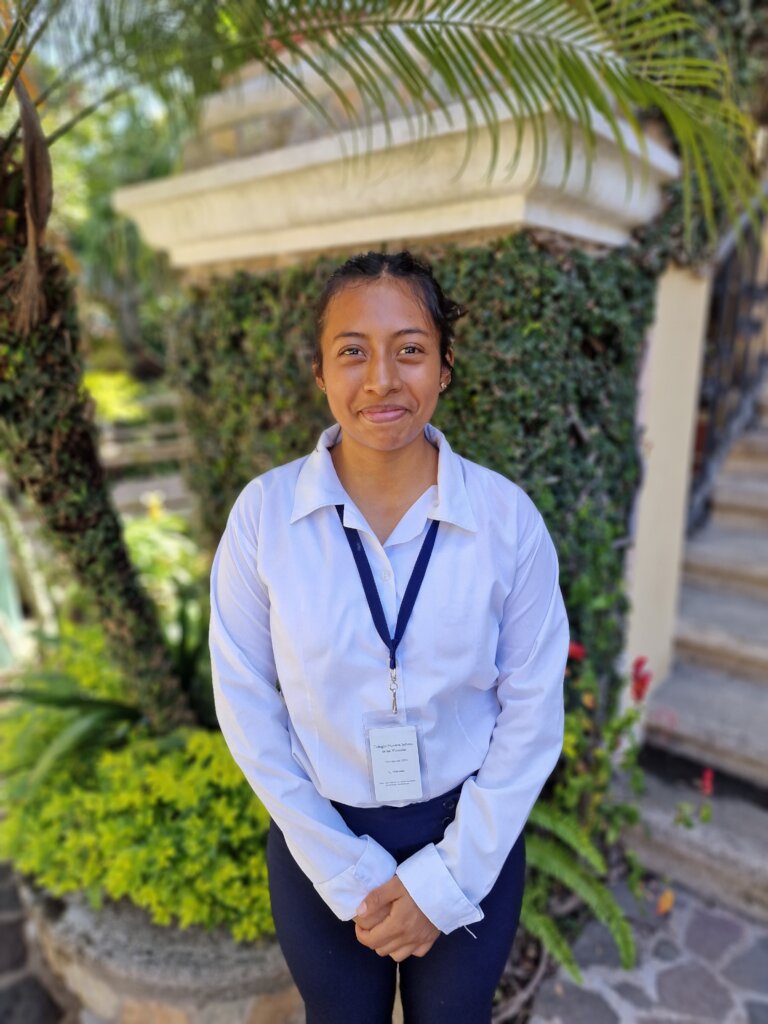 We have been receiving the grades from our scholarship students during the past four months and are currently receiving the grades from the second and third unit. In May we were extremely delighted to receive the grades of our student Miriam*, who is currently in 11th grade. She had managed to get an average of 100% in her 14 classes. This was not necessarily a surprise for us, as Miriam in her previous year of study had gained an average of 99% in her 12 classes, but we were extremely happy nonetheless.
17-year-old Miriam lives in San Isidro with her single mother. They are renting the house, which is made of cement blocks with a sheet metal roof. Miriam and her mother sleep in the same room but have their own beds. The family do not have much furniture in the house.
Miriam's mother makes and sells food, jewellery and baskets as well as selling items from a catalogue. She learnt to make the jewellery and baskets in our Mothers' Club, which she continues to attend. She earns around Q800 ($107) a month but has to pay Q450 ($60) of that a month in rent.
Not only is Miriam working hard to improve her life, but her mother is as well. She is taking English classes to get better opportunities for work. Miriam also took a First Aid course in November 2022 to prepare her for the future and to gain another important skill.
To celebrate Miriam's continuing success we decided to buy her a cake and speaker. Miriam also talked to our National Director, Fabiola Aguilar, who talked about the importance of continuing to studying in the future. We hoped to inspire Miriam to continue to work hard and make a success of herself.
Miriam is in her last year of high school due to her course, and her next step is to go to university. She is applying to the San Carlos University to study medicine, with the benefit of this university being free for students to attend. It does, however, have a strict application process but we think that Miriam's grades and hard work will allow her to be accepted. She will also continue to receive her scholarship from us to help with the cost of supplies and uniform.
In July, Miriam came back to us with her grades from the second unit. Once again, she averaged 100% in her classes. We are delighted that she continues to work extremely hard for a better future. She has also begun taking the exams to get into University and has done well so far. We are supporting with transport so that she can go to Guatemala City and take the exams.
Miriam's dream is to become a doctor, and with amazing grades and a great work ethic, as well as the support of the Project, we believe that she can achieve her dreams. Who knows, maybe one day Miriam will be Nuestros Ahijados's very own doctor in our clinics!
The GOD'S CHILD Project has been working for 30 years to break the chains of poverty through education, housing, nutrition and healthcare. Please click the link below to donate to support us in our ongoing mission.