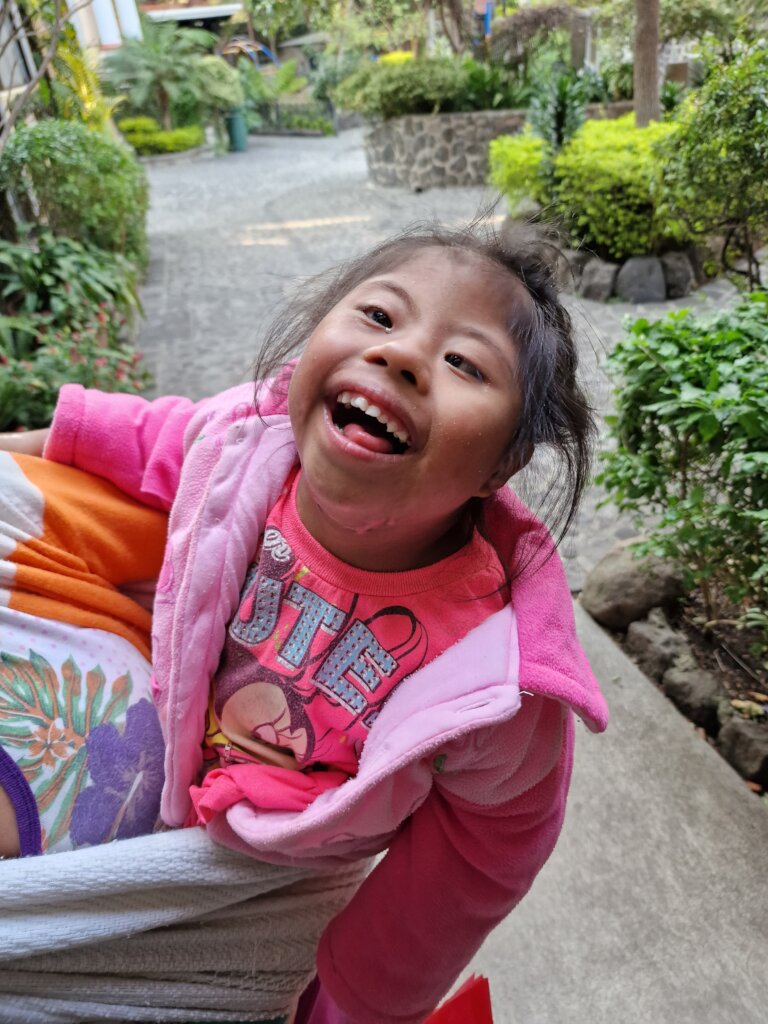 At Asociación Nuestros Ahijados we work hard to ensure that we provide comprehensive support to affiliated families. This year our objective is to expand our programs through strategies and actions that guarantee inclusion and decent living conditions for families living in extreme poverty.
Julieta* was born with Down syndrome and was diagnosed with a congenital heart condition known as Patent Foramen Ovale defect. She has also been diagnosed with a neoplasm on her side that could become a cancerous tumour if it does not receive immediate attention, and difficulty in her hip that prevents her from crawling properly and walking. Julieta and her mother arrived at the Project to request support from our Scholarship and Sponsorship programme in October 2022. Through our services, she will be receiving specialized medical attention.
Julieta had a number of exams and appointments planned for the end of last year, with the costs to be covered by us, but she had an accident in the home that put these on hold. Whilst Julieta was at home being looked after by her older brothers, she pulled on a cloth that knocked over a pot of boiling water and gave her second-degree burns on her neck and chest, covering the area where her tests were going to take place. Now she needs different types of non-invasive exams instead.
While we continue to support Julieta and her family with medical costs, exams and medicine, we are also interested in providing her with an education. This year, she turned 6 and so is at an age where she should be attending school. Julieta can't attend mainstream school, however, as she has Down Syndrome and is not developmentally at a level equal to her peers. Because of this, our Padrinos and Education programmes collaborated to come up with an education plan for Julieta so that she can begin to have access to an education. This plan is tailored specifically to her needs with the aim of helping her to be ready in the future to potentially join mainstream schools.
Despite being unable to walk or talk, Julieta is able to understand when talked to and has her own sign language to communicate her needs. She particularly uses signs to convey when she is hungry or when she has strong emotions like happiness or annoyance. One facet of our plan of action is to encourage Julieta to expand her communication and to start to speak. We also hope to have Julieta work with our physical therapist to encourage her to walk. This will give her more independence and will mean that her mother no longer needs to carry her everywhere.
On top of providing educative help to Julieta, we are helping the whole family as our education sessions allow Julieta's mother some free time in which she can work without worrying about leaving her at home where she may have another accident. This provides peace of mind for Julieta's mother as well as another income for the family.
At Asociación Nuestros Ahijados and The GOD'S CHILD Projectour mission is to reduce the gaps of extreme poverty in vulnerable and excluded populations, to guarantee equal development opportunities through programmes in food and nutritional security, to support families through secondary, technical, and vocational education, health, child nutritional recovery, volunteering and Service teams, housing, economic and social empowerment of women and their families. We also fight human trafficking through long-term solutions to the causes in Guatemala, India and the United States. Nuestros Ahijados is an affiliate of the organization THE GOD'S CHILD Project (GCP).