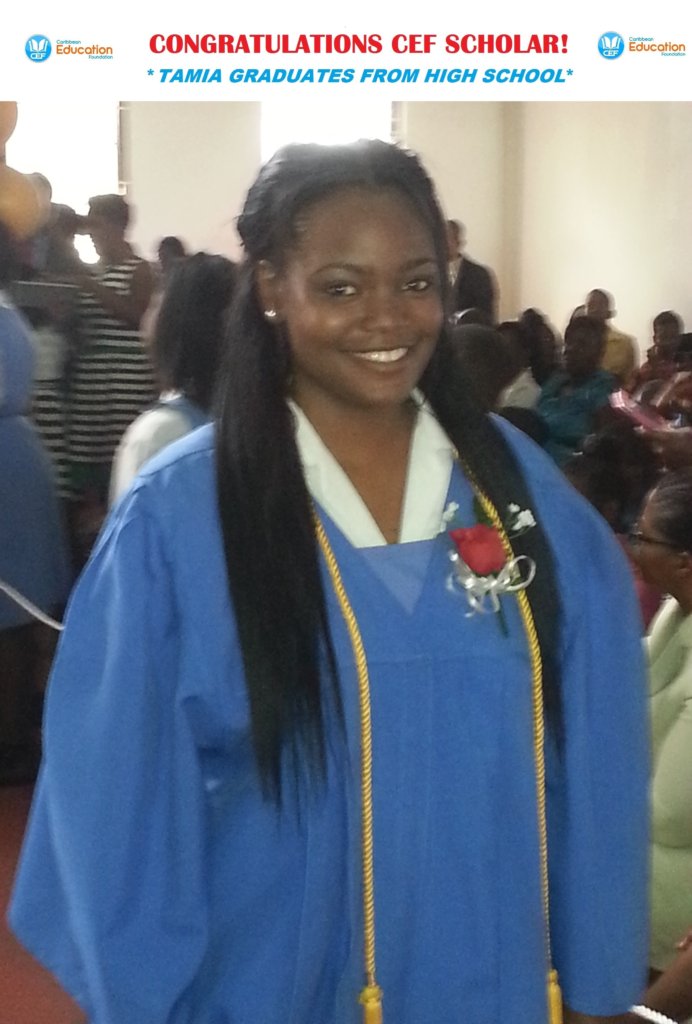 HUGE CONGRATULATIONS to Caribbean Education Foundation Scholarship Recipient, Tamia, who graduated from Hampton High School in St. Elizabeth, Jamaica in 2015! Tamia graduated on the "Principal's Honor Roll" with a Gold cord! She has an overall "A" Grade Point Average for all the years at high school! In addition, Tamia attained 8 SUBJECTS on the CXC exams, including a 1 in Mathematics, Information Technology and English! We are incredibly PROUD of Tamia's stellar accomplishments!
In 2011, at 13 years old, Tamia was awarded the CEF Paul Bogle Scholarship based on high academics and financial need, to attend high school. She graduated from Mount Airy All Age School in Negril, Westmoreland, Jamaica. She was a top student for the Grade Six Achievement Test (GSAT). In 1 of 4 Scholarship Application Essays, Tamia wrote, "I am a hardworking and a disciplined individual who knows that education is the only sure way out of poverty." Since then, each year CEF has renewed Tamia's Scholarship, so she could continue to attend high school. Four years later, Tamia stands as an impressive young lady!
Tamia has to board close to school at increased costs, because Hampton High is located in St. Elizabeth, Jamaica and she lives in another parish. For the first year at Hampton School, Tamia's mother was able to manage okay financially, as she was employed and received some assistance from Tamia's absent father. In November 2010, Tamia's mother was diagnosed with Leukemia and had to stop working regularly due to her deteriorating health condition. During all of this, the father disappeared and his minor financial assistance was cut off.
Despite incredibly challenging family health and financial circumstances, Tamia kept focus and excelled! She received numerous Academic Award Certificates for Outstanding Performance; and made Honor Roll each year!
As Tamia continues in her education quest in Sixth Form and journeys on next to University, we wish her all the best! We hope that she keeps focus and becomes a positive force in her community, Jamaica and the world. CEF will continue to renew Tamia's Scholarship for the next 2 years of Sixth Form, as long as we have funding to do so.

A "HEARTFELT THANK YOU" to our CEF Education Ambassador & Director Emeritus, Mr. Sean C. Donovan, who sponsored Tamia's CEF Paul Bogle Scholarship from 2011-2015! Although the two never met, Mr. Donovan wanted to help a brilliant student from rural Jamaica and adopted Tamia for education sponsorship. He was our CEF Education Ambassador for Tamia. In July 2014, Sean Donovan, a Founding Board of Director of Caribbean Education Foundation, passed away from sudden heart failure and it devastated our organization and his daughter, our CEF Founder & CEO, Nikiki Bogle, Esq. Amazingly, while he was very ill and just weeks before he died, Mr. Donovan emailed fundraising appeals to donors to fulfill his sponsorship of Tamia's final year of high school. As a result, CEF received most of those donations for the 2014-2015 school year after Mr. Donovan's death. December 5th 2015 would have been Mr. Donovan's 57th Birthday. He is greatly missed.
Sean C. Donovan was a true champion of education and elimination of poverty in our world! We truly appreciate his immense and invaluable support to the Caribbean Education Foundation, our brilliant Scholars and team. Sean Donovan's beacon of light shines on forever in our brilliant scholars lives that he has immensely enriched.
A Special Thank You to all the donors who contributed to Sean Donovan's Fundraisers for Tamia throughout the years! You made her graduation a reality.
THANK YOU to everyone who has contributed or will contribute to the Caribbean Education Foundation (CEF)! Our CEF Scholars such as Tamia graduating from High School is the reward for your kindness, generosity and love. Please let us continue to make each CEF Scholar have meaningful access to education in Jamaica!

HOW YOU CAN HELP:
1. DONATE to our GlobalGiving's Annual Year-End Campaign! https://goto.gg/f/16584 CEF must raise at least $3,000 from 30 donors from December 1-31! Please make a donation today! https://goto.gg/f/16584
2. JOIN our Recurring Match Campaign from December 1 through December 31, 2015 for 100% Matching Donation! Become a recurring donor for CEF! Any recurring amount is greatly appreciated.
NOTE: Your recurring donation will receive a one-time 100% match! Here is the direct link: https://www.globalgiving.org/projects/send-a-poor-child-to-high-school-in-jamaica/?show=recurring
3. Give Donations as Holiday Gifts! Tribute Cards: Donate In Honor or Memory of Someone
What better way to spread the holiday cheer and giving spirit than making a donation as a gift! You can make donations to your project as gifts to friends and family.
You can make a tax-deductible donation to our project as a gift or in honor or in memory of someone. You can also send them an email card, print-at-home card, or a paper card in the mail to tell them about your generous gift in their honor.
4. SPREAD THE WORD ON CEF YEAR-END CAMPAIGN 2015!
Do you believe that all children should be able to attend high school, and should not be stymied by poverty of circumstances? We know you do! CEF knows that you have already given to our cause. We are asking you to keep giving, so that we can assist more briliant youth like Tamia; but please also send this Global Giving Report and donation link to your friends, family, colleagues and companies! Tell them why you think this is a great effort to educate our youth! Remember, no one is able to give if they do not know about our cause.
Thank you for your continued support! You make our work possible.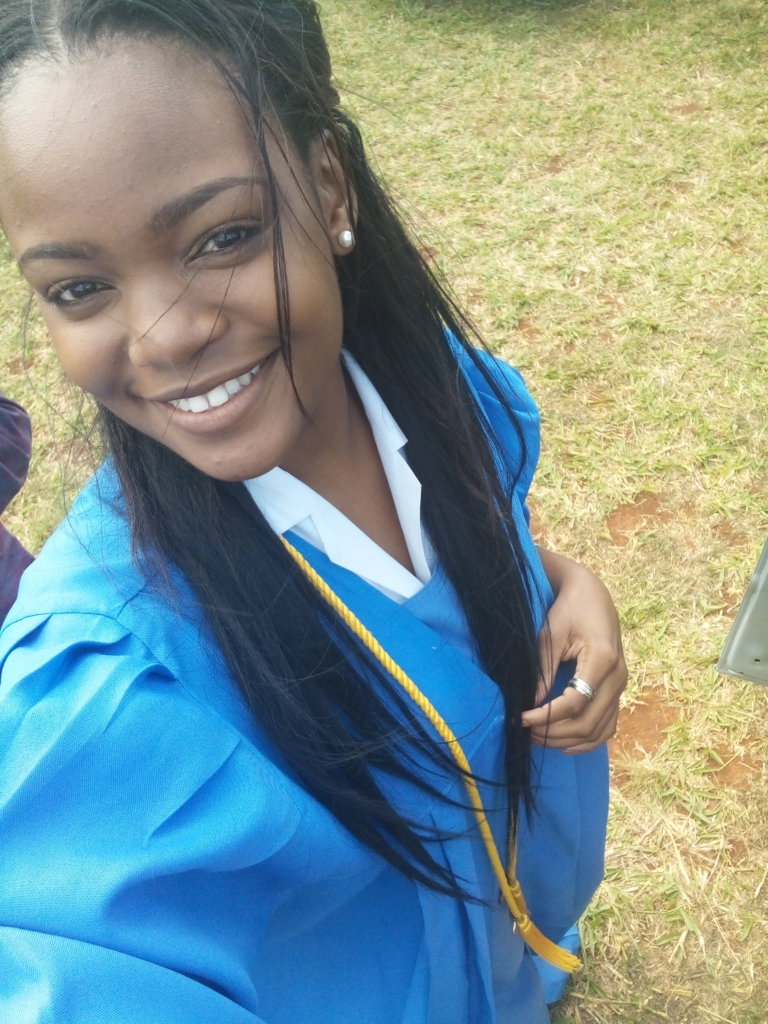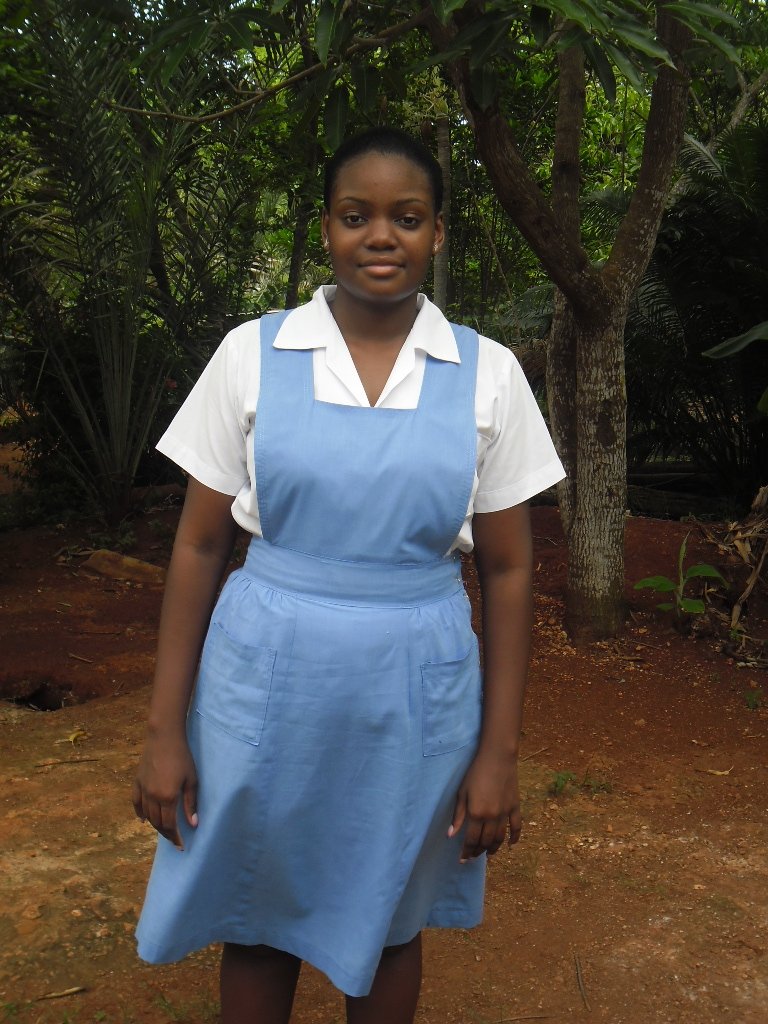 Links: