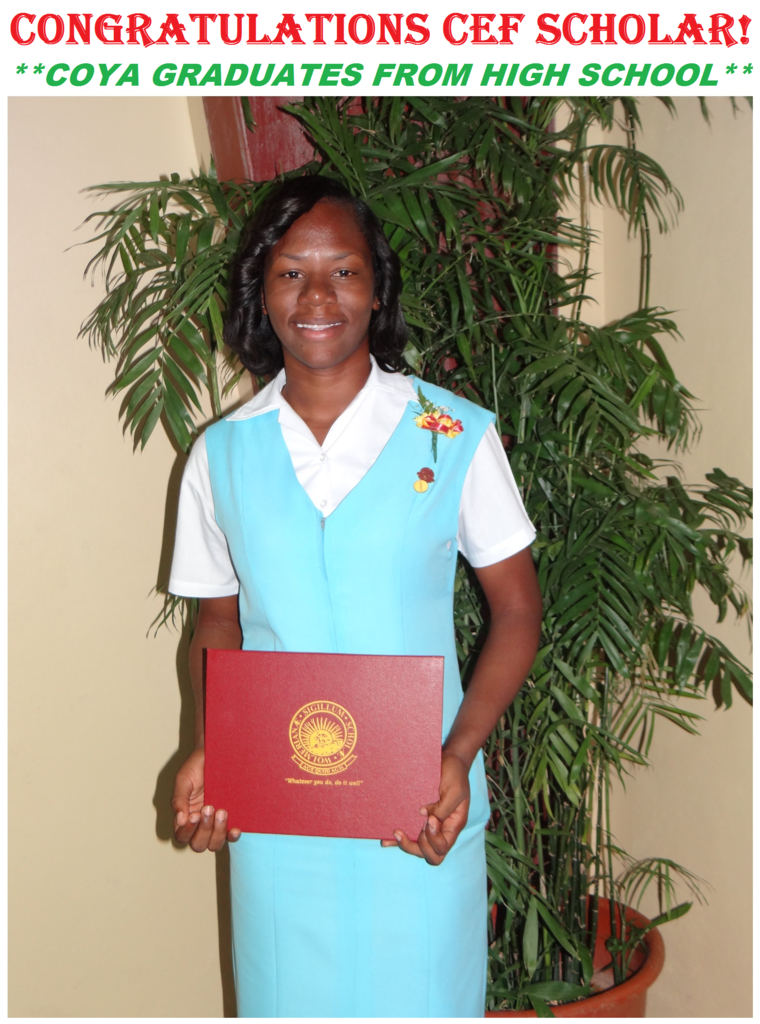 THE HIGH SCHOOL GRADUATE
SHE DID IT!!! BIG CONGRATULATIONS to Caribbean Education Foundation (CEF) Scholarship Recipient, Coya, who graduated from Wolmer's High School for Girls in Kingston, Jamaica! We are so PROUD of Coya's accomplishment!
Graduation was held on Tuesday, June 23rd 2015 and we are excited that some of our team members were able to attend, including CEF President & CEO, Nikiki Bogle, Esquire!
Coya stands as an impressive young lady, now at 17 years old! Five years ago in September 2010, at 12 years old, Coya was one of six students who were awarded a CEF Paul Bogle Scholarship based on high academics and financial need, to attend public high school in Jamaica. She graduated from Duhaney Park Primary School with several academic awards and excellence on the Grade Six Achievement Test (GSAT).
Throughout her primary education, Coya had been a TOP SCHOLAR and earned the highest score at Duhaney Park Primary on the GSAT. She graduated at the top of her school and was Valedictorian of her shift. Among the high sores on all 6 subjects on the GSAT Examination, Coya received 100% in Composition and 98% in Mathematics. Coya lived in Spanish Town, St. Catherine with her aunt/guardian and four children in the household. The financial circumstances were dire and even more so, because her guardian was suffering from breast cancer. Her guardian had undergone a mastectomy and was receiving chemotherapy treatments at the time. In addition to trying to find money to pay for expensive cancer treatments, Coya's guardian had four additional young children she was trying to put through school. Sadly, Coya's guardian died of cancer in 2014.
Each year for the past five years, CEF has renewed Coya's Scholarship in years 2011, 2012, 2013, and 2014, so she could continue to attend high school.
Throughout her High School career at the Wolmer's, Coya continues to excel in academics and plays a leading role on her school's Track and Field team, competing in the Discus. Despite very challenging economic and emotional circumstances, including the death of her guardian from cancer, Coya has held steadfast in focus to do her best and succeed!
COYA'S AWARDS & ACCOMPLISHMENTS
2014: Certificate of Merit for Academic Achievement
2014: Plaque for Highest Score in Mathematics in entire Fourth Form (Grade 10)
2014: Certificate of Excellence in Track and Field
2014: Award for Best Female Athlete
2014: Award for Student Athlete of the Year
2013: Blue Report Award for Excellent Performance on End of Year Exams
2012: Blue Report Award for Excellent Performance on End of Year Exams
2011: Blue Report Award for Excellent Performance on End of Year Exams
2011: Plaque for Highest English Score in entire Second Form (Grade 8)
2010-2014: Honor Roll
As Coya continues in her quest to attend Sixth Form in September 2015; and next planned journey to University to major in Information Technology, we wish her the very best! We hope that Coya continues to keep focus and becomes a positive role model in her community, Jamaica and the world!
CEF will continue to renew Coya's Scholarship for the next two years of High School Sixth Form, as long as we obtain the funding to do so.
We would like say a HUGE THANK YOU to each of you who has financially contributed to the Caribbean Education Foundation (CEF)! Our CEF Scholars such as Coya, graduating from High School and becoming positive role models in their communities, is the reward for your kindness, generosity and love.
Please let us continue to ensure each child has meaningful access to education in Jamaica!