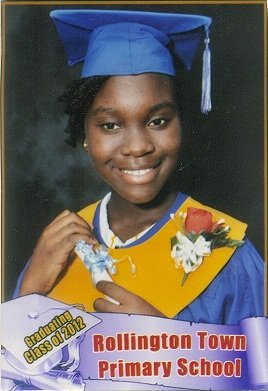 Future Lawyer Nicole is First in Class
The Caribbean Education Foundation (CEF) has been receiving last semester's Grade Reports from our Scholarship Recipients. The Grade Reports we have received thus far have made us proud! CEF is particularly happy that our students continue to stay focus despite their challenges and circumstances and remained steadfast in excelling in high school. It is hard to focus when you have a hungry belly.
Your Donations are making a Difference
Nicole is First in her Class and we are so EXCITED!
Nicole continues to excel at Wolmer's High School for Girls, one of the top high schools in Jamaica. She is now 14 years old and in Grade 9. We recently received Nicole's last term Grade Report. She is not only an "A" Student, but she was placed First in Her Class! She also received a Blue Report Upper Tier Award for excellence in her work!

Nicole lives with her aunt who is her guardian. She has four brothers and sisters. Her aunt is currently unemployed and unable to obtain the funds for school fee, text books and school supplies to attend high school. Nicole says the Paul Bogle Scholarship "will give me the foundation to build a better me and build foundation for my career goal."
Nicole previously maintained an "A" average at Rollington Town Primary School. She earned high scores on the Grade Six Achievement Test (GSAT) in every subject, including 96% in Mathematics and 96% in Social Studies.
Nicole's goal is to become a Lawyer to help others resolve problems. We believe that with your continued assistance, Nicole will accomplish her goals! Our CEF team is very proud of this excellent result for Nicole, and each of you helped to make it happen! Thank you so much for your help!

SCHOLARSHIP RENEWALS:
CEF was only able to renew 10 of our Student Scholarships for the school year, due to a lack of sufficient funds. We continue to seek funding, in order to renew the additional 10 Scholarships, as those students are still without all their text books; and school fees are unpaid. We need your help to assist the additional children.
As you know, Public High Schools are NOT FREE in Jamaica. Our Paul Bogle Scholarships students' pay school fees, textbooks, school supplies, transportation and lunch. CEF is a registered U.S. based 501(c) (3) nonprofit organization and all contributions are 100% tax deductible.
Help Make it Happen: March 18th is 30% Bonus Day on Global Giving!
GlobalGiving's first matching opportunity of 2015 is Wednesday, March 18th! They are offering a 30% match on all donations up to $1,000 per donor per project, while funds remain. There is $60,000 available in matching and matching begins at 9:00 EDT and lasts until funds run out or 23:59:59 EDT. There is also $2,000 in bonus prizes available!
Please help CEF and donate to our project on March 18th, so that we can raise needed funds through this great matching opportunity and complete our Scholarship Awards! Please donate early, as the matching funds go quickly and we need all the help we can get to ensure that all our Scholarship Recipients receive all their text books and pay their school fees.
A "Special Thank You" to all our Recurring Donors! Recurring monthly donations make a huge difference, no matter the amount: $10, $20, $50, $100. Since it is automated, you rarely miss those funds. Please consider becoming a CEF Recurring Donor Today! We would greatly appreciate it.
Huge Thank You to everyone for your continued support! You are giving brilliant poor children meaningful opportunities to transform their own lives out of poverty.