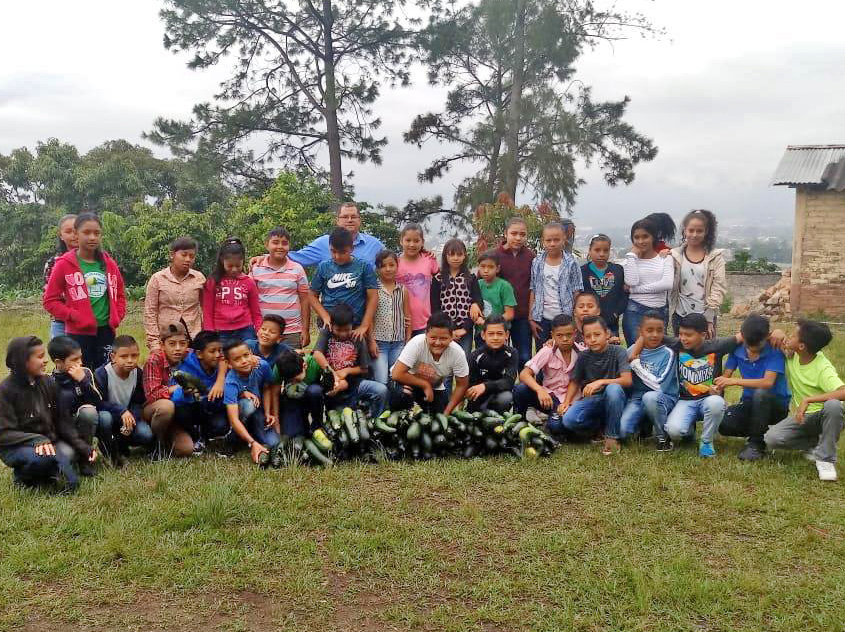 Hi folks,
Today's update comes from CEPUDO (Capacitación, Educación, Producción, Unificación, Desarrollo y Organización) and Food for the Poor in Honduras. CEPUDO serves some of the poorest communities in Honduras with programs that touch everyone from infants to elders. Their program areas include: agriculture, educational centers and schools, community development, water projects, health, training and recreation centers, and more. Specific programs like CEPUDITO and CEPUDO Teens and focus on developing a sense of social responsibility in youth and school age children so they can become change agents in their homes, schools, and communities.
CEPUDO's agricultural programs are supported by their local staff agronomist and Food for the Poor. Food for the Poor networks CEPUDO with local seed vendors in addition to providing access to SPI seeds. Combining local seed sources with SPI seed offers a nutritionally diverse program that can be adapted to the different regional climates of Honduras.
This work could not be done without the expertise of local leaders who are familiar with the region, and the projects and partners that are working within those regions. CEPUDO determined that SPI seeds were best adapted for the western part of the country where they host projects that provide nutrition and income for families and communities. Because local leaders are familiar with the communities that live in these regions, they knew how best to share the seeds. Describing a recent distribution, they write:
"The seeds were selected and distributed according to the weather conditions of each zone of the country where the beneficiaries are located. For example, in...the Juan Orlando Hernandez and El Rondon communities, we distributed chayote (squash), tomato, pepper, onion, cucumber and watermelon seeds because the zone where these communities are located is tropical. At the coffee project, located in different communities of the Marcala municipality, we distributed and planted chayote, carrot, cabbage, tomato and pepper seeds because this zone has cooler and wet weather.
The beneficiaries plant the seeds they receive gradually, focusing on one product at a time. Pepper, tomato and onion seeds are first planted in trays then transplanted into the ground, but cucumber and chayote seeds are planted directly in the ground in the garden and/or community project.
Some of the plants are now flowering and in the vegetable development stage, such as the tomatoes and peppers. They already have vegetables, but may not be ready to harvest.
However, due to various weather zones the chayote (Calabaza-Ayote) vegetables develop faster than the rest. Additionally, Hondurans traditionally eat green chayotes that haven't reached their maturity stage in soups, stews and porridge for babies."
School Gardens in Siguatepeque and La Campa
School gardens in Siguatepeque, Comayagua and La Campa, Lempira provide a space for students and the broader community to learn about new varieties and techniques while growing nutritious vegetables that address hunger and health. These school gardens are also classrooms for entrepreneurial initiatives that can provide livelihoods for a new generation of farmers.
The photos attached to this report shows students and community members preparing the soil, planting seeds, setting up irrigation, and tending the maturing plants. All of these activities are part of a structured program coordinated by CEPUDO, their agronomists, and Food for the Poor.
CEPUDO writes, "We feel very thankful because the seeds you provide us serve to improve the life conditions of our participants. The seeds were well received and [supplied] the people in need. From our organization and beneficiaries we feel really grateful. Thank you for all the support and help you give us, we pray that God continues blessing you in incredible ways."
Food for the Poor closes the report with gratitude, and sums up the essence of this project: "Thank you for your efforts with this invaluable donation of seeds. More than that, it is an opportunity to learn to work and eat from the natural resources available. Additionally, it offers a chance to learn a trade and become entrepreneurial within the agricultural industry — helping one family at a time generate income and come out of poverty."
For CEPUDO, Food for the Poor, and the team here at SPI, thank you. Your support makes collaborations like this possible and helps to ensure that a new generation has access to nutrition, knowledge, and livelihoods.
— The SPI Team