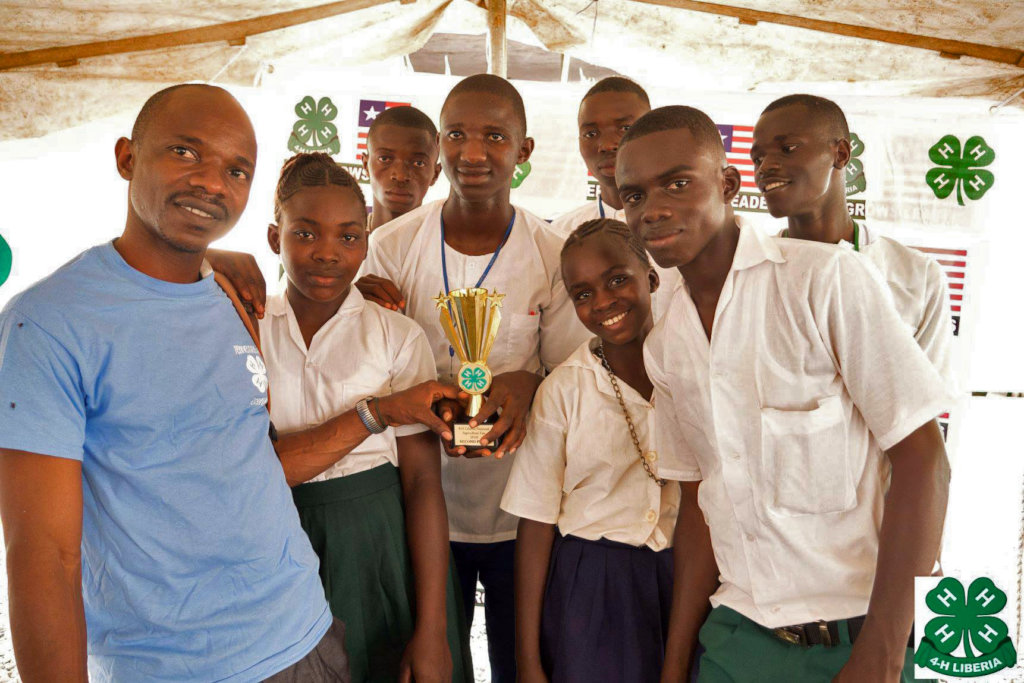 Hi folks,
4-H Liberia is a long-term SPI partner who has been accomplishing good work with students through school gardens for years. Their school-based clubs have reached over 4,000 young people over six counties, serving students between the ages of 13 and 25. 4-H Liberia's garden programs empower young people to become self-sufficient citizens by developing their potential in premier leadership, agricultural sustainability, and essential life skills.
Each school club maintains their own garden, which serves as a platform for learning agriculture. These school gardens are a way to:
Equip students to become competent and self-sufficient in food production
Scout out future farmers
Inspire students to become productive citizens
Enhance students' potential in premier leadership
As part of their support for youth development, 4-H Liberia has integrated a commitment to gender equity into their programs — almost half of their members are young women, many of whom are in leadership positions alongside their male peers. Their staff and students understand better than anybody that the empowerment of women and girls in Liberia is not where it should be in this day and age. They see it in their homes and communities, much like many other places around the world. 4-H Liberia Executive Director Umaru Sheriff repeatedly shares his mantra with his staff and students, "when you enable a girl or a woman to be in charge of her future and livelihood, you become part of the change and development of communities, and it makes waves of positive changes that raise everyone, including boys and men." This is only one of the reasons we're proud to be in partnership with 4-H Liberia!
Annual Agricultural Fair
Each year, 4-H Liberia hosts an agricultural fair in Monrovia where students participate in workshops and educational competitions about their school gardens, agriculture, and agribusiness. Students from 42 schools throughout Bomi, Montserrado, Bong, Margibi, Lofa, and Gbarpolu Counties gathered in January to celebrate the theme: Grow Liberia — Promote Youth In Agriculture.
Six of the schools were chosen as finalists who earned points by answering trivia about nutrition and gardening. Points were also earned through debate, dramatic presentation, and public speaking meant to share their challenges and successes from the past year. Mr. Alvin Wesseh, Assistant Minister for Regional Development Research and Extension, presented the competition awards after delivering his keynote later in the day.
The fair and accompanying school garden competition are the culmination of the 4-H school garden program. Students extend their education by learning the business of agriculture, networking with government officials, and participating in market activities like exhibiting and selling their crops. Umaru outlines the goals of the fair:
Train young men and women in improved agricultural science and techniques that they will use to impact other youth, parents, and community leaders
Allow students to share ideas through communication and leadership training.
Encourage students in pursuing agriculture as a science and a business by rewarding them for their hard work in the school garden with this event.
Help young people see agriculture as a profitable business and viable livelihood removing the stereotype that agriculture is a poor person's job.
Remarks from Mr. Sheriff
During the fair, Umaru shared more about the early days of 4-H Liberia, their work in the community, and what is needed to move forward. A recent report about the fair reads:
"Mr. Sheriff mentioned the successes of 4-H Liberia, how it grew from 3 clubs in 2006 to a little over 80 clubs in 6 of the 15 counties in Liberia at present. He further stated that training received by the students at the 4-H Club's meetings or on the field is taken back home by the club members to practically train their parents in improved agriculture techniques.
He said besides teaching students in agricultural education, the field officers of 4-H Liberia are also helping local farmers within the school community improve agricultural techniques for income generation. Mr. Daniel Mollay, a 4-H Liberia field officer assigned in Lofa County organized farmers, and they planted pepper. The total amount raised from the sale of the pepper was L$ 300,000 (US$1875.00).
He mentioned that the 4-H Club's agriculture curriculum, leadership guide and the enterprise curriculum printed by the partnership of 4-H Liberia and the United States Africa Development Foundation are all worn out. The students, teachers and the 4-H field officers are going through challenges in teaching without the printed curriculum, and this is presently hampering the growth of 4-H in Liberia; the field officer's motorbikes purchased by the Ralph C. Norman Foundation in 2013 have lived their useful lives, causing serious challenge for the field officers to make regular follow-up visits to the schools. Mr. Sheriff called on the Government of Liberia, and International and National Partners to come to the aid of 4-H Liberia to help develop youth in agriculture."
Umaru is a strong advocate for 4-H students and school gardens. He believes in the power of school gardens as a tool for education and economic empowerment. He recognizes that learning alone is not enough to facilitate livelihoods — it must be accompanied by access to resources and a viable market. This fair is an example of how he is helping to weave the future of Liberia's youth.
We hope you found Umaru's work with 4-H as inspiring as we did! We rely on your support to deepen our service to partners like 4-H Liberia. Thank you for your continued trust, and for your support of SPI and our partners.
With gratitude,
The SPI Team
All photos are courtesy of 4-H Liberia.