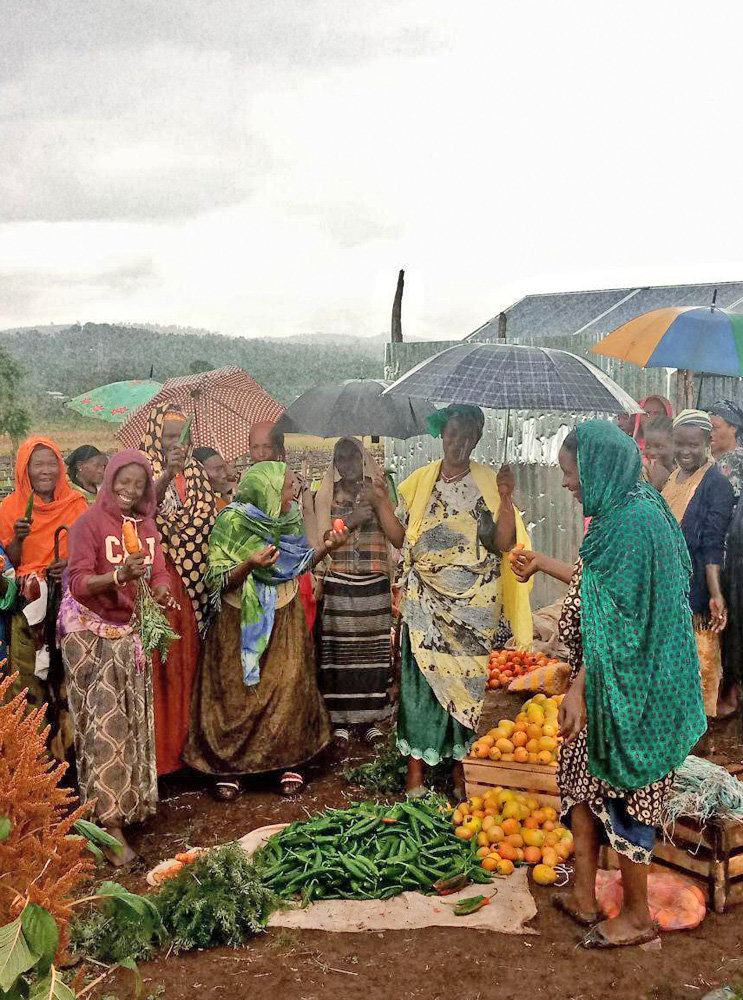 Hi folks,
This month's update comes from GrowEastAfrica, our partners in Ethiopia. If their name sounds familiar, that's becausewe've been working with them since 2016 back when they were DBCO, andwe've shared some of their story before.
Thanks to GlobalGiving partners, GrowEastAfrica and Seed Programs International are undertaking a project in the Burji District of Ethiopia to implement sustainable processes that improve the livelihoods of women who are establishing new livelihoods after being displaced by violence. Their current project, Birhan Vegetables & Pulse Producers & Supply Cooperative, is also known as the Birhan Ladies Group.
The Birhan Ladies Group is a fifty-member women's farming cooperative that was formed after 2,000 refugee families relocated near the town of Mega in southern Ethiopia. The refugee families—all farmers—fled their homes to escape inter-ethnic clashes between two Oromo tribes, the larger Borana tribe and smaller Burji tribe. The Borana are pastoralists, skilled at animal production and its derivative products, while the Burji are farmers who typically produce grains for their diet. For over two centuries, these two tribes co-existed peacefully, relying on one another for commerce and community.
In 2014, the Burji formed a coalition party that defeated the ruling Borana candidates. In retaliation, the Borana violently forced Burji families off the Ethiopian and Kenyan sides of their land. Burji families fled, leaving their farms and animals behind. Some lost their lives. Families traveled 200 miles to take shelter in the Burji District, their ancestral home. Since then, about half of the refugee families have returned to their former homes, while others remained in the Burji District to start new lives — like the Birhan Ladies Group who are regaining power over their own lives through this project.
In the first phase of this project, the Birhan Ladies learned to farm vegetables, teff, and quinoa on 4.5 hectares of leased land. They prepared the land based on knowledge they gained from GEA training that supplemented their traditional knowledge, sowed their seeds, and tended the subsequent plants with care. After the harvest, food was shared among members and their families, and the remaining produce was sold at the local and surrounding markets. Each harvest not only provides members of the cooperative with more food, but that food is nutritionally diverse. Nutritional diversity is important for providing a more balanced diet for their family's—and the community's—health and well-being.
However, the project is not without challenges. Unexpected and continuous heavy rain caused seed losses and waterlogging of sapling plants, ultimately resulting in crop loss. COVID-19 restrictions further stressed the group and community, and strained the group's cooperative efforts. The GrowEastAfrica team quickly implemented training that mitigated the environmental and social stressors and developed a strategy to minimize the impact of water stagnation and waterlogging on the farm. The farmers dug new drainage ditches to divert excess water from the crops and implemented COVID safety standards on the farm to continue their work.
With GrowEastAfrica's assistance and the perseverance of the Birhan Ladies, the success of their project remains steady. Crop yields are projected to increase from previous years and community nutrition is increasing. A key to this success is the Birhan Ladies' confidence. GrowEastAfrica reports:
"The Birhan Ladies have reported improved self-respect and self-reliance. They have improved their status among the community—as producers, rather than recipients of aid. Their model has generated interest in farming, positioning them as local entrepreneurs and trainers."
Donors like you make continued progress possible. We look forward to the Birhan Ladies' bright future and sharing their updates with you as they continue to grow. From GrowEastAfrica, the Birhan's Ladies Group, and Seed Programs International, thank you.
- The SPI Team