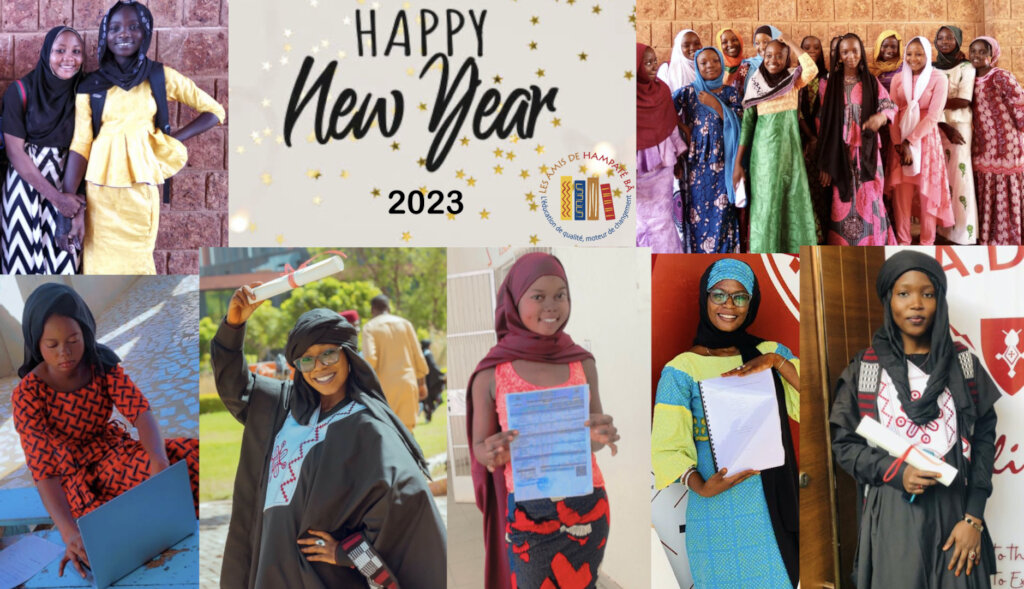 HAPPY NEW YEAR 2023!
2022 : Goodbye to a very successful year for accomplishing goals!
Our non-profit, les Amis de Hampaté Bâ, is pleased to announce that the year 2022 was a prosperous year filled with many accomplishments. Thanks to your faithful support, we were able to meet our goals and not only help underprivileged girls in Niger to get a quality education through funding of scholarships, but also to motivate them to work hard, enjoy studying, and thrive. The girls who are recipients of scholarships from us, are extremely grateful and take their studies very seriously.
After all, these underprivileged girls are receiving a precious gift from our charity : The Gift of Education ! We are thrilled to have made a difference in young girls' lives and have given them hope and we sincerely thank you for your contributions in 2022 that made this possible.
Review of our Achievements in 2022 and what we have done to help empower girls.
===============================================================
Gender equality, a fundamental right - Empowerment of Girls through Education
We firmly believe that gender equality is a necessary foundation for a peaceful, prosperous and sustainable world and that education is definitely the key to helping girls become independent. We have been working for 14 years now to achieve gender equality through our actions to empower underserved young girls in Niamey by providing them with equal access to a quality education. Unfortunately, girls from marginalised backgrounds are penalized and denied access to education since their families cannot afford to pay school fees. The greatest barriers to ongoing education of girls in Niger are poverty and teen marriages. By keeping girls in school, we help girls escape early marriages and by funding scholarships, we give girls equal opportunities to study in spite of economic difficulties in their families.
Scholarships for tuition, but not only… The scholarships we offered in 2022 not only covered tuition, but also provided School Supplies & textbooks. These measures were essential in being able to keep girls in school and avoid early drop out due to lack of support elements.
Weekly Computer training in a computer lab gave our students the opportunity to become computer proficient. The girls were very proud of their evaluations which showed that their results in computer skills were as good as those of the boys in their classes, and sometimes even better. Individual report cards for students in computer classes from 6th grade through 12th grade were made out by a trained instructor and inspired the students even more. They were eager to show their parents that they had mastered the basics of computers, including MS Word, Excel, PowerPoint, Internet access and MS Access. Quite an accomplishment, indeed !
After-School Tutoring sessions gave equal opportunities to scholarship girls who were weak in certain subjects, especially math. These girls had no space to study at home and had no one who could help them with their homework, since most of their parents were illiterate. Therefore, these afternoon sessions at school after the regular classes, were absolutely vital to them, especially for those who were candidates for the BEPC and BAC Diplomas. Consequently, their grades increased amazingly even after the first few months of tutoring.
Girls Mentoring Sessions provided the girls with knowledge and essential life skills that they need to succeed as women. This project also provided training in self-esteem, critical thinking skills, and teenage pregnancy awareness. These private "only girls" classes were very much appreciated as the girls were able to openly discuss amongst themselves with a mentor's guidance, subjects that would have been taboo in front of boys.
Career Talk & Guidance Counselling Girls' Mentoring Programs were held every month starting in January 2022 to help girls choose a career. Our partner in Niamey presented the types of careers with examples and helped each girl visualise a career path adapted to her talents. At the same time, each girl was encouraged to be passionate about what she wanted to do, as a main key to success. The girls received invaluable guidance and counselling in order to stay on track with their educational goals. This counselling proved to help the girls enormously, to envision what path would be the best for them.
Hooray for Diploma results in 2022, which were surprisingly positive. Scholarship recipients at all levels succeeded in moving to the next year. We noticed how Education had uplifted these girls coming from very poor backgrounds and inspired them. Those passing the Brevet exam at the end of the 4th year in Middle School had 100% success rate and those who had moved on to High School after 3 more years had a 75% success rate at the Baccalaureate Exam in 2022. Congratulations are also in order for Alumni who pursued post Bac studies and received Bachelor's degrees in Business, Marketing, Law and Finance. Not to forget those girls who received National diplomas to become nurses and a few excelling in Computer Studies. It has indeed been a great year of achievements !
2023 : Hello to the New Year ! What is in store?
====================================================
Welcome to an innovative new year of even more opportunities for our underprivileged girl students . The future is looking bright and 2023 is bound to be another prosperous year for girls in Niamey ! We are hoping that more girls will receive scholarships and have the chance to study. We can do this with your help.
What better gift could these girls possibly receive to start the New Year than the gift of education ? We have plans to keep improving our focus on empowering impoverished young girls through education. We will continue our actions to educate and empower underprivileged girls in Hampaté Bâ Secondary School and also in institutions for vocational education and training as well as alumni in higher education.
We are seeing girls who were once at risk, maturing and blossoming into well-educated, emancipated, gainfully employed and self-sufficient women. These empowered women are transforming their families and communities.
We are delighted to be a part of preparing them for a great future.
Our aim is to get more girls into school, ensure that they continue their education, overcome challenges, and possess the basic tools needed to succeed in later life. Thanks to YOU, our GlobalGiving donors, we will be able to provide the adequate financial support to make these objectives a reality.
We have witnessed over the years that we can make an incredible difference in the lives of young girls coming from very poor backgrounds. Education uplifts them and can totally change their destinies.
Together we can change girls' lives and make a huge difference. l
Your support is making their education dream come true. Thanks to your generous support, the future of our scholarship girls is looking brighter each day.`
Making a donation is the most effective way to help girls get their education. Every amount donated makes a difference!.Thank you so much for your ongoing support towards empowering and educating girls in Niger.