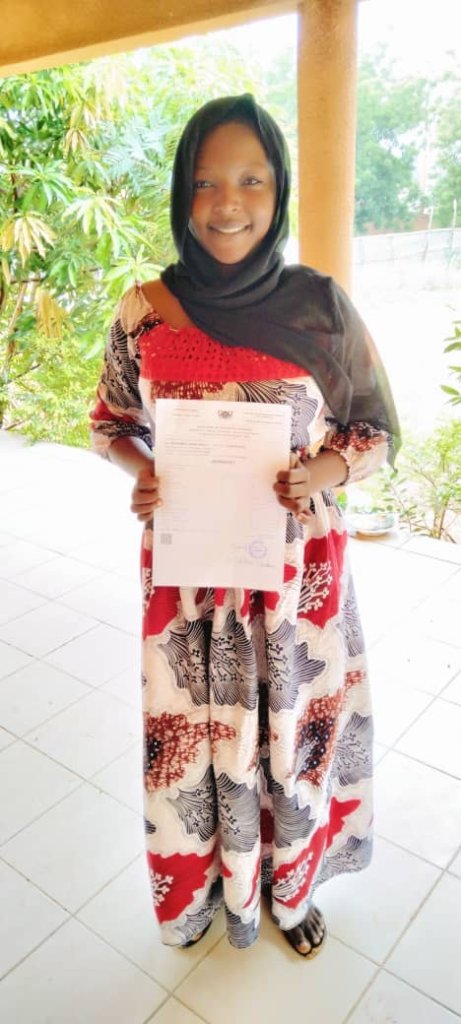 Traditionally, girls in Niger have relatively less access to educational opportunities than boys. This places girls at a disadvantage.
Our organisation has tried to remedy this situation by empowering underprivileged girl students to get equal opportunities for education and to avoid early drop-out at school. Every year there is a constant ebb and flow of girl students to whom our Association provides scholarships to pay for their school tuition and books at Hampaté Bâ School.
We make sure the girls receive guidance and private tutoring to help them stay on track with their educational goals. It is always exciting to welcome the entering students each year and it is just as exciting to see those who leave at the end of the Secondary School cycle with a diploma in hand, ready to conquer new challenges !
New young students come into 6th grade with bright smiles for their first year at Hampaté Bâ Middle School, holding high hopes and eager to learn.
After 7 years of studies, those who have completed Hampaté Bâ High School and have successfully graduated, move on proudly towards other adventures, ready to discover new horizons in universities or vocational training Institutes after getting good results on their Bac Exam.
None of these girls would not have had the opportunity to get an education after primary school without our help, since their families are too poor and could not afford to pay the necessary fees. These girls are courageous and show us that they are more than ready to explore new worlds and are open to learning from new experiences.
HERE IS THE BREAKING NEWS YOU HAVE BEEN WAITING TO HEAR :
ASTOUNDING RESULTS FOR SCHOOL YEAR 2020-2021
We are so proud to announce that our graduating class of 2021 had a success rate of 76% among our scholarship girls. This is remarkable since the average national rate of students who succeeded the 2021 Bac in Niger this year was 23%. We have empowered young girls to overcome hurdles and succeed thanks to your support. This project helps girls stay in school and complete their education and the girls couldn't be more grateful.
OUT OF HIGH SCHOOL AND INTO UNIVERSITIES
Roumanatou talks with glee in her eyes. "I wanted so much to succeed and get my Bac. And I did it! From the bottom of my heart, I thank all the members of the Association who have supported my education over the years. We are also so grateful to the teachers and tutors who have constantly helped us to progress and to grow. We have learned so much and are now ready to learn even more. I am starting Law School with hopes of specialising in International Humanitarian Law to be able to help those in need. "
Indeed, our girl graduates this year are targeting future jobs to help their community and are heading to National Health Institutes, Law Schools, Business Schools, Marketing Schools and Computer Training Schools, to mention a few.
Just imagine !
This is thanks to your wonderful and constant support over the years. It is heart warming to see how girls from very poor backgrounds have been able to beat all the odds, and meet so many difficult challenges.
OUT OF PRIMARY SCHOOL AND INTO HAMPATE BA SECONDARY SCHOOL
Because of poverty, many Nigerien girls are not able to finish primary school or go on to secondary school. Early marriage also hinders girls from pursuing an education and gaining self-sufficiency/independence.
As expressed by Mariamma, who is 12 and is entering Hampaté Bâ School this year thanks to a scholarship offered through GlobalGiving.
"I am so happy and so thankful. This is my dream to go to Hampaté Ba Middle School where I can actually learn and progress. I was afraid that I wouldn't be up to level with the other students, but I have now met some of the tutors who are there to help me raise my level and they have given me confidence in my capacities. I want to show that a girl can really succeed."
THANK YOU FOR HELPING TO MAKE DREAMS COME TRUE
Together we are empowering girls. Your financial support helps more girls to enter school, stay in school, and graduate..Our girl empowerment project ensures that the girls have the life skills and mindset needed for success and continual progress. Your continued donations are making a difference in these girls' lives.
Thanks to your contributions, every year we are able to bring more young girls IN for an education and see them go OUT years later, transformed into mature, well-educated, emancipated, self-sufficient women with a diploma, skills, and future jobs in sight ! We need your donations to keep offering scholarships and empowering girls through our educational projects
THANK YOU.