Project Report

| Feb 20, 2023
Fun science experiments form critical children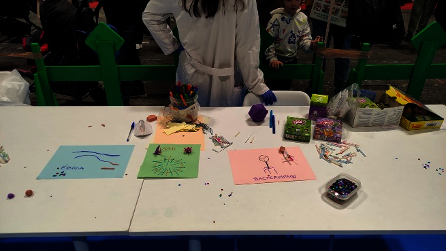 Dear supporters,
We are really happy to share our amazing experience in Juvenalia 2022, the children and youth leisure fair held in Ifema, Madrid (Spain), every December. Once again, Apadrina la Ciencia (Sponsor Science ) has had the opportunity to participate and offer a wide range of experiments carried out with the invaluable help of our volunteers. Thanks to their participation and your economic support, this kind of activity has been possible.
On this occasion, we have counted on the enthusiasm and motivation of more than 40 young researchers to show our children and teenagers how scientists work. The volunteers have become teachers for one day and managed to raise young people's awareness by involving them in different experiments in a ludic and amusing way.
When the kids put on the lab robes, which they love, they feel like real scientists and show authentic curiosity and interest in everything. They enjoy watching, listening, touching… They pay attention to details, and ask lots of interesting –sometimes unexpected- questions. This time they have learnt first-hand concepts such as density and mass in the gradient sweet rainbow experiment or the chromatography technique. They have been especially interested in understanding how viruses behave, although, surprisingly, they are better informed about COVID-19 than we expected. So, while having fun and using their creativity (e.g. making their own virus), they have learnt about science.
From Apadrina la Ciencia (Sponsor Science), we are convinced thta this kind of activity contributes to making scientific work more accessible to children, teenagers, and even their families. It is also an excellent way to have well-informed, critical children, who can identify problems and find solutions, who are able to make good decisions, and who can help others.
Thank you so much for being there and supporting us with your donations, without which this would not have been possible!!