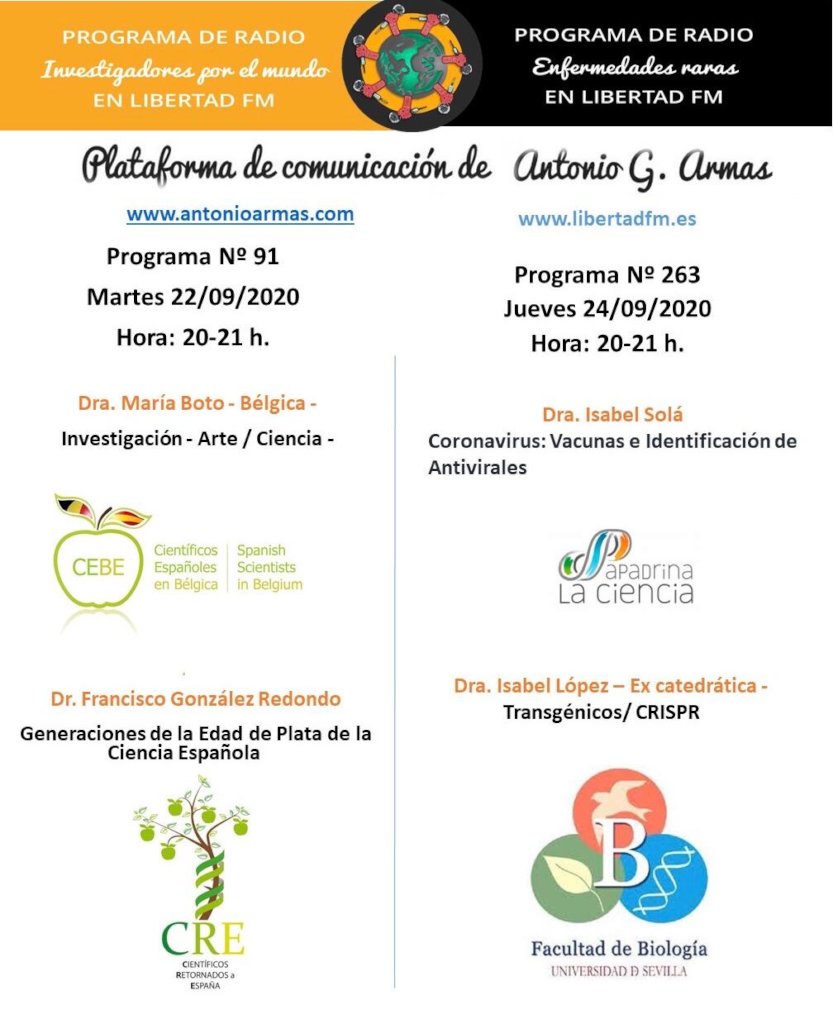 Dear supporters,
Hope you all had a good summer and an exciting starting of the academic year.
In this report, we wish to share with you the most interesting outreach activities that have been performed in the past months with your help. We also express our enormous gratitude for your donations in these difficult times, your efforts are greatly appreciated!
Through a collaborative agreement with Antonio G. Armas (https://www.antonioarmas.com/), director of the radio program "Rare Diseases" in Libertad FM, several scientists and volunteers from our non-profit association Sponsor Science (Apadrina la Ciencia; www.apadrinalaciencia.org) have helped us to share with the non-specialized public the experimental approach and conclusions that were obtained during their research on COVID-19. We had the privilege of having in the program two top level coronavirus experts like Dr. Sonia Zúñiga and Dr. Isabel Sola. They both are very experienced virologists with 20-year experience on the design and generation of coronavirus vaccines. Another invited speaker has been the pandemic expert Dr. Amelia Nieto, who has characterized the molecular mechanisms of virus replication for more than 30 years. Such fantastic female role models for girls!!!
The program is broadcasted every Thursday from 1:00 p.m. to 2:00 p.m., and we participate on it the last Thursday of each month. The program includes two 30-minute interviews and, in line with Apadrina la Ciencia mission, our contribution to this radio program has not been restricted to increase the general knowledge about COVID-19-related issues, but also to communicate updated and rigorous scientific news about other relevant subjects such as Alzheimer disease (Dr. Miguel Medina;) or gene therapy (Dr. Ruben Hernandez Alcobea).
And great news to end this message!!!!! Our collaboration in the radio program "Rare Diseases" has contributed to the program being chosen by a professional jury followed by popular voting, as the winner of the award Referentes 2020 in radio category. Congratulations to Antonio, the program director.
Thanks again for your great support to our cause.
Have a nice autumn, and continue to be healthy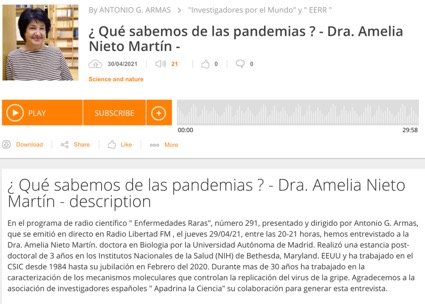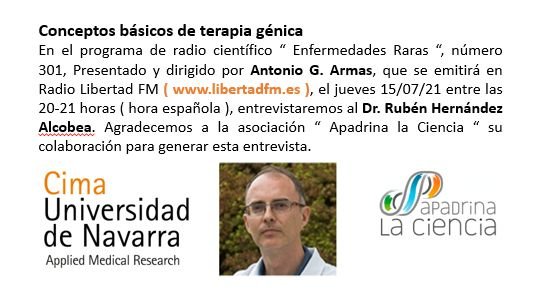 Links: