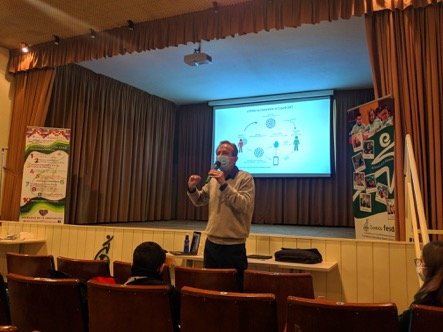 Dear supporters,
We hope that you all continue to be well and safe. We also hope that most of you are already or almost vaccinated against Covid-19!
In this new report, we want to update you about outreach activities that we performed during these last months with your help. And once again, we would like to deeply thank you for your contributions, which are always greatly appreciated.
During the last months, scientists and volunteers from our non-profit association Sponsor Science (Apadrina la Ciencia; www.apadrinalaciencia.org) have been working really hard to spread knowledge about COVID-19, with a special emphasis on preventive measurements and the importance of vaccines. But also transmitting more basic science about SARS-CoV2 and the research being performed about this new virus.
We have focused on three groups of people which include children, young teenagers and the elderly. In the first two cases we believed that it was of paramount importance that our children and teens get the most complete and real information about Covid-19, since many of them are overexposed to social media and other sources of information where, unfortunately, fake news are so abundant these days. To this aim we imparted the conference entitled "Covid and pandemics" to several groups of students of ages between 12-15 in the school La Presentación-FESD (Villaba, Spain). No less important is to provide information and education to our elderly, the population that more severely suffered the effects of this pandemic. With this aim we participated in the Senior Program of the University of Navarra (Pamplona, Spain) imparting a four-hour course entitled "Covid-19: a medical challenge for the XXI century".
It was really interesting to observe the differences of knowledge and concerns in these different audiences. From the naïve and sane curiosity of the younger kids who had been less exposed to false information, to the more incredulous attitude of the older teenagers, with some of them even believing in conspiracy theories that circulate in the web. Hopefully, we convinced them to be more critical in these matters and only believe information that has scientific evidence, although we have to admit it that it was a hard job with some of them…
With the elderly it was a completely different story, being most of them very interested in how to improve measurements to prevent the spread of the virus and totally convinced of the importance of vaccination. In this sense, to communicate to this population was an easier job for us.
But these experiences, which were very rewarding, allowed us to verify that, despite the abundance of information in the media, there is still a profound lack of knowledge in the society about Covid19 and SARS-CoV-2. In this sense, we think that our small contribution to spread this knowledge has been greatly positive, something that it was possible thanks to your support!
Have a nice spring, and continue to be healthy :)
Stay tune for updates on our ongoing new and exciting outreach activity!!!