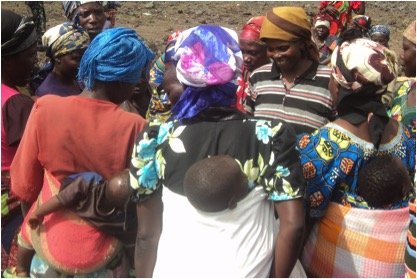 Context of the project:
Girl child marriage is a gross human rights violation that puts young girls out of education, mired in health risks and keeps them in poverty. In Democratic Republic of Congo, generally, 43% of women between 25 and 49 years old have been married before 18 years, said Mrs. Kati Bijou; Ministry of Gender and family on15 may 2015. She had called children to denounce any attempt to marry them before the mature age. In Kamango, Beni territory, 50% of married women got first baby before 18 years old (ECI research, 2013).
Summary of our activities
Since 2010, Children's Voice is working hard to aware communities to end child marriage and to promote education for girls as well. Workshops, conferences, meetings are organized to conscious people such as families, community leaders, etc. From January to May 2015, more than 873 men, women and girls have been trained to end child marriage in Nord Kivu.
Story about two beneficiaries: a mother and her daughter:
"I am Nyirasafari. I have 5 daughters. Four of them have been married when they had 14 and 15 years. I thought I did well to protect them from early pregnancy and to save my family dignity. Myself I have been married when I had 12 years. It was the tradition practices. The diploma of a girl was to get a husband. After this workshop organized by Children's Voice, I really regret for that and take decision to work hard to support education for Ester my youngest daughter.
Ester story: "I am 14 years old. I am happy to be at school than to be married. My dream is to be a lawyer and to become the defender of young girls".
Thanks
For this project, we got us$6,401 from 165 donations.
We thank our donors via GlobalGiving for generous donation to this project for girls' education and protection against violence. Every donation helps ensure that we can continue protecting girls and end child marriage. Thank you again for all you have done to help.
- Conclusion
Girls and women have many challenges in DRC. Your ideas and suggestions could advise in this program. Please give us you proposal. We are running this project together. Please, if you are around, visit this project in the eastern of DRC. Sure it is possible. Please tell me how you think we can work together to attract wider support for this project.