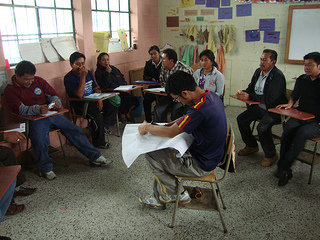 This past week we completed our third and final round of Water, Sanitation, and Hygiene (WASH) teacher trainings! Sandy and Misa, two of our local education coordinators, designed the trainings to help instill healthy WASH practices in student's daily lives.
Over the past year, with your support, they have traveled regularly to five participating schools to present teachers with strategies to create healthy classroom environments. Topics have included water contamination, bolstering student self-esteem, and preventing disease transmission.
Our WASH program doesn't stop there, though. As part of our monitoring and evaluation program, we are now reviewing teacher evaluations of our trainings to guarantee that next year's curriculum is even stronger. One of our focus areas for the upcoming year will be to train teachers on how to garner parental support for and involvement in WASH activities – an evolution that will lead to healthier behaviors at home as well as at school.
Beyond teacher trainings, we are currently working with a new partner school, Nueva Providencia Primary School, to develop sustainable, child-friendly sanitation and hygiene facilities for students. The construction project will break ground in November 2013, while the children are on school break. Be sure to check back for pictures of the new facilities!
Finally, please join us on October 15th in celebrating Global Hand Washing Day! As always, your contributions will directly improve student's exposure to and awareness of proper hygiene and sanitation practices.
It's a long process, but together we have begun to change fundamentally the way our partner schools approach WASH-related health topics. Thanks for all you do, and we look forward to working together to extend our impact to new schools and children.