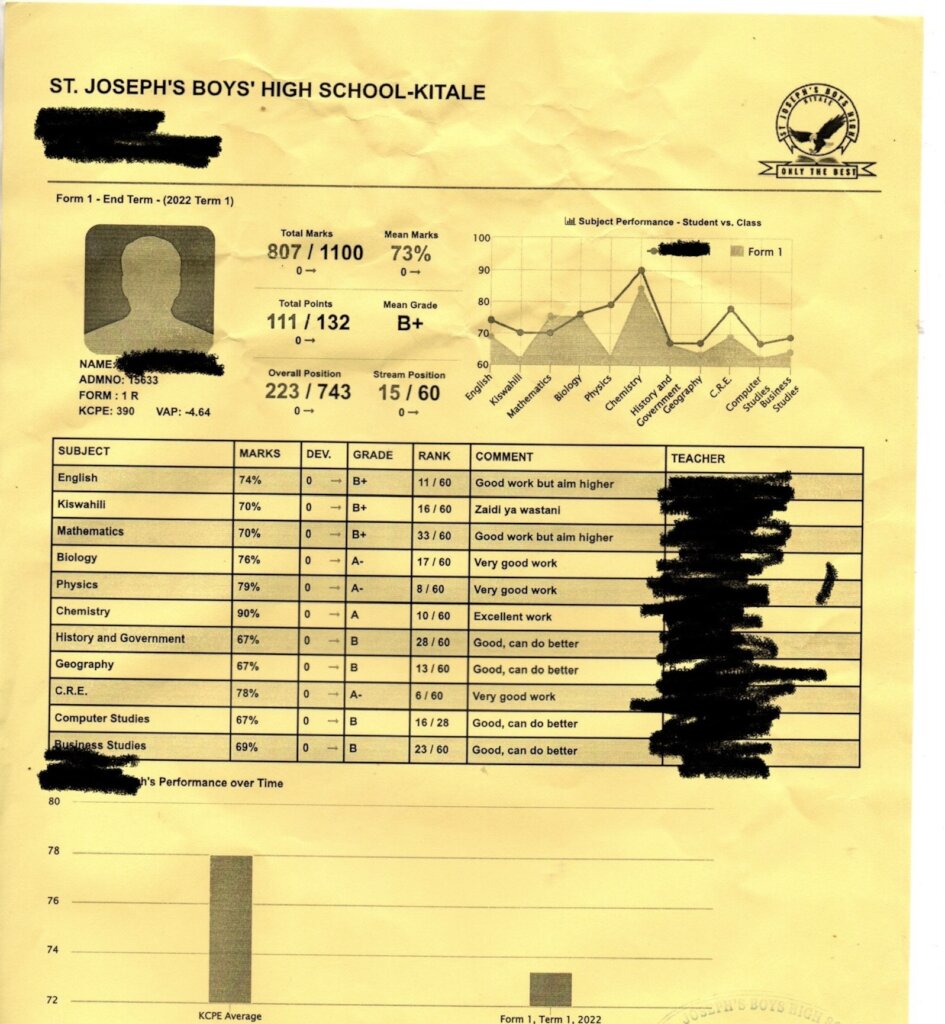 Dear Project Supporters,
We are happy to bring you another project report to update you on how your generosity continues to make an impact in the lives of the children you are supporting, and to thank you once again for your support. SESSO is only able to complete our goals because of support from you, our generous donors.
September 2002 Student Highlight: SESSO's Two High School Students
• Our two high school students (Abraham and Amour) have done very well this first semester of the 2022-2023 school year. We have received their grades and are happy to report that they both have received all A's and B's in all subjects! (A copy of their grade reports is included with this update.) It can also be noted on their reports that they are ranked 11th and 15th in their class out of 60, which means they are currently both in the top quarter of their class. This is a fantastic accomplishment, and we are extremely proud to share their efforts and with you.
• While maintaining these amazing school marks, both Abraham and Amour are also involved in extra-curricular school activities. Amour is on the school's basketball team and is a very active player. She is also a member of the school's Mathematic Club and has been attending practices after school to prepare for upcoming contests. Abraham plays football (soccer) and is also a very active player on his team. He is also currently participating in a first aid training program that trains students how to provide first aid. Later in the program, students that perform well during the training may be given the opportunity to travel to various government institutions to deliver first-aid presentations.
General Update on SESSO-Sponsored Students:
• The 2022-2023 school year is underway, and SESSO has paid the total for the entire school year for all 6 sponsored students, ranging from grades 6 to 10. The school year ends March 2023.
• SESSO is currently working to raise funds for the 2023-2024 school year and is hopeful that sponsorship for all 6 students will be possible again.
Plans Moving Forward:
• SESSO continues to be grateful for all of our donors who make funding of these students' education possible. With your help, these orphans are receiving a new hope for their future, and we are confident that this hope and opportunity you have helped give them will allow them to make big changes for the future of South Sudan.
• We will keep you updated as the 2022-2023 school year continues and will also update donors on how we are doing with raising funds for the following school year. Please also feel free to visit our Facebook page for more detailed updates and information, and feel free to reach out to us anytime! Thank you for taking this journey with us and invite you to stay with us and watch the fruits of your generosity over the years as these students progress through school and on into adulthood.