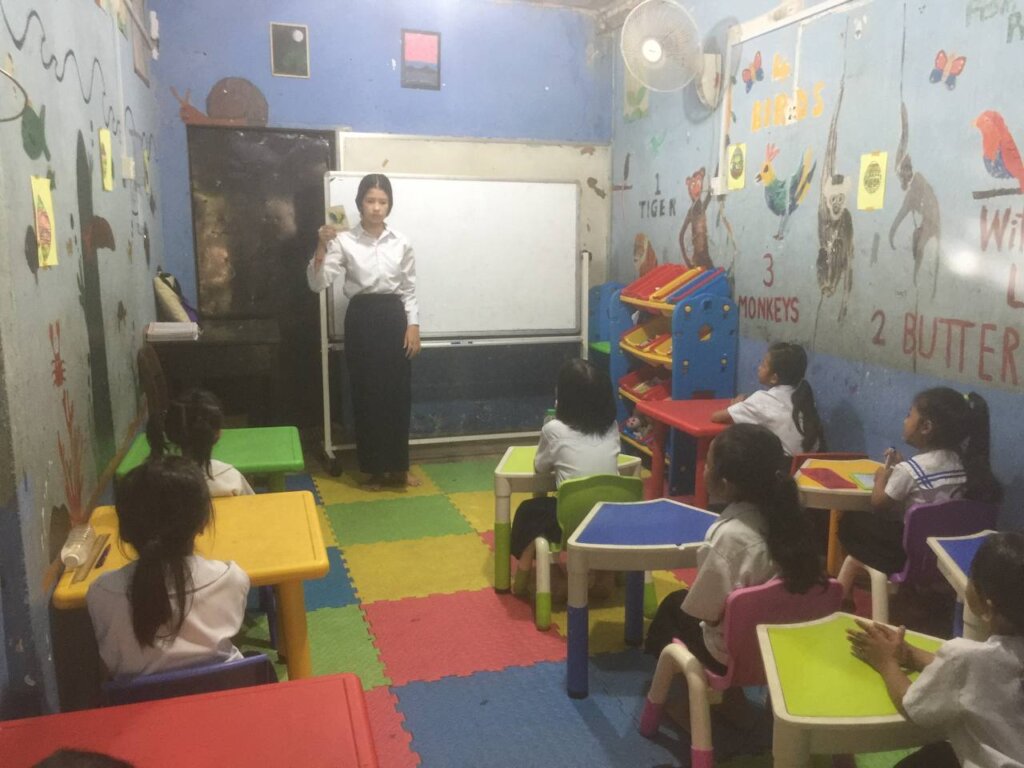 Please imagine for a moment! Children have been abandoned by their fathers since they are very young. What is the matter with their mental and physical condition? What will happen to their dreams? While Lack of warmth head of a household with very poor conditions fell on a family in Village 6, Srah Chak Sangkat/commune, Daun Penh Khan/district, Phnom Penh City, in a slum area. The family consists of four members including a mother, two daughters, Man Chhot Aini 16-year-old, Man Ropini 14-year-old, and a 65-year-old grandmother. The two adolescents have been living under the care of a widowed mother since her father got away from them. The widow is also raising an elderly grandmother with a chronic illness. They immigrated from Kampong Cham province in 2017 to the slum area in Phnom Penh City to get low-paid jobs to go on their living while there was no income in their hometown where they were not able to live there. During moving, the two adolescents dropped out of primary school to help support their families, and for economic reasons that they only finished grade two. While living in Phnom Penh, the two usually follow their mother to work as a cleaner at a public hospital, earning $ 150 per month. This income is not enough because she has to pay for the rental house, monthly medical expenses for the grandmother, and the daily food expenses of the family members.
Getting to know the information about the family's livelihood condition in the target communities at Beung Kak, a slum area, the school supervisor visited directly to their rented house and met two young girls to explore more information about them and then realized their real situation, the school supervisor and teachers of the SCC at Community Basic Education (CBE) have allowed the two young girls to continue their English and Khmer language classes at our school since early 2019 till today. Due to Ropini's intelligence and the improvement of their knowledge, she was assigned as a volunteer to teach children kindergarten at the school. She teaches orphans, vulnerable children, and children living with HIV in the afternoon and continues to learn English in the morning. "I am very happy because it is my dream," she said. For this volunteer work, she received a monthly incentive from the organization to partly assist with their living condition. Ropini added that through this work, she has learned a lot related to how to teach and learn well. Moreover, she received a new bicycle from the organization to ride to work to support her family and to study English and Khmer language classes at the SCC Community School after her part-time job. Ropini and her sister received support from SCC, including food packages, study materials, internships, and counseling, especially since they directly received Khmer lessons from the school supervisor.
Suffering from childhood to adulthood, the two young daughters have struggled in life even though their father abandoned them. Even though they live with their mother and elderly grandmother in a difficult situation, they are always praised and encouraged by their teachers. Finally, both daughters are happy to participate in the SCC Community School project. They and their families would like to thank SCC and all the sponsors who have helped them and their families. They declared that SCC assisted them with achieving their dreams. Therefore, they ask the organization to continue to help support orphans, vulnerable children, and children living with HIV in Cambodia. Thank you!!