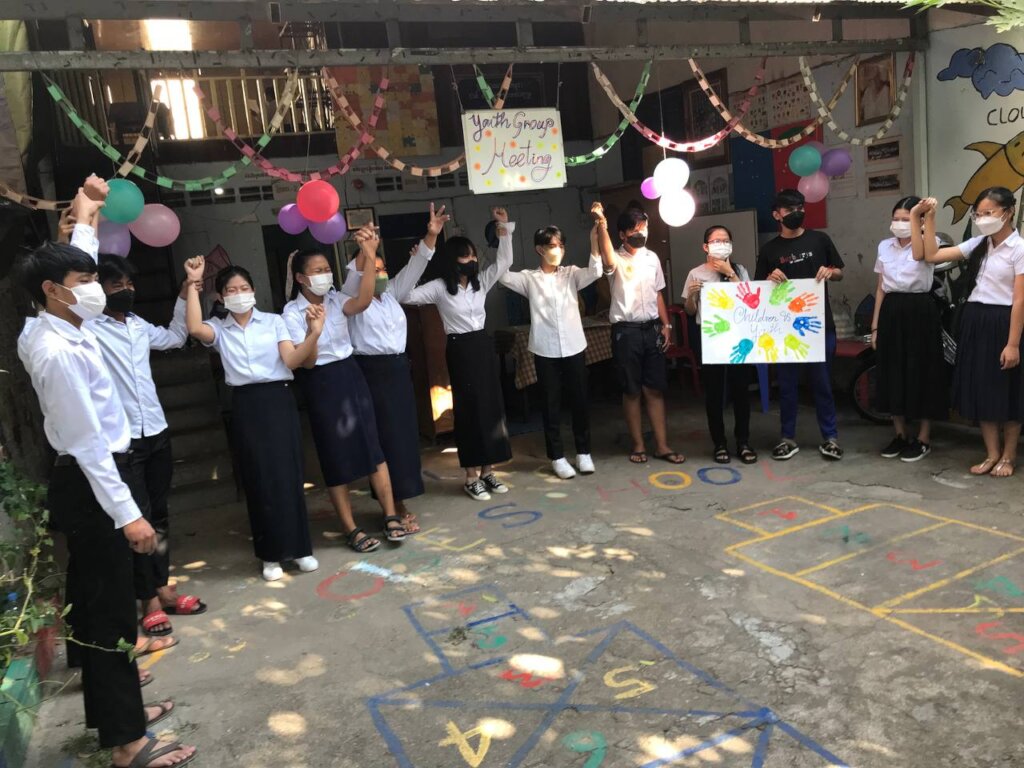 Youths who received an education and support from SCC-CBE school last more than 10 years ago contributed to motivating through sharing their struggle life experience with the next generation's students whose situations are similar to themes. Hundreds of children living in slum areas in Phnom Penh whose poorest parents are beggars, waste collectors, people living with HIV, laundry services providers, and other low paid-workers who did not capacity to send them to access education even in the state schools. Starting from compassion and contributing to improving these children's future, SCC created the CBE schools in 2010 working closely with authorities and parents to push these vulnerable children to get education both at state schools and CBE-school.
Most of our former vulnerable students have now got a better life through higher education with a suitable job. After finishing the high school level, some of them are pursuing their education at a higher degree in a university in Phnom Penh without relying on their family due to they have their own income from part-time work. Meanwhile, other students who graduated from university have got suitable jobs with income to support themselves and their families. It is our pride of the project to contribute to transforming vulnerable children whose life could fall to uneducated people to become human resources to support themselves, their community, and society.
In return to the CBE school, these former students always motivate their next-generation students by bringing their valued experiences and knowledge to share in any events carried out by SCC. Beyond providing a free informal education system, a peer education program is a very significant mechanism part for motivation among successful former students and present students. In this regard, the youths allocated their time to share their life experience with the next-generation students. The event is playing a very vital role to inspire poor students to enhance their education without considering that poverty is a challenge for their education and realizing that only education is able to change their destiny. Obviously, Ms. Chea Sok Pisey 17 years old, is a part-time English teacher assistant and pursuing her education at the high school level in Phnom Penh. She used to be a girl whose mother didn't send her to school because of her poverty. Her mother was a poor widower, who worked as a cleaner at a hospital and her income was not sufficient for the daily food of five children. Seeing this difficult situation, SCC decided to select her to join the school in 2013 and support her family on food items and non-food items as well as to counseling her family to send her to the state school.
Obviously, on January 20, 2022, SCC conducted a meeting with 35 students/21 females to enable them to understand HIV and the benefits of HIV testing. The meeting was held in Village 22, Sangkat Srah Chak, Khan Daun Penh, Phnom Penh, co-facilitated by Ms. Ty Saran, Commune Committee for Women and Children (CCWC) officer of Srah Chak Sangkat, Phnom Penh. The overall theme of the meeting is to educate youth students to study harder and stay away from drugs and avoid love affairs during school age which is lead to damage to their future and family's dignity as well as the dangers of HIV infection and the importance of blood tests for HIV, and the transmission of HIV from person to person through three main types were raised. On behalf of other youth who are supported by SCC, Pisey brought very incredible experience in her life and struggle with education in order to motivate the next generations in the meeting, said: "Education is very important for our future and please don't consider the poverty is the challenge. Even we are poor, we're still able to continue our education, please don't give up.". This message inspired the participated students to pay the very attention to listen to her sharing and they said that "I will try my best to be like Sister Pisey as she is my idol from now on."
In an overview of the implementation of the peer education program, it was seen that participating young people were having fun mixed with learning the various subjects and experiences without realizing it. The program strengthened the bond between youths and youths, SCC and youths, youths, and local authorities. It also helps to cultivate a united mindset in living with morality, compassion, and cooperation to help each other. On the other hand, they shared incredible knowledge and experiences with each other related to HIV health on how to prevent HIV infection and learn about the importance of HIV blood tests. Most importantly, students received the incredible courage and struggle experience from their previous older students.