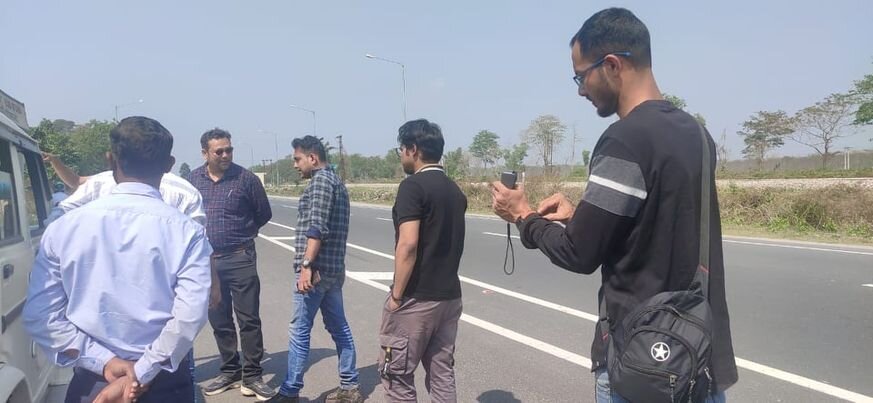 We are thrilled to announce that the 1st phase of our groundbreaking project to save elephants from the deadly train tracks has kicked off in West Bengal, despite the fact that we're still short by $5,000. We felt this project is incredibly critical to saving elephants from the deadly train tracks.
A joint inspection was recently conducted along a 70 KM deadliest stretch of the West Bengal railway track where most accidents occur. Among those conducting the survey were railway officials, SNAP members who are designing the sensors, our grassroots partner Naturemates and Dr. Aritra Kshettry an elephant ecologist. They identified critical stretches in the area where elephant movement is frequent.
The next step is to install the EleSensor device along a 5 km stretch, in collaboration with the Railway Ministry, State Forest Department, and Tea-estate Associations in the region. EleSensors will detect elephant presence near the tracks and warn the train pilots, prompting them to slow down for the elephants, thus averting accidents.
One of the greatest things about this whole project is that it is COLLABORATIVE! This is so incredibly critical because the warnings emnated by the EleSensors will be detected by the forest authorites and they will then convey the presence of elephants to the railway authorities, who would then direct the loco pilots (train drivers) to slow down, allowing safe passage for elephants. Evidently, without collaboration there's little we can accomplish.
As we know the Indian railway tracks are deadly, killing 186 elephants in the past 10 years. Northern West Bengal in particular, is ground zero for railway deaths of people and elephants.
We can't thank you, our amazing donors for your immense generosity and kindness, for without your support we couldn't have come thus far. Although this is a major milestone, there's still a lot of work ahead over the next two years, for it would take us this long in order to assess the efficacy of our project.
Please consider making a small donation to help us cross the finish line. CLICK HERE TO DONATE whatever you can. Every penny matters and we are immeasurably grateful to you for your unbending support.
With Profound Gratitude and Humility,
Sangita
PS: These images will hopefully bring a smile to your face, as you see the impact of your heartfelt contribution. I can't thank you enough times, really!!