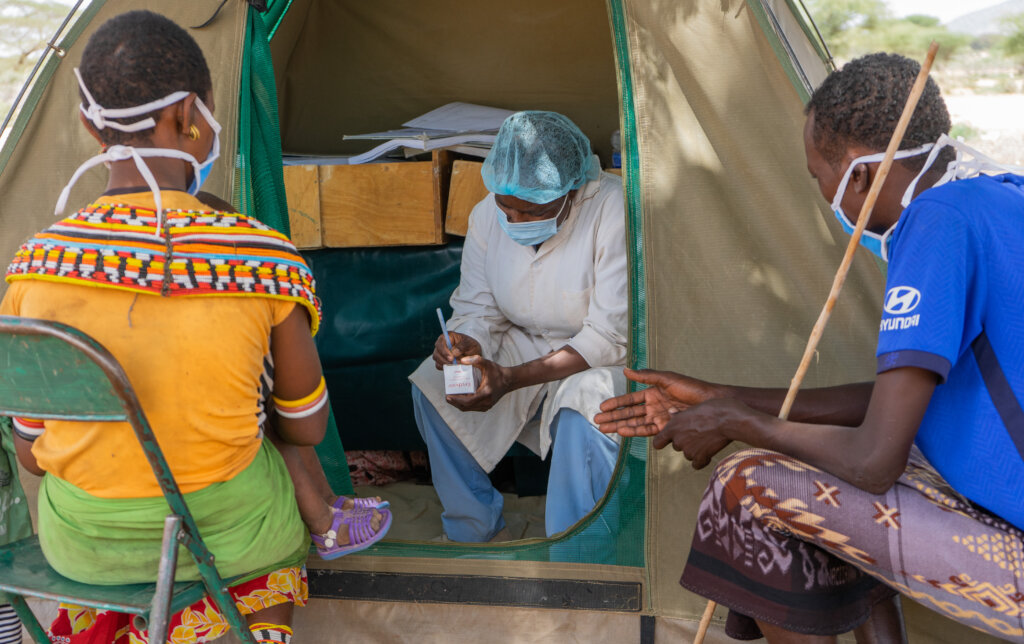 *not real name
As *Mzee Lkaseti was seated inline between women waiting to choose a FP method, Jackeline, CHAT's Community Own Resource Person (CORP) partner could not understand why he was there sitting with women in the 'FP' line! This was at a motor mobile clinic in Suradoru, in Samburu. He was in no hurry to leave and as the line got closer to the tent Jackeline decided why not direct him appropriately. Upon asking him what he needed, he said that he would love for them to go home together with the team. This was a request he was making since he left his wife *Nashami doing her chores thus no opportunity for her to attend the clinic. When the team finished up with what they were doing, they followed Mzee to his home. They found his wife, Nashami, washing their last-born baby who was just two years old.
Mzee Lkaseti and Nashami have four children. Two are in school. One in the fields taking care of animals and now the two-year-old baby. "We have lost a lot of cattle and camels due to the drought. There are no rains and food. The water is not enough for both the animals and human consumption. Food has become more expensive and we barely have enough to feed on. With no sign of improvement, it's time we started planning our family to the size that we can manage comfortably. I heard you people offer medicine that women use to help in the prevention of pregnancy. I would like to learn more from you then take it." Mzee explained. He then excused himself to go look at their goats least one of them died. "They have been dying almost every day now. I am worried." He said as he stepped out of the door
CORP Jackeline explained to Nashami the different methods of FP and their benefits as well as their disadvantages. She demonstrated how they are used and their different span of time they are for Nashami decided to use the three years implant and gauge if it suited her. With this, she was ensured that they would stay for the next 3 years without the worry of the family expanding. She got her three-year implant from the motor mobile nurse and being so happy she treated the team to some tea from the little milk she had.
'Many men are starting to see the importance of managing their family sizes. They are allowing their women to get FP more and more. Out of this, I can see the change that is going to happen in a few years. It really makes me happy to see my job being well appreciated.' Jackeline shared.
Thanks to GG support, in the past three months, CHAT was able to reach: a total of 12,911 individuals with behaviour change information (bcc) with 3,004 family planning clients receiving different contraception methods, of which 2,738 chose the long-term methods – 3 & 5 years' protection against unwanted pregnancies.
'There is a huge need for contraception in our communities. Women do not go to the hospital nor do they have adequate knowledge on the use of contraceptives. It will take a lot of intervention to ensure that they are aware of their right to contraception.' CHAT CORP Eunice Karimi