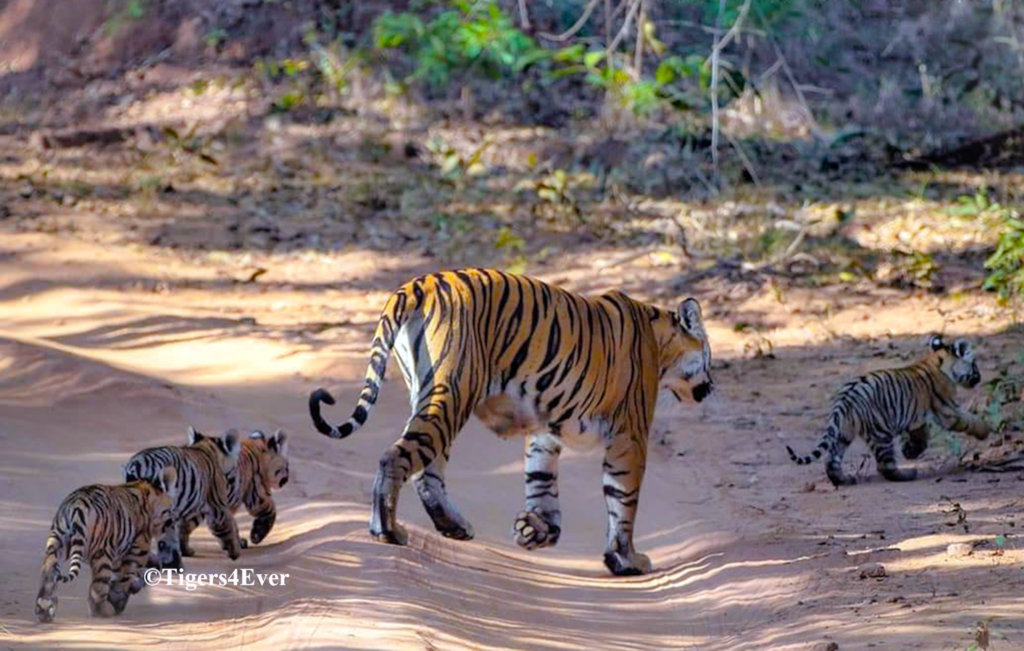 Wow, it is almost March already. 2019 is going quickly and so much has happened since our last project report it is difficult to know where to start.
Firstly, I would like to thank you all for your continued amazing support and donations, without which we would be unable to give wild tigers a wild future. I know that many of you will have made New Year's resolutions to lose weight, get fit, do dry January, do veganuary, etc., with possibly differing levels of success and stick-ability. Congratulations to all of you who have kept going.
Our New Year's resolution is a bit perpetual: every year we say that we want to do more to give wild tigers a wild future, and every year we set out our plans. 2019 is no different. We want to increase our Anti-Poaching Patrols because the number of wild tigers we're currently protecting has increased by 25% with the birth of 5 litters of new cubs. The patter of tiny paws in Bandhavgarh is certainly a welcome sight. It also increases the likelihood of human-animal conflict as the onset of the hot dry weather depletes natural water resources leading wildlife to enter the villages in search of water and food. We are delighted to say that our waterhole project is going really well to combat this by providing year-round water for 34 wild tigers (including cubs) and thousands of other animals which share the tigers' forest home. Just this week, we received news from our team in India, that work to complete a second large waterhole to be served by the solar borehole pump we installed in December 2018 is nearing completion. This will ensure that at least 15 tigers will have access to water in an area completely ravaged by drought in the last 3 years. The primary waterhole at our latest site has a plentiful supply of water thank to the Tigers4Ever solar pump (in February 2018, the same area was dry which forced the Rajbehra family of tigers into the villages, as seen in the BBC wildlife documentary – Dynasties). You can find out more about our waterhole project here: https://goto.gg/34315 we will be producing an update report in the next few weeks once we have photos of the latest waterhole with water in it.
We also plan to combat the effects of climate change through a tree planting project which will also help to replenish lost tiger and wildlife habitat ravaged by years of illegal logging and wood-cutting. We will be working closely with the community on this initiative so that they will see just how long it takes for teak trees to grow and why constantly harvesting wood from the forest will bring the herbivores into their villages in search of food. At present, we are evaluating the benefits of seed planting versus the planting of saplings, and discussing the probable locations for the first plantings. Large areas of the forest have been destroyed by fires in the last three years and we would like to do something to replenish these areas too if funds permit. We hope to launch this project in time for the GlobalGiving Climate Fund Campaign in April.
Enough about our plans, for now though. I am sure that like us you will be delighted to hear that the gang of poachers who attacked and beat up our Senior Anti-Poaching Patroller, Ravi, have been caught, charged and are now behind bars. Knowing that these individuals are incarcerated in prison means that the tigers and their young cubs are safer too. It will soon be 17 months since the last tiger was poached in Bandhavgarh which together with our record of 44 months without a retaliatory poisoning is a great achievement on the part of our patrollers. We hope that we can raise sufficient funds to keep this exemplary record going.
As the drought season and peak poaching season approach, we fear that we will have to further reduce our patrolling to bring our costs down. I know that this will increase the risk of wild tigers being poached but we have little choice. In December 2017, we set a fundraising target of £8704 (US$ 11663) to cover the cost of our patrolling from 01 March 2018 – 28 February 2019 (inclusive), but we are still £1555 (US$2084) short of this target and our funding reserves have been depleted by under-pinning the cost of our Anti-Poaching Patrols in the last 3 months (as mentioned in the last newsletter). Our costs have also been impacted by exchange rate variability between the UK£ and the US$ (donations received) and the UK£ and the Indian Rupee (project costs). We launched our campaign to raise funds for our 2019 Anti-Poaching Patrolling (from 01 March 2019 – 29 February 2020, inclusive) three months early in 2018 (https://goto.gg/34704) to try to address the fundraising deficit, and keep our patrols protecting wild tigers. Funds raised for the 2019 project, however, are also well below our target with only sufficient funds to cover one month's patrolling raised to date. In February 2019, we were forced to implement a 20% reduction in our patrolling, so that we could cover costs from the funds raised to date and our depleted reserves; now we must ask 62 of our supporters if they could donate £25 (US$34) each so we can continue our patrolling for the next two months. Please help if you can by donating at: https://goto.gg/28767 and help us to keep wild tigers safe.
Without the vital funds we now need, we will have no option other than to call time on our Anti-Poaching Patrol project which has been so successful since we started patrolling in July 2015 leading to an increase in wild tiger numbers from 55 (July 2015) to more than 100 (including cubs) by the end of January 2019. I hope that you will be able to help and we can continue to work together to keep wild tigers safe throughout 2019. Remember all donations can make a big difference to our wild tiger conservation efforts no matter how large or small (https://goto.gg/28767).
We still have a few 2019 Tigers4Ever calendars which are now half price at £5 plus P&P in our online shop: http://www.tigers4ever.org/onlineshop.html while stocks last. Remember that the tiger family featured in BBC "Tiger Dynasties" documentary appear in the months of April, August and November, and Solo (now a mother to four cubs of her own) was the February 2019 tiger of the month. All profits from calendar sales will be used to help us keep wild tigers safe.
Finally, I would like to thank you again on behalf of the wild tigers, which we are keeping safe; on behalf of the patrollers we are keeping in work (and their families who have food on the table). I would also like to thank you on behalf of the wider tiger community in Bandhavgarh, which benefits from providing food/uniforms/equipment for our patrols and from the safety/education advice given by Deepak, Prahlad, Vidya, Ravi and our patrolling team.
Links: