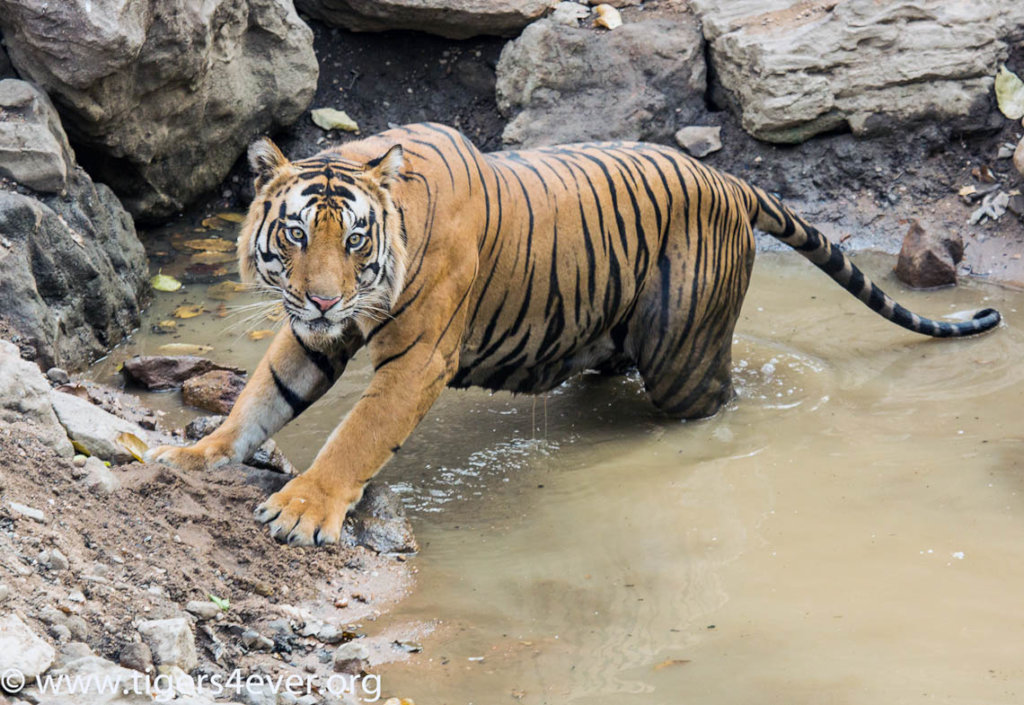 First of all I would like to thank all of our supporters for their amazing help and donations throughout 2018, without which we would be unable to do what we do to give wild tigers a wild future. I should also like to take this opportunity to wish those of you who celebrate it a very happy Christmas and a peaceful, prosperous new year. I hope that we can continue to work together throughout 2019 to keep giving wild tigers the chance of a wild future.
This year has been a mixed year in wild tiger territory, with droughts between January and June leading to increased incidents of human-animal and tiger-tiger conflict. The monsoon season from July brought some flash floods from heavy rains in July followed by the driest September for more than 10 years. Although total rainfall in the 2018 monsoon was better than in the previous 3 years, there was still an overall deficit in the replenishment of natural water sources. Right now, and throughout 2018, we have been doing what we can to construct permanent wildlife waterholes to address this situation, you can discover more about this work here: https://goto.gg/34315. The final quarter of 2018 has also brought some ups and downs in the world of wild tiger conservation. In October, we marked the anniversary of the last tiger poaching case in Bandhavgarh with 365 days poaching free (this is now 14 months and 10 days or 436 days without poachers killing a wild tiger) and received the devastating news that China was lifting its 25 year ban on the use of tiger bone in traditional Chinese medicines (TCM) and the trade in tiger body parts. Following weeks of International outrage and uproar at this proposal, the Chinese government agreed to postpone lifting the ban at the end of November, so for now the expected increase in demand for wild tiger body parts and bones is on hold. We cannot assume that the threat has gone away, because the key word coming out of China is postpone, so we continue to be on high alert for increased poaching activity. The end of the year has brought some devastating news on a personal front for Tigers4Ever with one of our senior Anti-Poaching Patrollers attacked by a gang of poachers outside his home at the beginning of this month; he had finished work for Tigers4Ever and was returning home to his family when set upon by the poachers.
This brutal attack on our patroller saw him beaten with sticks, punched and kicked, before the assailants absconded. Ravi (name changed for protection) was left covered in cuts and bruises with severe swelling around his head, face and eye. Ravi called out for help which came from his friends and family, he was taken to the local government hospital (some 60 miles away) for assessment and initial treatment, but the serious nature of the injuries to Ravi's face and head meant that he required specialist tests, including a CT scan, which were unavailable at the local government hospital. When Ravi was able to travel he was taken to the specialist hospital in Jabalpur (some 300 miles away) where he could have appropriate tests and treatment. The CT scan revealed that Ravi has suffered fractures to his left eye socket, nose and skull. Two weeks on, Ravi is still in hospital and in a lot of pain, we do not know yet whether he will require surgery for his injuries, the swelling needs time to settle first to enable the doctors to assess whether the fractures will heel without surgical intervention. Meanwhile, Ravi is unable to return to work, he is keen to get back to his duties as a protector of wild tigers as soon as possible, and whilst he is in hospital he has additional expenses for medical costs and cannot support his family. Our Tigers4Ever team in India are helping where they can but there may come a point where we need to have a specific fundraiser to help Ravi's family until he is able to work again. This incident served to remind us, if we had forgotten that Anti-Poaching Patrollers are brave men and women heroes who risk their lives every time they go into the forest to look for poachers and their snares or traps. We are further pressured because we have had to use reserves to cover the cost of our Anti-poaching patrols in November and December as we are £2077 (US$2768) short of our fundraising target for this year: https://goto.gg/28767. If we could ask each of you to remember the bravery of Ravi and our other patrollers if you are considering donating to charity this Christmas, as we could reach our target with 110 donations of US$25 (£20) each which would enable turn our focus to how our patrollers will be able to keep wild tigers safe throughout 2019.
Remember, that in 2018, our Anti-Poaching Patrols have helped to keep Bandhavgarh free of poachers' traps and snares; whilst wild tigers have died all around India and other tiger countries, which means that our efforts are giving wild tigers a wild future and we hope to continue this for many years to come. We cannot do this without the support of our followers so we'd ask you to spare a thought for wild tigers during the festive holiday season and whilst making your New Year Resolutions for 2019.
For those of you who saw the BBC wildlife programme "Dynasties" Episode 5 – "Tigers" focussed on one particular tiger family, from Bandhavgarh, the Rajbehra female and her cubs. I am delighted to say that these tigers are amongst the wild tigers to feature in our 2019 Tigers4Ever calendars which are available now in our online shop, while stocks last. The featured family appear in the months of April, August and November, whilst one of the other tigers shown: Solo is the tiger of the month for February2019. Please see our website for more details.
Finally, I would like to thank you again on behalf of the wild tigers, which we are keeping safe; on behalf of the patrollers we are keeping in work (and their families who have food on the table). I would also like to thank you on behalf of the wider tiger community in Bandhavgarh, which benefits from providing food/uniforms/equipment for our patrols and from the safety/education advice given by Deepak, Prahlad and our patrolling team. Happy holidays and best wishes for the festive season.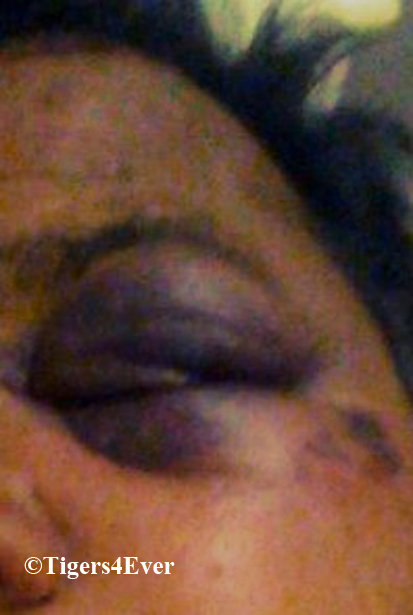 Links: