Project Report

| Oct 1, 2018
Monsoon Peak Poaching Season & Giving Wild Tigers
By Dr. Corinne Taylor-Smith | Project Leader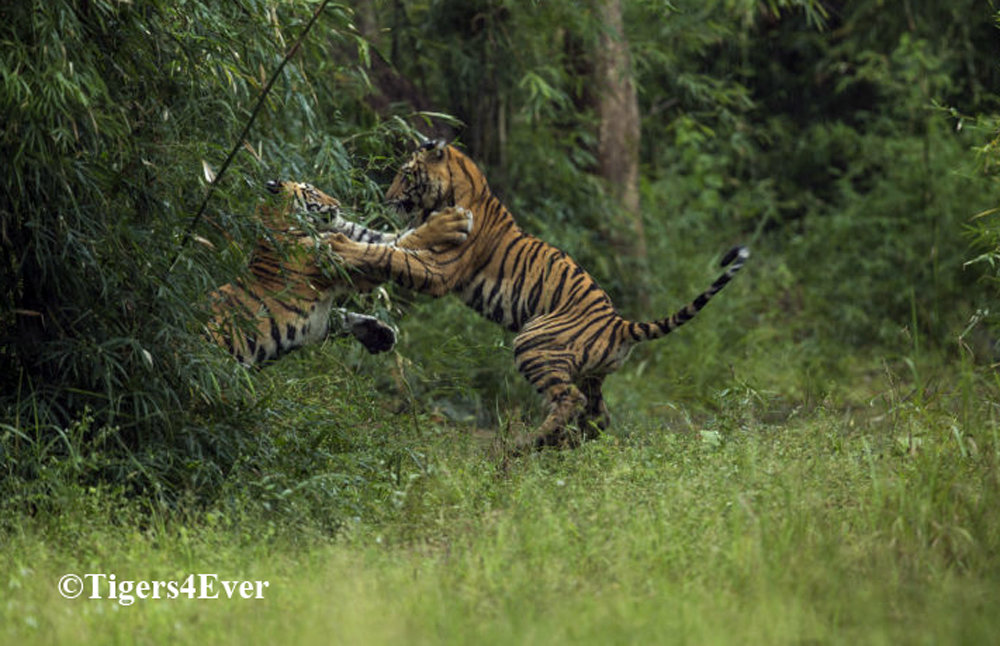 Thanks to the amazing support we have received from you all during the first three quarters of 2018, we are coming to the end of the monsoon period which is peak tiger poaching season in India, with the relief that thanks to our doubling of Anti-Poaching Patrols we haven't lost any tigers to poachers or poisoners this year. We were only able to double our Anti-Poaching Patrols during the monsoon period thanks to the donations we received in the first half of 2018. The risk of snares and traps is a constant threat which is even more difficult to detect during the periods of torrential rainfall, if patrolling is reduced there is a greater chance of traps and snares being missed.
On 01 July 2018, our patrollers received our commendation for successively eliminating all instances of retaliatory poisoning of wild tigers for the third year in a row, in Bandhavgarh. This is really an achievement to be celebrated as prior to the establishment of the Tigers4Ever Anti-Poaching Patrols on 01 July 2015, retaliatory poisoning was the biggest threat which wild tigers faced in the Buffer Forests around Bandhavgarh. By completely eliminating the incidence of retaliatory poisoning incidents against tigers for the last 3 years and 3 months, we can rightly say that we are giving wild tigers a wild future. On 04 October 2018, it will be exactly one year since the last tiger was killed by poachers in Bandhavgarh, whilst this will be a great achievement on the part of our patrollers it is important to realise that when the last tigress was poached she left three orphaned cubs of just 6 months old, without the measures which were put in place to save these cubs, including a Tigers4Ever funded solar powered borehole pump to provide year round water in 2 manmade waterholes the poachers' actions would have claimed the lives of FOUR tigers not one! So whilst we may rejoice that a year has elapsed since the last poaching incident it is tainted with sadness that these young cubs have grown up without their mother to teach them how to hunt, how to defend themselves, and how to find a territory which would be safe to call their own. The cubs have survived, but their future is by no means certain. Now our focus must be on building upon these successes to ensure that no more tigers perish at the hands of humans.
As we outlined in our last report, our patrolling has contributed to an overall 94% decline in poaching incidents since 2015, which when compared to the rest of India, where tiger poaching has been on the increase (120 reported cases of tiger poaching since 2015), it is an even more remarkable achievement. Just before the onset of the monsoon, two tigresses gave birth to three cubs each which will again increase the tiger numbers in Bandhavgarh. Tiger census results are due towards the end of this year and Madhya Pradesh is once again expected to regain its status as the tiger state, because so many tigers are surviving in Bandhavgarh. This, however, causes different issues as territorial space is at a premium and tiger-tiger conflict becomes a more frequent occurrence. We are currently looking at new projects which will help to restore depleted tiger habitat, including tree planting schemes and our waterhole project: https://goto.gg/34315, which we hope will stabilise prey numbers meaning thatsmaller territories may be adequate for young tigers searching for new territories to establish themselves in.
In the last report, we mentioned that two young tigers had been transferred to a tiger reserve in Odisha where tiger numbers were critically low; we are pleased to say that the tigers have now settled into their new territories and are hunting normally. They will continue to be monitored closely for up to year with the radio collars which were fitted on completion of the transfer, to ensure that they do not become persistent cattle hunters in the villages around the periphery of the Odisha forest.
In 2018, our Anti-Poaching Patrols have helped to keep Bandhavgarh free of poachers' traps; and we hope we can continue this success throughout the remainder of the year, but we cannot do this without the funds to keep our patrols in the field. We need to raise £2527 (US$3350) to ensure that we don't have to reduce our patrolling in the coming months, with every £20 (US$26) we raise ensuring that we can pay the wages of one patrolling team for a day. Please help if you can at: https://goto.gg/28767. We would like to increase our Quarter 4, 2018 by 20% compared to 2017 but this will only be possible if we can raisesufficient funds to cover the increased costs and keep the patrollers in the field for the remainder of 2018.
If you feel that you would like to make a difference for these precious wild tigers: £10/US$13 will provide 3 hot meals each for 2 patrollers whilst they are on duty, whilst £38/US$50 will help to provide transport and fuel to get a team of 6 Anti-Poaching Patrollers to their patrolling area for the day/night. All donations, however large or small, will help to keep these brave men and women protecting wild tigers from perishing at the hands of humans.
We still need £2527 (US$3350) to fund our Anti-Poaching Patrols for the rest of 2018. Each month of the year we need to raise £720/$980 (or £8640/$11400 total) to make keeping wild tigers safe possible. Please visit: https://goto.gg/28767 to help. Your donations help us to feed & pay the patrollers, they also help to provide a safe haven for our patrollers, transport, fuel, and any vital equipment which needs replacing. Transport and fuel are vital tools for our patrollers who need to cover 1598 square kilometres (993 square miles) of precious tiger habitat.
I would like to thank you on behalf of the wild tigers, which we are keeping safe; on behalf of the patrollers we are keeping in work (and their families who have food on the table). I would also like to thank you on behalf of the wider tiger community in Bandhavgarh, which benefits from providing food/uniforms/equipment for our patrols and from the safety/education advice given by Deepak, Prahlad and our patrolling team.
Links: