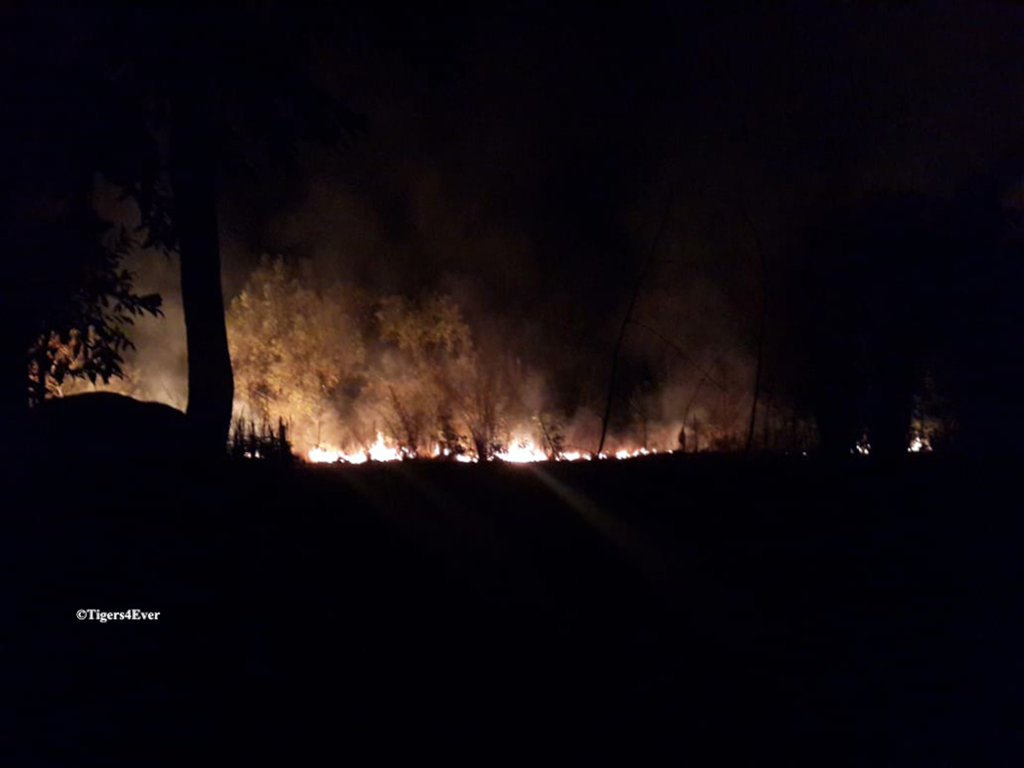 Thanks to the amazing support we have received from you all during the first two quarters of 2018, we are entering the monsoon season (peak tiger poaching season in India) with confidence that we can double our Anti-Poaching Patrols to try to mitigate the increased risk of snares & traps being missed. Since 01 July 2015, Tigers4Ever patrollers have patrolled the Buffer Forests around Bandhavgarh helping to completely eliminate the incidence of retaliatory poisoning incidents against tigers in each of 3 years. In the same 3 year period only 3 tigers wandered into snare traps laid by poachers, 1 tigress was rescued from such a snare & taken to Bhopal where she recovered from her injuries, the others sadly died.
Our patrolling has contributed to a 94% decline in poaching incidents. When this is compared to the rest of India, where tiger poaching has been on the increase since 2014 (120 reported cases of tiger poaching since 2015), it is a remarkable achievement. We are delighted by this progress. In fact, tiger numbers have increased in Bandhavgarh so territorial space is at a premium leading to fears of tiger-tiger conflict. This has recently been addressed with the transfer 2 young tigers to a tiger reserve in Odisha where tiger numbers are critically low; here they will have space to establish their own territories without coming into conflict with humans. So far in 2018, our Anti-Poaching Patrols have helped to keep Bandhavgarh free of poachers' traps; we hope we can continue this success throughout the remainder of the year.
In our last report, we mentioned how the duties of our Anti-Poaching Patrollers had expanded beyond searching for poachers' snares & traps, together with their vital role in communicating the threat of extinction which wild tigers face to include the quenching of forest fires. The severe drought has now persisted for over four months with a delay in the onset of the 2018 monsoon rains compounding the problem. The ever increasing daily temperatures have increased the severity of the forest fires with the worst decimating prime tiger habitat over a fifteen mile stretch. In May 2018, we received sad news that one of the Forest Department guards who regularly accompanied our patrols had died from a heart-attack whilst fighting one of the forest fires. Tigers4Ever Anti-Poaching Patrols continue to help with the early identification of forest fires & helping forest department officials to quench them. The prolonged drought season has increased the risk of human-animal conflict as rivers, streams & lakes have run dry resulting in prey animals entering villages in search of water & predators following in search of food. Tigers are notorious for livestock rustlers in the hot, dry season, so we have increased our efforts to keep prey & predators out of the villages to prevent retaliatory poisonings or revenge snaring of tigers.
We also told you how Tigers4Ever had help to address the water shortage by constructing two permanent wildlife waterholes which are provide year-round water for 12+ tigers & countless other wildlife. We are now planning to raise funds to construct more of these waterholes in the coming year (hopefully). You can see details of this project at: https://goto.gg/34315 where we hope to further reduce the risk of human-animal conflict from straying wildlife.
With the birth of nine tiny cubs & many others under 1 year old currently in Bandhavgarh, our patrollers need to be extra vigilant during peak poaching season. The monsoon season brings a peak in tiger & leopard poaching activity, as heavy rainfall washes away the tell-tale signs of human tracks. For this reason we try to double our patrols throughout July, August & September (in 2017 we were only able to increase our patrolling by 50% due to a lack of funding & a tigress was poached leaving 3 orphaned cubs). This year, we have doubled our patrols in July, & hope to raise sufficient funds to sustain the increase throughout August & September. If you would like to help, £10/$13 will provide 3 hot meals each for 2 patrollers whilst they are on duty protecting wild tigers, whilst £20/$26 will help to pay a team of 6 Anti-Poaching Patrollers for a day: https://goto.gg/28767. All donations, however large or small, help to keep these brave men & women protecting wild tigers during the day & night. Our patrollers must be extra careful during the torrential monsoon rains when the tell-tale signs of a tiger's presence are also washed away. Thankfully, Langhur monkeys perched high in the trees provide an early warning system of a predator's approach with their varying alarm calls. We provide our patrollers with head-torches so they can keep their h&s free whilst conducting foot patrols & strong canes to ensure that they don't become the unintended victim of a snare. In June 2018, Tigers4Ever also funded a new search light for mounting on the patrol vehicle which enables checks to be made over greater distances at night before dismounting the vehicle.
The donations we received during the second quarter of 2018 were sufficient to keep our patrols protecting wild tigers for 50% of a month; fortunately we had raised sufficient funds earlier in the year to keep our patrolling going for longer. Your donations also help us to pay our patrols, to provide transport to get them to & from their patrol beat & enable us to give them 3 nutritious hot meals per day whilst they are on duty. Your donations also help us to provide a safe haven for our patrollers to return to in the event that alarm calls from the jungle indicate that a tiger or leopard is approaching. Transport & fuel are vital tools for our patrollers who need to cover 1598 square kilometres (993 square miles) of precious tiger habitat.
We still need £2917 ($4150) to fund our Anti-Poaching Patrols for the rest of 2018. If we can raise these funds we will be able to maintain double patrolling during peak poaching season & can increase our Autumn patrolling by 20% (compared to Autumn 2017), but this is subject to raising sufficient funds to cover the increased costs. Tigers4Ever needs to raise £720/$980 per month (or £8640/$11400 total) to make this possible & keep patrolling at optimum levels during peak poaching season & for the rest of 2018. Please visit: https://goto.gg/28767 to help. The £330/$470, which you helped us to raise with your kind donations in the second quarter of 2018, together with funds raised earlier in the year, has kept our patrols protecting wild tigers for the moment & we hope that Global Tiger Day on 29 July 2018 will inspire more people to help. Your donations will not only help to feed & pay the patrollers, they also help to provide transport, fuel, & any vital equipment which needs to be replaced.
I would like to thank you on behalf of the wild tigers, which we are keeping safe; on behalf of the patrollers we are keeping in work (& their families who have food on the table); & on behalf of the wider tiger community in Bandhavgarh, which benefits from providing food & equipment for our patrols & from the safety & education advice given by Deepak, Prahlad & our patrolling team.
Links: