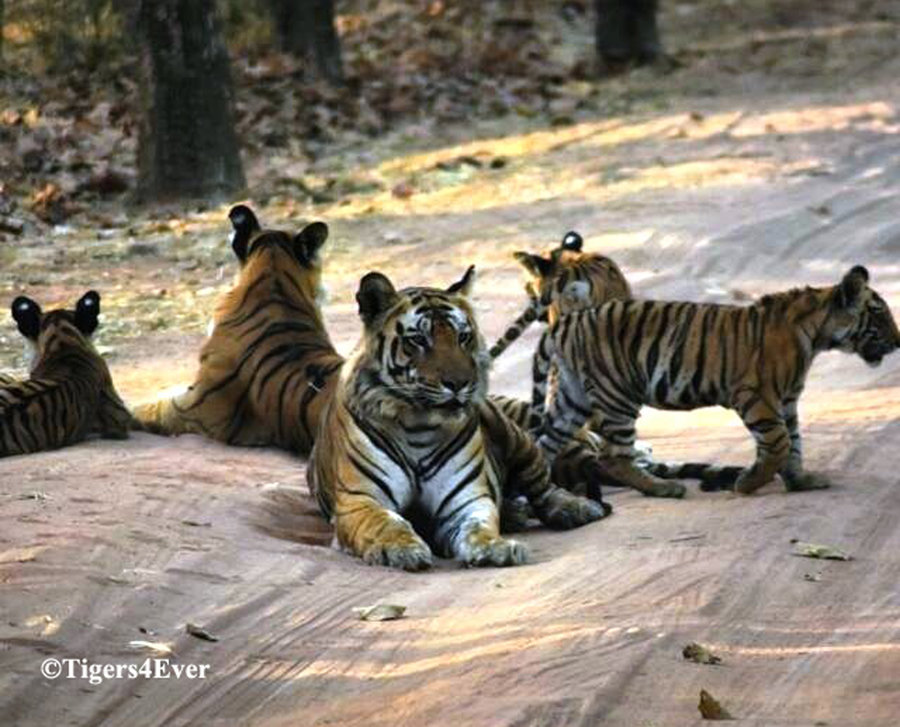 Thanks to the amazing support we have received from you all during the first quarter of 2018, we can approach the monsoon season (peak tiger poaching season in India) with confidence that our Anti-Poaching Patrols can continue their magnificent work ensuring that wild tigers are safe from poachers' snares. So far, our Anti-Poaching Patrols have helped to keep Bandhavgarh free of poachers' traps throughout 2018 and we hope to continue this success throughout the remainder of the year.
We mentioned in February how our Anti-Poaching Patrollers do much more than just search for poachers' snares and traps, with their vital role in communicating the threat of extinction which wild tigers face and the subsequent consequences for the human population. For the last month, our patrollers' duties have expanded further with the onset of severe drought (following poor rains in the 2017 monsoon period) and ever increasing daily temperatures, the risk of forest fires is now high. Tigers4Ever Anti-Poaching Patrols help with the early identification of forest fires and triggers which may cause them; they also help forest department officials to quench such fires when they discover them saving the lives of many animals including tigers and their cubs in the process. The drought season also increases the risk of human-animal conflict as rivers, streams and lakes run dry causing prey animals to enter villages in search of water and predators to follow in search of food. Wild tigers are notorious for taking livestock at this time of year, so it is paramount to maximise efforts to keep both prey and predators out of the villages to prevent retaliatory poisonings or revenge snaring of the tigers. In the last month, Tigers4Ever has been helping to address the water shortage by constructing two permanent wildlife waterholes which will provide year-round water for 12+ tigers and countless other wildlife; thus reducing the risk of human-animal conflict from straying wildlife. These waterholes are sourced by underground water using solar-powered borehole pumps to bring fresh water to the surface. In the monsoon period, the solar pumps will be less active due to gloomy conditions but heavy rainfall will ensure that water levels are maintained. Later this year, we will launch a new campaign to raise funds for further waterholes in Bandhavgarh; the two which we have developed recently are in the driest area of wild tiger territory where the natural water sources had already run dry.
Our patrollers have also been actively involved in monitoring the camera traps which have been set in the buffer forests around Bandhavgarh for the 2018 Tiger Census. Miscreants are known to damage or steal these camera traps to avoid their illicit activities being recorded, so regular checks that the cameras are in place and working play a vital role in tiger protection, especially as around two thirds of Bandhavgarh's wild tiger population frequent the buffer forests. A missing or damaged camera trap can also provide a clue to the possibility of poachers' snares or traps in the vicinity so it is fundamental that patrollers take extra care when walking their beats to ensure that they don't become the unintended victim of a snare.
March 2018 brought the first of the forest fires in the Ranchha area of the Bandhavgarh buffer, home to a wide variety of wildlife including a tigress with three young cubs. Thanks to the quick response of our Patrolling Supervisor, Prahlad, and his team the risk of wildlife deaths in the fire was dramatically reduced as they fought to first control and then quench the fire thus protecting the precious forest.
Just £20/$26 helps us to pay a team of 6 Anti-Poaching Patrollers to protect wild tigers for a day. Our patrollers, risk their own lives during the day or night as they search for snares, traps or other signs of poaching activity. Frequently, snares are tethered to an open electricity source which would mean instant electrocution for any animal or person who touched or walked into it. The head-torches we provide for our patrollers enable them keep their hands free to use canes to check dense undergrowth safely without fear of losing a limb or their lives; and enable them to work safely when setting firebreaks for controlling/quenching forest fires. The donations we received during the first quarter of 2018 will enable us to pay our patrols, to provide transport to get them to and from their patrol beat and will enable us to give them 3 nutritious hot meals per day whilst they are on duty during the current quarter. Your donations also help us to provide a safe haven for our patrollers to return to in the event that alarm calls from the jungle indicate that a dangerous predator is approaching. Transport and fuel are vital tools for our patrollers who need to cover 1598 square kilometres (993 square miles) of precious tiger habitat.
We are £3169 ($4500) short of our target to maitain our Anti-Poaching Patrols for the remainder of 2018. We hope that we won't be forced into a 20% reduction in our patrolling this year due to a lack of funding, (as was the case in Autumn 2017 when a wild tigress was electrocuted by a tethered snare within 4 weeks of the reduction). We aim to increase our patrolling by 140% during the 2018 monsoon peak poaching season, but this is dependent upon ensuring that we can raise sufficient funds to cover the sustained increased costs. If we can reach our target of raising £720/$980 per month (or £8640/$11400 total) then we will be able to keep the patrolling at optimum levels during peak poaching season and for the rest of 2018 (https://goto.gg/28767). The £1381/$1947, which you have helped us to raise with your kind donations in the first quarter of 2018, together with funds raised in December 2017, will help us to keep our patrols protecting wild tigers throughout the second quarter of 2018 and into the early part of the monsoon. It will help to provide transport, fuel, food and any vital equipment which needs to be replaced during the same period.
I would like to thank you on behalf of the wild tigers, which we are keeping safe; on behalf of the patrollers we are keeping in work (and their families who will also have food on the table); and on behalf of the wider tiger community in Bandhavgarh, which benefits from providing food and equipment for our patrols and from the safety/education advice given by Deepak, Prahlad and our patrolling team.
Links: