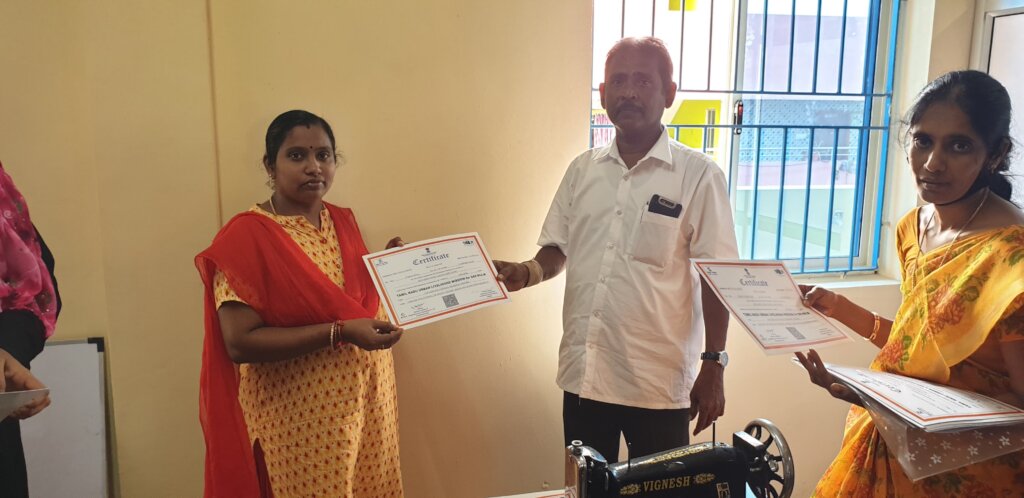 Respected Donor !
CHHASE is working for the "well being and development of our communities" and is always taking new steps for that. From time to time we see the impact stories from ground by our feedback forms.one of these Beneficiary's story is shared in this report.
Meet Shanthi......!!

My name is Shanthi (Name Changed), I live in a small village & I am 26 years old. In the second wave of corona, my family faced so many problems. I have a younger brother in my family. I had a desire to do a Tailoring course from the very beginning as it will keep me at my home and I would be able to look after my family, but it could not be done due to lack of money.

I got an light from darkness when I got to hear that free Tailoring training was going to be conducted in my own village by CHHASE Organization. After hearing this, there was no place for my happiness. I immediately went to the CHHASE Team members who were doing survey in my village and applied for this free Tailoring training by filling form given by CHHASE Team members. I took this training regularly in which I was taught in both the ways; theoretically as well as practically and we were taught by following all the covid-19 safety protocols & maintaining social distance. Blouse, petticoats, Inskirt, Chudidhar, School uniforms,shirts, pant, half trouser etc. were taught to me in this training and I learned very well. The training was practical as well as theoretical in which I successfully learned the Tailoring course. During training, I received capacity building, life skills, EDP training which increased my confidence.

This skill development training changed my life as during the training, I started working at home and kept practicing of doing Blouses, petticoats, school uniforms, etc. on the women and girls around, that made me earn some money. After some time, I opened my own Tailoring shop in my village which helped me a lot. I started earning & able to support my family financially.

CHHASEthanking all our monthly recurring donors. Such donations are our strength and it is pushing our projects to success.
We have to stand firmly against corona virus to protect our country & entire world from it.

We would love to hear your feedback, comments & Suggestion on our program.
Best Wishes,
Team CHHASE India.....

Stay Healthy & Keep Physical Distancing!!