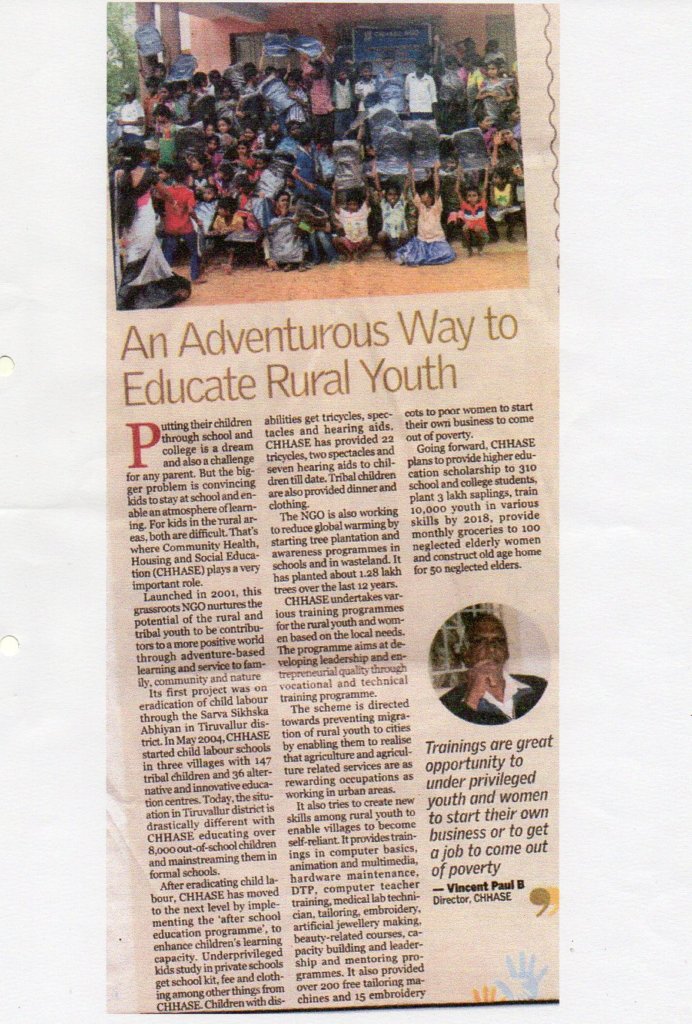 Respected Donor
Warm greetings from CHHASE.
Thank you for your generous contributions for the save women & girls from violence through esteemed organization GlobalGiving.
As part of the CHHASE activities, we are identifying the economically disadvantaged poor in rural areas, where the women are facing lot of problems to run their families, educate their children and timely medical support to their family members. We found, most of the poor women are lack of skills to earn, because of poverty, descrimination among the community.
We are motivating the Poor women about the importance of learning skills like sewing, embroidery, artificial jewelry. Meanwhile, we are providing trainings in various skills and provide sewing machines, Embroidery cots free of cost to start their own business. With this timely skills tarinings and free machinery to start their business, they are able to send their children to school without drop out, feed their family and provide timely medical treatment to their family members. The women are saving, feeding their children and family, giving timely medicines, they are happy and expressed their sincere gratitude.
CHHASE ensures to save the women and girls from violencein many ways. we are educating youth to stop child sexual trafficking,educating men & boys to stand alongside to stop violence, Physical aggression, burns, attempted hanging, sexual abuse and rape, psychological violence through insults, humiliation, coercion, blackmail, economic or emotional threats, and control over speech and actions.
In this thanks giving letter we would like to share some of the most important events with you about the program our donors have supported. with globalgiving support CHHASE has provided Sewing & Embroidery training to 120 poor women from Tiruvannamalai district of Tamil Nadu, from different caste and religions. Tiruvannamalai district is most backward district ofTamil Nadu. In triuvallur district, CHHASE has provided sewing, Embroidery, Artificial jewelry, computer related trainings and Beautician trainings to 750 beneficiaries.
Also your support enabled us to provide 200+ sewing machines,12 Embroidery cots, 6 computers to disabled and 30 artificial jewelry making kits so far. Your generosity enabled CHHASE to provide 50 poor women to business capital. from different caste and religions. Without you, it was not possible for CHHASE to do this humanity work. Your help gave us appreciation through Indian Express newspaper dated 01.10.2015. the copy attached.
On behalf of these beneficiaries, CHHASE would like to thank you for your generous donation to help them.
"Instead of giving a fish, give a fish net."
Please consider telling your friends and family about our project - share the link on your blogs or social networks, use the tell-a-friend feature on the project page to email your network, or just bring us up in conversation. You know your friends and family tell them why you chose our project and what it means to you.
Trainings are great opportunities for our women and girls to further develop their marketable skills and therefore a little step towards self-independence.
Many thanks again for your support! We will continue to keep you updated about our work and events of the following months.
Warm Regards,