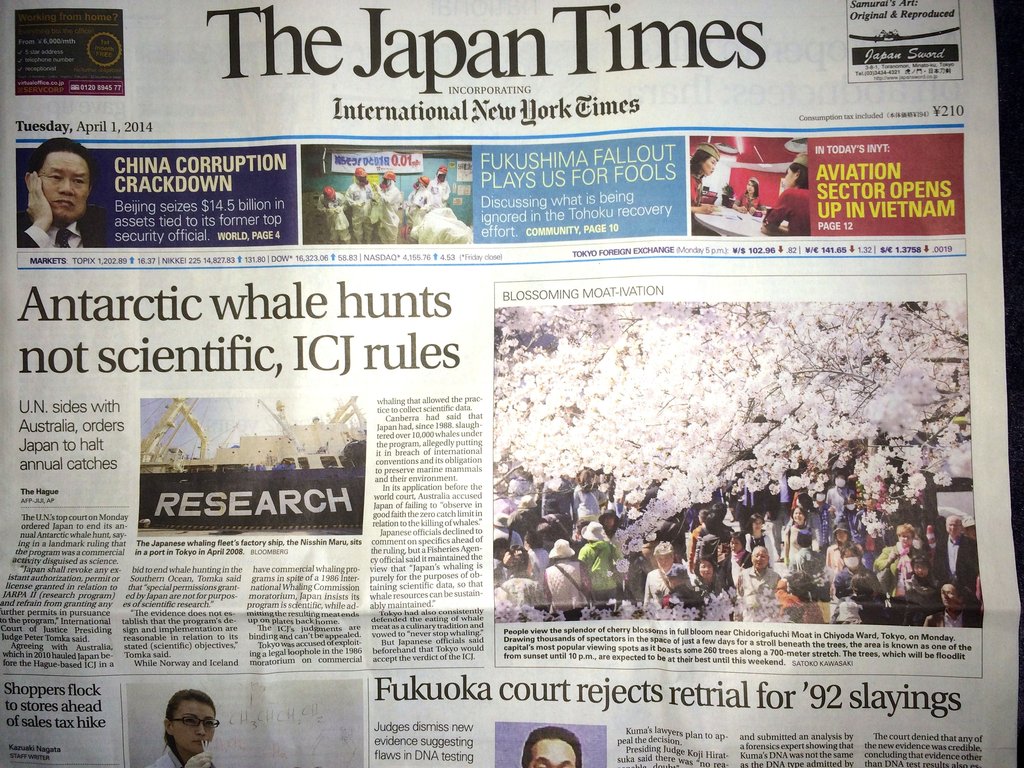 Hi Dolphin, Whale & Ocean Lovers,
We have fantastic news! On March 31 the World Court ruled that Japan must revoke all of its scientific research permits and ordered them to stop killing whales in the Southern Ocean Whale Sanctuary!! This is a huge victory and our Founder, Jeff Pantukhoff, was in Japan for the decision and took a photo of the Japan Times showing the decion as the top headline!!

Iceland Update
Iceland killed 135 endangered fin whales and 35 minke whales last summer!

Unfortunately the news from Iceland is not as good. For the past 2 years, we have been working closely with the President Obama's Chief Advisor on the Environment, Nancy Sutley, and Ryan Wulff, the acting US Commissioner to the International Whaling Commission (IWC), urging them to use economic sanctions against Iceland to stop whaling.

Earlier this week, President Obama announced that his administration would take stronger diplomatic measures against Iceland, but for now, would not use economic sanctions. It is our hope that Iceland will heed the President's demands and stop whaling so will wait to see what happens this summer.

Norway Update

Norway continues to defy the commercial moratorium on whaling and just announced a 2014 whaling quota of 1,264 minke whales!
Minke whales are the smallest of the great whales and are very beautiful and intelligent creatures who are also very curious and interactive with human divers. Norway, like Iceland, believes that no one cares about their illegal whaling activities but we have news for them: We do! We are currently planning events to shine the spotlight on Norway this summer and we need your help and support now more than ever.

Taiji Update

Our founder, Jeff Pantukhoff, is currently in Japan and will be visiting Taiji next week to meet with officials there to discuss economic alternatives to their dolphin hunts which are legal in Japan. Recently, Caroline Kennedy, the US Ambassador to Japan, tweeted: "Deeply concerned by inhumaneness of drive hunt dolphin killing. USG opposes drive hunt fisheries." We applaud this statement as Caroline is the first US Governemnt official to state the official US Government position that opposes the Taiji dolphin hunts. With the recent ruling by the World Court stopping Japan's whaling in the Southern Ocean, there will be even more pressure on Taiji to find an alternative to this cruel and barbaric practice.
All of us here are committed to doing everything we can to help Save the Whales Again! and we thank you all for your continuing support!

Sincerely,
Jeff

Jeff Pantukhoff
President & Founder
The Whaleman Foundation &
Save the Whales Again! Campaign