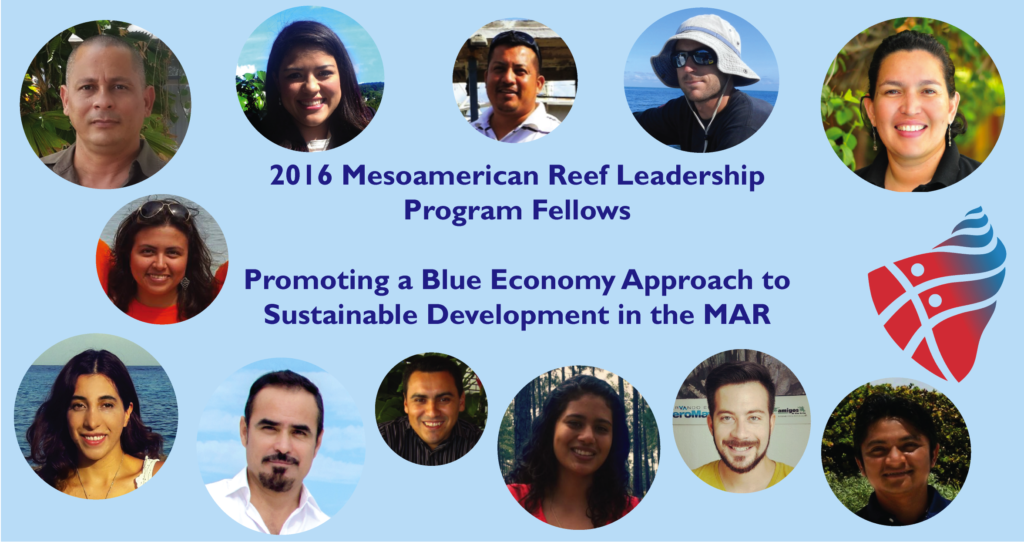 Dear friends, partners and followers,
The third quarter of the year has been exciting! We launched our 2016 call for applications and went through a very competitive recruitment process. We interviewed great candidates for our 2016 cohort, whose theme is: Promoting a Blue Economy approach to sustainable development!
What is Blue Economy? FAO (2014) defines "Blue Growth" or "Blue Economy" as a rational approach to sustainable, comprehensive and socioeconomic management of the oceans and coasts. It is focused on fisheries, aquaculture, ecosystem services, and social protection of the coastal communities. Under a Blue Growth framework, responsible, sustainable and inclusive economic practices are promoted. Through capacity building, Blue Economy strengthens environmental legislation and institutional arrangements that empower communities, civil society organizations and public entities.
Fundamentals of this new economy are: optimizing the benefits from the use of marine resources (fisheries, bio-prospecting) to have higher profitability; reinvesting the benefits in environmental management, social capital, reducing national external debt and contributing to the eradication of poverty; promoting equity in access to the benefits so that there is a constant cash flow to all parties involved; and innovation in the production of circular solutions (blue solutions) that bring together economy and environment.
As you may know, the four countries that share the MAR region: Mexico, Belize, Guatemala and Honduras, are intimately linked to coastal marine ecosystems. The diversity of natural resources in the area has influenced local cultures for generations. The region now subsists mainly on the tourism and fisheries industries. It is estimated that three quarters of the population lives within 200 kilometers from the coastline. As the region continues to experience substantial and unprecedented changes along its coastline, including coastal pollution, fisheries decline and increased vulnerability to climate change; it becomes hence necessary to redefine the direction where economic activities are heading. It is urgent to change the traditional development paradigm towards a more (blue) economy, where human well-being and social equity rises, while natural resources are safeguarded for future generations.
2016 Fellows will be trained and mentored mainly by two amazing organizations:
Conservation Strategy Fund (CSF)

the world's only organization specifically focused on ensuring that economic insight is rigorously applied and embedded in conservation policy. Founded in 1998, CSF has trained over 2,200 people from 90 countries in 70-plus economic tools courses across North America, South America, Africa, Asia and the Pacific and conducted dozens of economic analyses that have shaped decision-making across the globe. CSF staff will mentor Fellows in designing economic analysis projects for conservation impact, including project scoping, design, methodology and analysis.

Environmental Law Alliance Worldwide

(ELAW) a global alliance of attorneys, scientists and other advocates collaborating across borders to promote grassroots efforts to build a sustainable, just future. ELAW will provide training, mentoring and technical assistance on Advocacy and Leadership including the development of effective communication campaigns; public participation in environmental decision making, and use of legal tools.
The call for applications was launched on our social networks, sent out to our contact lists and several related mailing lists, reaching around 20,000 people. Conscious that the topic of this year's cohort is quite unique and different from the previous years, MAR-L staff undertook an intensive diffusion effort and held press conferences, interviews and presentations in the four countries!
Numerous interesting proposals and profiles were received, and after a thorough selection process involving MAR-L staff and Executive Committee, we are thrilled to present you MAR Leadership's brand new 2016 Cohort:
Michelle Villatoro from Guatemala works as Advisor for the Basel Convention at the Ministry of Environment. Her project "Improving Environmental Management in Puerto Barrios and Puerto Santo Tomas, Izabal" seeks to encourage and support the compliance with the Basilea Convention on the Control of Transboundary Movements of Hazardous Wastes and their Disposal as well as the Marpol Convention to prevent marine pollution from ships by assessing environmental and social conditions in the two ports. The mid and long term result of this project is the prevention, control and minimization of environmental impacts generated by port activity.
Diana Vasquez from Honduras works as Executive Director at the Center for Marine Studies. Her project "Improving the Business Model of Artisanal Fisheries Based on the Blue Economy" will provide sustainable solutions to make the sector more economic profitable. The project aims at working with the National Federation of Artisanal Fishermen based in Omoa, on the use of alternative fuels (gas), inexpensive mechanical improvements to engines to make them more efficient, plus the incorporation of novel techniques to add value to products. Her ultimate goal is to ensure better incomes for fishermen and their families.
Her country fellow, Milton Alvarado, is an independent consultant specialized in financial mechanisms for conservation. His project "Design and Implement a Financial Mechanism for Conservation of Watersheds that Supply Water for Domestic Use at the Name of God National Park" seeks to develop a financial mechanism to ensure the sustainability of ecosystems that contribute to the welfare of approximately 17,000 people in 43 communities located in the buffer zone of the Nombre de Dios National Park, an important watershed leading directly to the MAR and Bay Islands.
Julio Maaz, Sustainable Fisheries Technical Coordinator at Wildlife Conservation Society's in Belize, will implement a traceability system in the fishing industry to increase the value of the sector, the sustainability of the industry and the resilience of the ecosystem and Belizean people. The project will seek to increase by 3-6% the revenue generated from the existing products. A branding and market exercise will be developed in an effort to generate higher prices.
Also attending sustainable fisheries issues, Isabel Martinez, Managed Access Liaison Officer at Belize Fisheries Department, is particularly interested in adding value to the fishing activity while encouraging sailing fleet in Belize to undertake sustainable practices. This initiative would help the fleet of 100 vessels to adapt to the changing market demands. It will allow the fleet to obtain higher economic returns while encouraging loyalty to their cooperative and keeping the traditional use of sailing vessels.
Areli Perez, Environmental Assistant at the Belize Aquaculture Ltd, will develop Belize's great potential for becoming a model for 'Blue Economy' in sustainable aquaculture by improving the connectivity between the different involved sectors in order to comply with higher standards and helping them in the process of certification from internationally recognized standards.
Executive Director of the Belize Tourism Industry Association, John Burgos, sees an opportunity to promote and communicate Blue Economy solutions while strengthening Caye Caulker's Reserve management and the development of a Learning Center that will reach national and international students and tourists.
In Mexico, COBI's Marine Reserves National Coordinator, Stuart Fulton, has been involved in the design and implementation of fishing replenishment zones in Quintana Roo. He has hence realized that these projects have relied on traditional philanthropic funds, which makes them vulnerable to economic changes in the medium and long term. To secure their successful future, Stuart will provide Quintana Roo's fishing cooperatives with the information on the costs and economic benefits of maintaining a marine replenishment zone and generate replicable tools for the MAR region.
Alejandro Tamayo, Water Conservation Program Coordinator at Amigos de Sian Ka'an, will develop an economic valuation of Quintana Roo's karstic aquifer and associated groundwater dependent ecosystems that are linked with the MAR. He will design economic mechanisms to strengthen the programs of local ecological system, strengthen environmental legislation and promote the connection to the sewage.
Juan Canul, a biologist in charge of the environmental management of Ahau Hotels (four hotels), will test a model of low density and low impact tourism in Tulum by focusing on making the conservation of marine and coastal ecosystems profitable for the tourism sector, securing the sector's investments as well as the marine coastal ecosystems which is key to the blue economy.
In the Island of Cozumel, Alejandra Tellez, a passionate consultant on sustainable eco technologies, will implement a comprehensive model that combines the best practices of sustainable social housing and eco technologies that are low cost and replicable. Local communities will be empowered and their sustainable lifestyle will promote natural resources conservation.
Last but no least, also from Cozumel Island, Adrian Villegas, Geochemistry PhD, seeks to launch a Blue Economy initiative that will aim at engineering novel businesses and co-management schemes allowing the sustainable exploitation of newly-generated goods and services provided by Artificial Marine Ecosystem Corridors (AMEC). He will start by conducting an economic study in artificial reefs already in place in order to obtain quantitative information that can serve to set realistic economic and conservation goals for AMEC.
The selected Fellows are currently making their travel arrangement as their training is about to begin with the 2016 MAR-L first workshop in Cancún!
Stay tuned to receive more news on our brand new cohort!
Thank you donors for making this work possible!
For more information follows us at http://liderazgosam.org/en/ and https://www.facebook.com/MARLeadership/
Links: