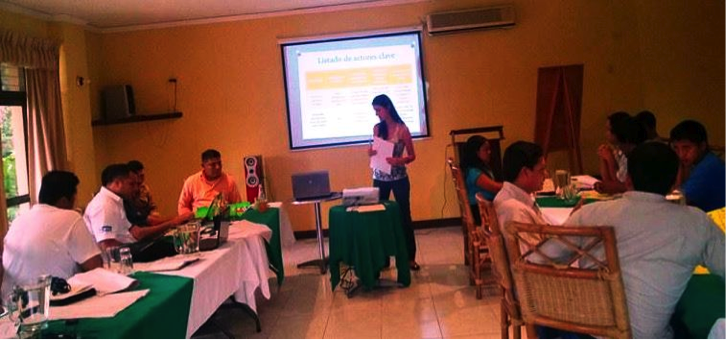 Dear friends and supporters!
We wanted to tell you how appreciative we are of your support to the Mesoamerican Reef Leadership Program in 2014! Your belief in our mission of a healthy reef with prosperous communities has allowed us to strengthen the capacities and leadership skills of young conservationists in Mexico (Quintana Roo), Belize, Guatemala, and Honduras to help them launch marine and coastal conservation projects.
We wish you a happy end of the year and a positive start to 2015.
MAR Leadership Team
Here are some updates of our fellows and their projects:
On October 8th 2014 MAR Fellow Melissa Alvarez was invited by the Ministry of Natural Resources (Mesoamerican Biological Corridor) in Guatemala to present the MAR Leadership Program and the Livingston Integrated Waste Management project in the National Policy Management Group Meeting which was held in Puerto Barrios. The purpose of the meeting was to discuss integrated coastal and marine management in Guatemala. 30 representatives of institutions and other groups from Livingston and Puerto Barrios municipalities participated.
2010 MAR Fellow Pablo Besquin's project: modular artificial reef AMA® was launched in 2009 when he installed an artificial reef barrier at the NH Hotel in Puerto Morelos. This project seeks to restore the coastal area of Quintana Roo and avoid the continuous erosion of the beaches. Given its positive impact in restoring the beach at NH Hotel a second group of artificial reefs has been authorized and will be installed in November 2014. Catalonia Hotel in Puerto Aventuras has also signed an agreement to install a reef barrier. Additionally to protecting the coast, this artificial barrier reef will contribute to the coral eco-system conservation, since it will become a fish aggregating site for tourist attraction, which will reduce the pressure of tourists and fishermen on the natural reef areas.
Paradisus Playa del Carmen the hotel where Carlos Segura (2012 MAR Fellow) works as Environmental Manager, signed an agreement with Oceanus, A.C. (2011 MAR Fellow Gabriela Nava's organization) to raise funds for her Coral Restoration Project which is the first project in Mexico that restores reef areas by transplanting coral colonies grown in nurseries. The hotel has placed two boxes in the Welcome launch for this project. This is a clear example of how the MAR Leadership Network is working.
In September Giacomo Palavicini (2012 MAR Fellow, Honduras) gave a TED talk on sharks at TEDxTegucigalpa which gathered distinguished personalities whose ideas and actions are helping Honduras to make a better country. Giacomo Palavicini is a renowned oceanographer and Executive Director of Roatan Marine Park and is making possible the consolidation of a culture for the preservation of Honduras marine resources. Giacomo's participation' at TedxTegucigalpa was recognized by the Mexican Ambassador in Honduras in a private meeting and in the Embassy's newsletter.
Climbing the career ladder
Yashin Dujon (2010 MAR Fellow from Belize) is the new Environmental and Community Relations Officer at Harvest Caye. Harvest Caye is a new destination -- comprising two adjoining islands which are "eco-friendly". Yashin is working on Developing the Eco-Adventure First Port that will be ISO 14001 Certified. There is a lot of public contention around it so he is revising the education and interpretation Programmes to meet ISO 14001 criteria and standards.
Oceanus A.C. Congratulations!
The organization Oceanus AC, which MAR Fellow 2011Gabriela Nava is a founding partner, won an Honorable Mention for the 2014 Conservation of Nature Award in the Category of Civil Organizations, an award given annually by the National Commission of Natural Protected Areas of Mexico (CONANP).
Raising awareness of new generations
In August, Ian Drysdale (2010 MAR Fellow), Jenny Myton (2010 MAR Fellow) and Giacomo Palavicini (2012 MAR Fellow) of Honduras gave a master lesson at the Escuela Agricola Panamericana El Zamorano where they share their experiences on sustainable management of sharks and marine protected areas.
Exhibition in Cozumel
In October Javier Rojas (2010 MAR Fellow from Mexico) gave a presentation on "Results of the study: Business perception towards sustainable development in the north of Quintana Roo" developed in 2011 by Sustainable Development Consultancy for Tourism Enterprises (CODESUET) with support from the Leadership Program. Javier also shared his experience on Green Globe certification with the students of the Master of Management and Audit at the University of Quintana Roo in Cozumel.
Sustainable Tourism Expo
Vicente Ferreyra (2010 MAR Fellow) and Fernando del Valle (2014 MAR Fellow) participated as speakers at the Sustainable Tourism Expo which took place 15 - 17 October at the Palladium Hotel Tulum. Vicente presented the successful community tourism project Mayan Ka'an and Fernando spoke about the MARTI Certification. Both are emerging as true leaders and experts in the field of responsible tourism in Quintana Roo and other MAR countries.
Cozumel Scuba Fest 2014
The Cozumel Scuba Fest 2014 took place on December 9-14th. This event annually brings together the diving community of Quintana Roo and international divers. This year the event was attended by explorer Jean-Michel Cousteau. Scuba Fest's vision is to promote corporate social responsibility in in diving companies of Cozumel and Riviera Maya who are willing to protect the coral reef barrier and provide high quality services. The event also creates awareness in the local community regarding the importance of protecting the marine ecosystem and promotes concrete actions from the local government and regional NGOs. The Mexican Fund for the Conservation of Nature (FMCN), through the MAR Leadership Program (MAR Leadership) was invited to participate as an exhibitor. In representation of the program several MAR Fellows from different generations joined us in the event: Javier Rojas (2010), Tzahyrí Peraza (2014), among others managed to showcase their projects. As a result of the event, FMCN managed to position itself as a strong conservation organization in the world of professional divers. In addition, we were invited to participate in a congress for graduate students at the University of Quintana Roo in Cozumel where the MAR Leadership Program was presented and of great interest to teachers and students. It was therefore a pleasant experience that we hope to repeat in subsequent years.
Third workshop for the 2014 Cohort in Roatan
From 1 -9 November, 2014, the third workshop of 2014 cohort took place in Roatan, Honduras. It was a technically complex workshop due to the degree of progress in the strategic plans of each project and the challenges that naturally brings personal interactions within each team, but also very successful thanks to the work of consultants and the MAR Leadership team. As always, the trainings were of very high standard, this time including four international experts through videoconference.
It was also a very productive workshop in terms of the regional synergies that came up. We saw alliances between Fellows from different teams and countries with common goals and experiences, working together in strengthening their projects and generating invocative solutions to the solid waste problem. An example is the collaboration between 2014 MAR Fellows Emerson García (Belize), Mario Salazar (Guatemala) and David Barahona (Roatan) who are planning a parallel initiative to their projects in order to transport recoverable materials from Punta Gorda and Roatan and transport them to Puerto Barrios where Mario (recycling entrepreneur) will process and recycle them.
During the Solid Waste Management Forum the Bay Islands Departmental Governor and the mayors of the two municipalities on the island of Roatan, signed an unprecedented agreement in which they expressed their willingness to collaborate with the sustainable management of materials project in Roatan and support MAR Fellows projects from other previous cohorts. Following this event, we are planning a visit from these authorities and possibly those from Belize and Guatemala to Mexico to learn about how this problem is dealt.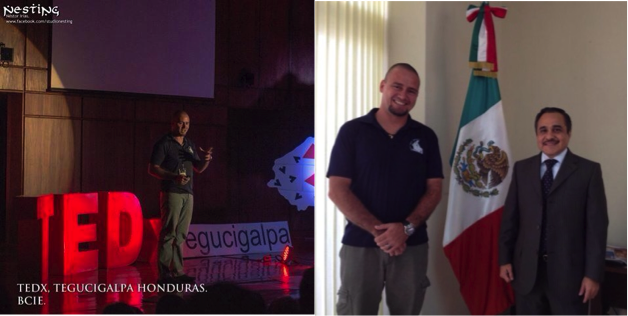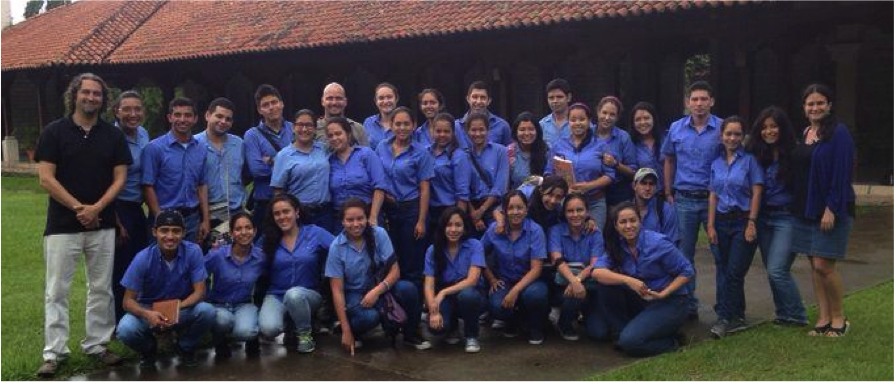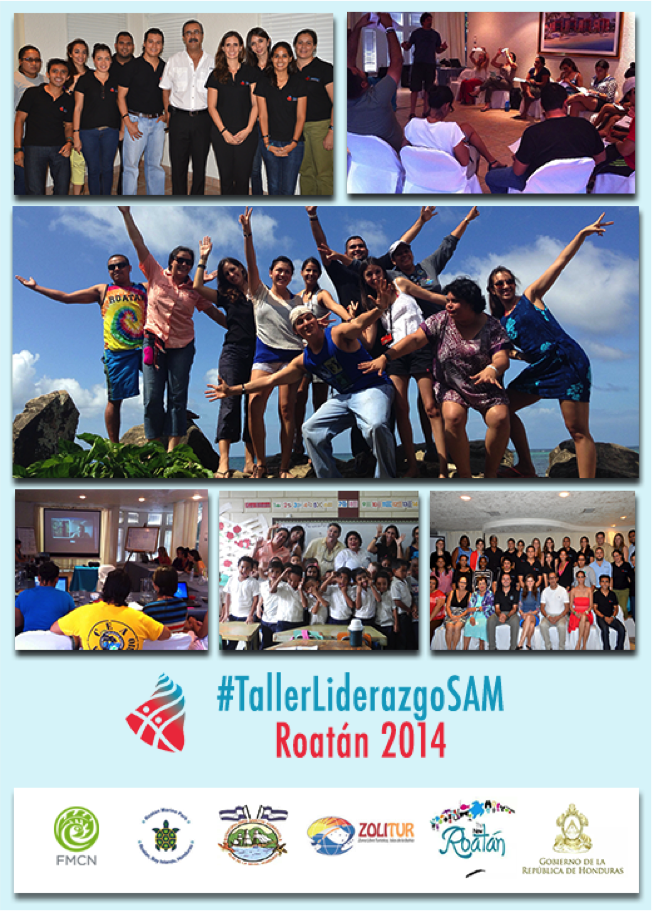 Links: