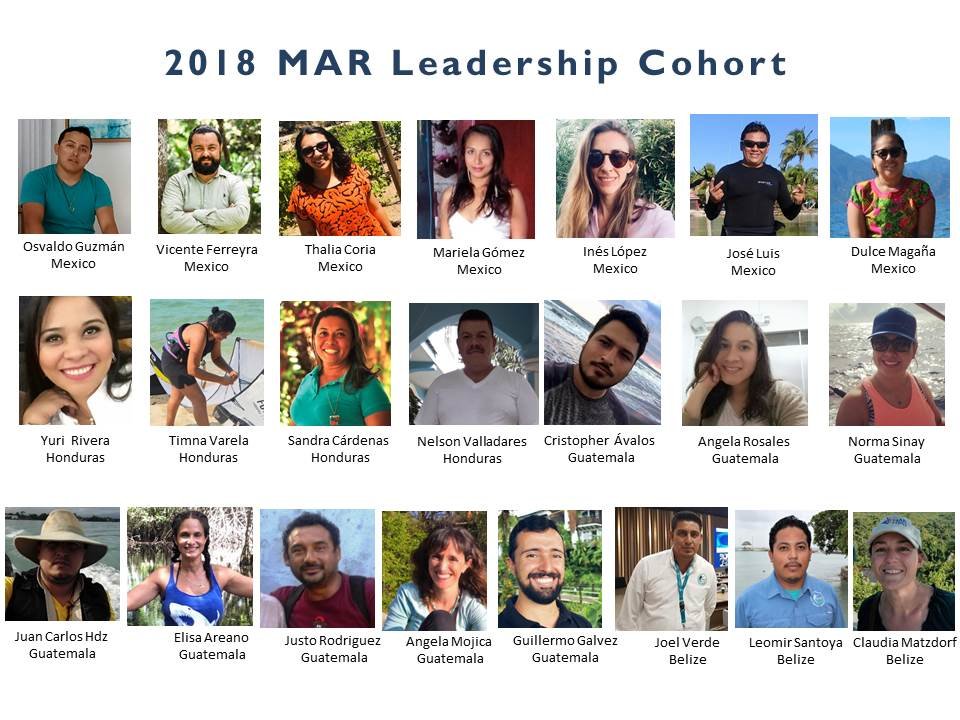 Dear friends and supporters,
We are happy to announce that the 2018 cohort has been selected. 2018 Fellows will promote sustainable fisheries and community development projects in the four MAR countries.
The 2018 cohort is made up of 22 Fellows: three from Belize, eight from Guatemala, four from Honduras and seven from Mexico. Four people come from fishing cooperatives,fourteen from civil society organizations, five from the private sector, and one from the government. 53% are women and 47% are men.
The training workshop for the 2018 cohort took place August 5 to 18 at the Institute of Marine Sciences and Limnology of the Autonomous University of Mexico, Puerto Morelos. During the first week, the Environmental Defense Fund (EDF) team led the training on sustainable fisheries management, marine reserves, climate change, science and fisheries management, monitoring and enforcement, blue economy and community development. The workshop included a combination of presentations, case study discussions and interactive sessions designed to put learning into practice. Local and global case studies and good practices in sustainable fisheries and coastal development were presented by national and international top-level experts and trainers such as MAR Fellows from previous cohorts (alumni), members of the Executive Committee and representatives from Friends of Cabo Pulmo, Kanan Kay Alliance, Community and Biodiversity, Wildlife Conservation Society, Belize Fisheries Department, Center for Marine Studies Center, Healthy Reefs for Healthy People, World Bank, Future of Fish, FMCN, Community Tours Sian Ka'an, and Sustentur.
During the second week,experts from the Environmental Law Alliance (ELAW) and the Center for Story-based Strategy trained Fellows on public policy advocacy and storytelling. Fellows also received training on negotiation, conflict resolution and construction of agreements with a gender perspective. The personal development and leadership styles session was also part of the curriculum.
Results of the workshop include the strengthening of the technical and leadership capacities of 22 fellows;the design of six projects on sustainable fisheries and community development in the MAR; the expansion of MAR Leadership network and exchange of experiences with representatives of Cabo Pulmo as a successful community-driven model of conservation and development.
During the training cycle of the 2018 cohort, 5 webinars are planned to deepen the topics discussed during the workshop, as well as a trip to Cabo Pulmo in May 2019 to continue exchanging experiences between both regions.
2018 Fellows are working on the following projects:
Design and implementation of a regenerative network of best practices of sustainable fisheries in Omoa and Puerto Cortés in Honduras and Sian Ka'an and Banco Chinchorro in Quintana Roo Mexico.
Sustainable fisheries and sustainable tourism in Bahía Espiritu Santo, as a local model of community development in the MAR.
Improving the health of reef through sustainable tourism and recreational services in Punta Gorda, Roatan.
Framework for a community rights-based sustainable fishery in Wildlife Sanctuaries in Belize
Strengthening protection for sharks in Guatemala through compliance with international agreements that regulate sustainable commercialization
Market opportunities for fisheries products associated with the mangrove ecosystem in Guatemala
Thank you for your support!