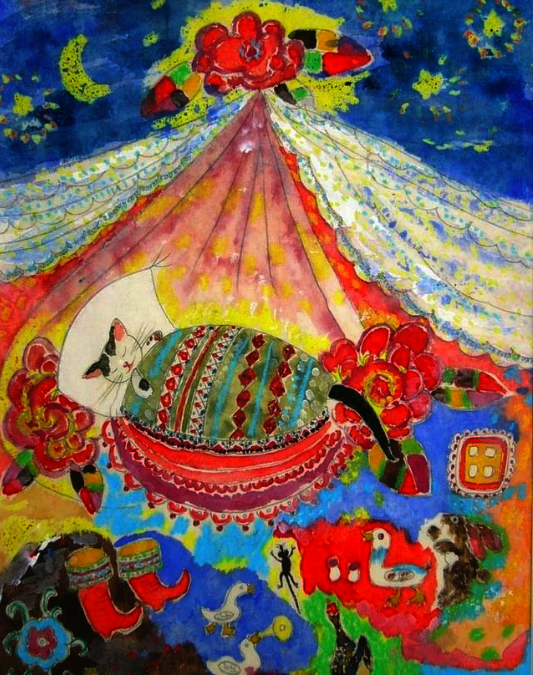 Season's Greetings from Maruki Gallery for the Hiroshima Panels!
We hope this message finds you well and enjoying the spirit of the season.
As the year draws to a close, we would like to thank you for your enthusiasm and generosity throughout the year. Your support has helped us keep our doors open during this difficult time, and we are truly grateful. This year, we were reminded again of the significance of reconnecting the Hiroshima Panels with the world. Thank you for the support you have given us.
Today, we would like to take this opportunity to share with you the activities of the Maruki Gallery in 2021.
Due to the pandemic, we were not able to hold any public events this year. However, we continued to keep our doors open throughout the year and carried out the following special exhibitions.
Wakana Yamauchi: The Beginning of the Beginning
Toshihiro Kanehara: The Voice of Ocean
Special Exhibition Hikaru Fujii: Record of Bombing
Yoshio Shirakawa: Is this Inferno or Paradise
Mihoko Ogaki: Milky Way – before the beginning – after the end 2021
The 120th Anniversary of Iri Maruki's Birth: Iri Maruki Exhibition – Tracing the Course of Experiments (Current exhibition)
Special Exhibition: The Taigyaku Incident (Current Exhibition)
We also created videos (available on our YouTube channel) and held online events so that anyone can learn about the museum, even from a distance.
Maruki Gallery Online Tour – What are the Hiroshima Panels? (60 mins)
Out of Hiroshima, Into the Future – Life and Art in the Nuclear Age (90 mins)
While we are delighted to reach more people and to stay connected with our long-time supporters through the online programs, we look forward to the day when you can come to the gallery and stand in front of the Hiroshima Panels without worries.
[Fundraising Report]
Thanks to your support, the planning for the construction of the new building and the restoration project of the Hiroshima Panels are also moving forward.
The Hiroshima Panels (I): Ghosts is undergoing restoration work. The work has been transferred to the Institute for Conservation and Restoration of Cultural Properties, Aichi University of the Arts. This is the first full-scale restoration of the work since it was first displayed on a folding screen in the 1980s. The restoration will last until March 2023.
Despite the pandemic, we have received generous contributions from so many people this year, bringing our total conservation fund to about 188 million yen (approx. 1.6 million USD) as of the end of October 2021. We still have much work to achieve our goal, but we are encouraged every day by all the messages we receive from our supporters.

We would be very grateful if you could continue to share Save the Hiroshima Panels - Preservation Fund to your friends and family.
Thank you for your support this year!
We wish you a wonderful holiday season and a Happy New Year!
Maruki Gallery for the Hiroshima Panels