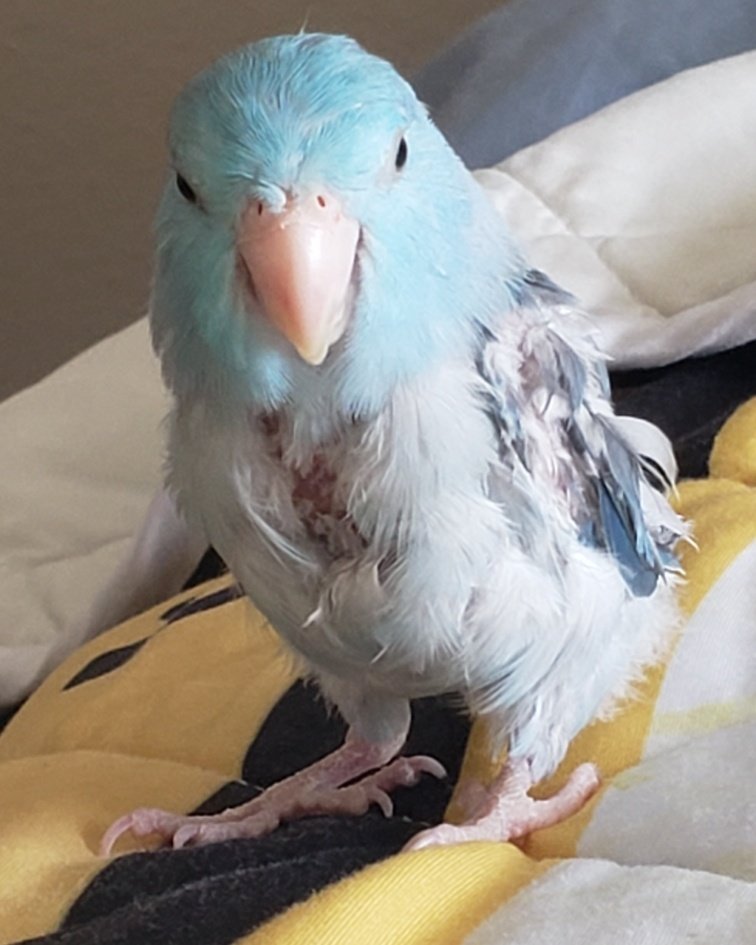 We cannot thank you all enough for helping us save Beni, a tiny parrotlet. Beni was relinquished to us earlier this year by her owner because Beni had developed feather destructive behavior (FDB) and was constantly picking and plucking at her feathers. The owner assumed this behavior was due to stress, boredom, insufficient interaction, and a lack of time out of her cage. All these things can contribute to FDB as can many other things. Having had numerous birds come into our care with FDB, we knew there was likely a more insidious reason for Beni's FDB. These FDB birds always send our hearts into atrial fibrillation, and our bank account cringes with the knowledge of what is to come.
Beni was taken to Dr. Larry Nemetz at The Bird Clinic for an examination and radiographs. As we suspected, Beni had multiple foreign bodies (FB's) lodged in her gizzard. Due to Beni's small size (she weighs approximately 1 ounce/30 grams and is only about 5 inches in length), the prognosis was quite grim. Some of the FB's were too large to pass from the gizzard into the intestine. In a larger bird, surgical removal of the FB's is a fairly straightforward process, but in a bird as small as Beni, surgical removal of the FB's had rarely been successful. The standard less invasive procedures of chelation and psyllium were attempted with Beni, and some of the smaller FB's did pass through her digestive system. Sadly, many large FB's remained. It was now time to make a very difficult decision. Should we euthanize Beni to end her suffering or should we attempt surgery knowing that Beni may not survive the surgical procedure?
Dr. Nemetz had recently developed a surgical procedure that had been successful on another of our birds and felt there was a chance for Beni based upon his successful surgical removal of FB's from our Fischer's lovebird, Tweets. We opted for the surgery, Beni survived, is thriving, and is free of FB's. The regrowth of her feathers after surgery was nothing short of amazing!
Beni's veterinary costs to date are $4,539.56, and seeing her healthy and happy is worth every penny of that! We could not have provided this life saving care for Beni without your financial support. We are very grateful and hope that you will continue to support us so more birds can receive the veterinary care they need.
In closing, please get your bird to an avian veterinarian for radiographs and bloodwork if you suspect your bird has ingested foreign bodies. Also take great care to assure that your bird toys and safe, your cages, food, and water containers aren't rusted, and don't give your parrots grit! Parrots are also prone to developing impacted crops from chewing on and ingesting pieces of fabric from cage covers, seed skirts, boing coverings, sleeping huts, etc. Check such items frequently to be sure your bird isn't ingesting fabric particles.
Thank you! We look forward to your continuing support!