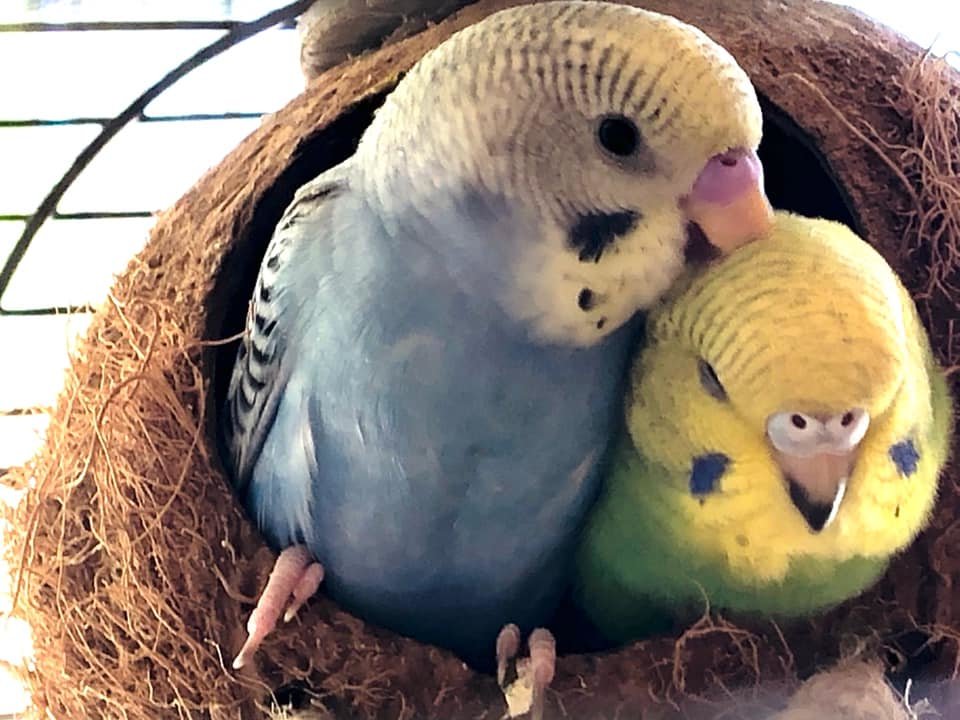 2020 was our busiest year EVER for assisting birds with 1,026 birds being the final count for the year. Most of these birds were tiny hatchling, nestling, or fledgling babies found by members of the public and brought to us for care. Others were adult wild birds found sick or injured or pet birds found as strays or pet birds that could no longer be kept by their owners. We help not only non-native wild birds but also domestic and exotic birds. We are sharing with you some of our birds and are asking that you again support us and help us in 2021. We are very grateful for all the financial assistance we have received from all of you! Your donations allow us to get our birds the best of veterinary care and to see that they have the best food and housing available. Thank you!
Sky and Kiwi: These two adorable 8 month old parakeets were relinquished to us by their owner so we could find them a home where the new owner(s) would have ample time to spend with them. Sadly, pet birds that do not get enough love, attention, and enrichment from their owners can become very untame and frightened of interaction with humans. This makes for a very unpleasant life for both the bird and the human. Always be honest with yourself when thinking about acquiring a pet of any kind. If you don't have the time to interact with them, keep their habitat clean, provide appropriate food and veterinary care, please don't get the bird or animal.
Sky King: Sky King is a racing/homing pigeon that was found unable to fly by a kind member of the public. Sky King was wearing an identification band that indicated he is only a year old. Sky King encountered some type of misfortune that resulted in his left wing being badly broken. Sky King has received the needed veterinary care, but because he is a domesticated pigeon that is used to being provided food, water, and shelter, he cannot be released to fend for himself and will need to be found a home as a pet or aviary/loft bird.
Juan: Juan is a Double Yellow Headed Amazon parrot that we "adopted" from a local animal shelter. Juan was picked up as a stray and was not claimed by his owner. This particular shelter required us to pay an adoption fee of $700 for Juan. Different shelters have different policies, procedures, and fees, but most have a much more reasonable fee schedule for non-profit rescue groups! When you add on the veterinary expense to have Juan thoroughly checked and tested, Juan becomes a $1500-$2000 bird just to get started. If he proves to have major health issues, there will be additional veterinary costs. Juan does have a leg band that from the style of it would indicate that he is an older bird. Juan is not tame, he speaks Spanish, and enjoys Mexican music!
Miss Pretty: Miss Pretty is a Red Crowned Amazon parrot. She was relinquished to us by the family of her owner who had become too ill to care for her. Miss Pretty is 40+ years old, has arthritis, and was on a very unhealthy diet for many years. Her caretaker is slowly but surely getting her into a healthier diet regimen. Miss Pretty is not tame most likely due to years of not being handled or interacted with. As with Juan, Miss Pretty will require extensive veterinary work to determine what health problems she has that we will need to address.
Tater and Tinker: These two adorable nestling pigeons were orphaned and brought to us for care by a local animal control agency. When they arrived, they were too young to know how to eat on their own and were hand fed by syringe until they discovered seeds and mastered actually getting them down the hatch! Baby pigeons are extremely active and enthusiastic about being fed! These two are now healthy, self-feeding youngsters and will be released when they have honed their flying skills and are completely self-sufficient.
2020 Intake Details: As you can see from the monthly chart, we will soon be into baby bird season which is always incredibly busy! Once the first baby English House Sparrow comes in, baby bird season is officially on!