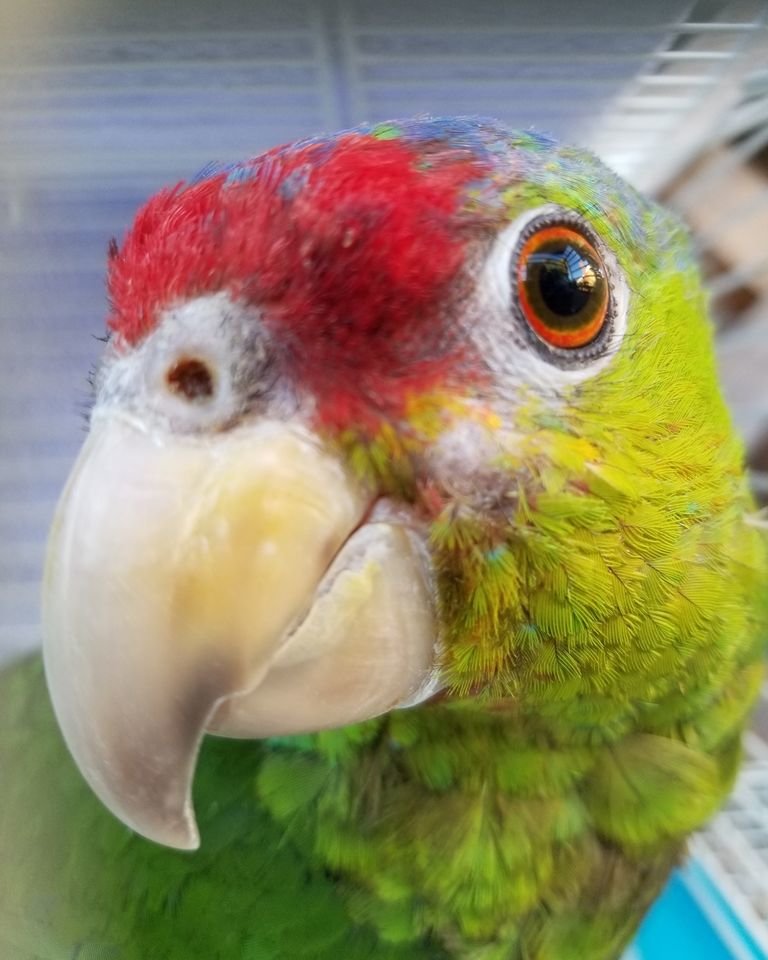 Veterinary expenses continue to be our single largest expense. In this report, we will share six of our recently rescued birds, their stories, and their veterinary expenses. Your financial support is greatly appreciated and is very needed in order for us to continue helping birds that are ill and/or injured.
Quatro is a wild Amazon parrot found with a severely injured wing that could not be repaired. A partial amputation of the wing was done by one of our veterinarians, and this surgery was actually paid for by another entity. Yay! Quatro came into our care at the request of our veterinarian as Quatro needs extensive work to get him tame and trusting enough for us to find him a home as a pet. Wild parrots are pretty fierce birds, and it takes a great deal of time, effort, and patience to gain their trust.
Silverado is a domestic pigeon that was actually living in the wild with his parents, nest mate, and two much younger siblings. Sadly, a hawk killed both parents, attacked Silverado, and left him with a very badly broken leg. Pins were placed in the leg and had to remain in place for six very long weeks while Silverado's shattered leg calcified and healed. Silverado had the pins removed last week, and we are doing some gentle physical therapy on his leg to help him regain the full use of his limb. Silverado's surgery expense was $720.00
Sky (originally called Indie) is a young Indian Ringneck Parakeet. A very kind family saw a hawk flying overhead with something blue in its talons. As they watched, the hawk dropped a beautiful little bird in their yard. They immediately rescued Sky and brought her to us for care. Sky had three deep wounds from being bitten and taloned by the hawk but somehow managed to avoid any broken bones as a result of this misadventure. Sky's wounds required suturing, and she is on pain medication and antibiotics. Sky's veterinary expenses to date are $470.65.
Rosey G. is an adult, male, feral pigeon. He is big, he is strong, and he is not keen on attention from humans. He is a very independent fellow. Rosey's feet were badly entangled in string causing the loss of all but two toes on one foot and resulting in the other foot becoming infected and immensely swollen. Kind people noticed that Rosey was in desperate need of help for his feet, but he eluded capture for more than two months. How this bird managed to cope with the enormous pain he was in is beyond us. At long last, Rosey was captured and brought to us for care. The infection in Rosey's swollen foot had already moved up that leg resulting in a full leg amputation being required. Rosey has healed well and is doing just fine getting around as a one legged pigeon. Sadly, he cannot be released but will be found a wonderful home. Rosey's veterinary expenses were $624.84.
Rojo is another gorgeous, wild, Amazon parrot. He came to us with a wing broken is such a way that it couldn't be pinned and required splinting. Rojo has had his wing splinted four times since he came into our care with the most recent being last week. As with Quatro, Rojo is being worked with to gain his trust so we can find him the right home as a pet. Rojo's veterinary expenses are $1542.00 thus far, and we're not done yet.
Qoo (pronounced coo) is a 19-year-old Blue Crowned Conure. She was relinquished to a local animal shelter by her family because they felt she was too aggressive to a human toddler in their house. She did not look entirely healthy in the pictures the shelter sent us, so we immediately took her to one of our veterinarians for an exam, baseline bloodwork, and DNA sexing. Qoo does not like hands on her or in her cage but is friendly when out of the cage on her terms. She clucks, trills, and says Coo, Coo. Absolutely delightful bird that will be found the right home for her. Her initial veterinary expense was $382.20.
All these birds came into our care within the last two months as well as many more birds. Thankfully, not all of our rescues require extensive veterinary care, but when they do, we are so grateful to have all of you supporting our birds with your donations. Thank you!