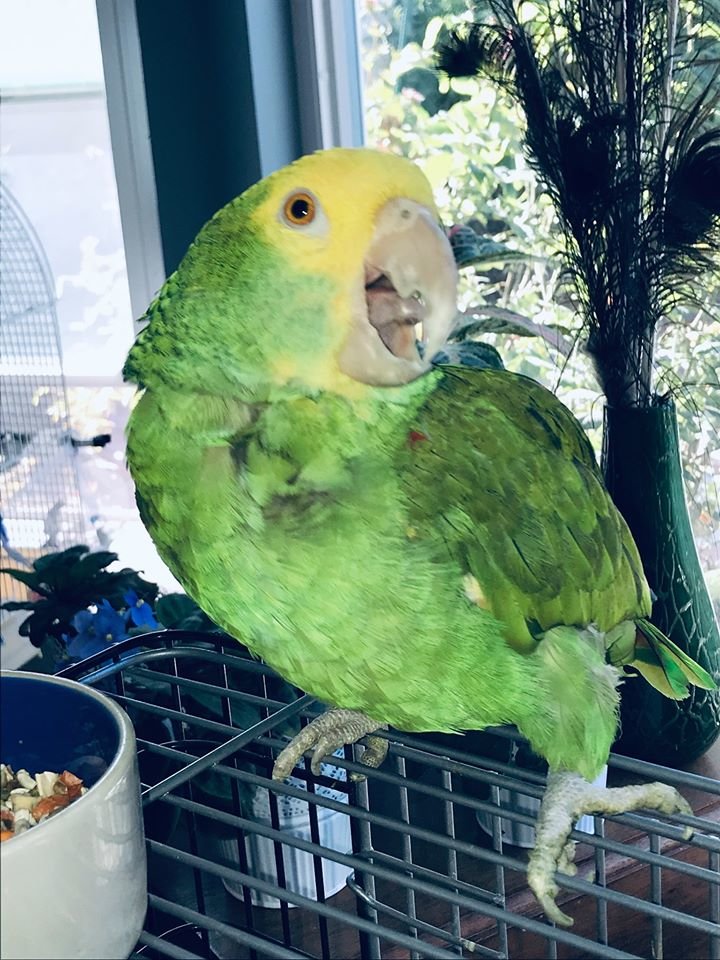 Avian Underdogs Rescue Association (AURA) is now completing our third full year as a nonprofit organization. We have suffered growing pains and paid our dues for those! We are extremely grateful to all of you who have been our loyal supporters and donors throughout! Thus far in 2019, we have assisted over 700 birds and could not have done this without you. Please continue to support us and our birds. The GlobalGiving GivingTuesday fundraiser is coming up on December 3, 2019. We hope you will donate on that date and help us earn much needed matching funds and maybe even some bonus $$!
Please meet some of our special rescues here!
Sunny: Sunny is a 19 year old Double Yellow Headed Amazon parrot that was relinquished by his owners to an animal shelter. Sunny was gotten out of the shelter by another parrot rescue organization and transferred to us. Sunny is a TOTAL LOVE! He has chronic arthritis which makes it difficult for him to stand, grasp with his feet, and perch normally. Sunny needs a special home that can address his special needs.
Diamond Jim: DJ is a Diamond Dove. Diamond Doves are EXTREMELY SMALL birds about the size of parakeets. They are native to Australia. DJ was found in someone's backyard and brought to us for care and rehoming.
The Princess: Princess is a Princess of Wales Parakeet recently bailed out of a local animal shelter. She is still in quarantine but will be availale for adoption in a few weeks.
Japanese White Eye: Now named Ema and adopted into an incredibly loving and knowledgeable home. Japanese White Eyes are not native to North America. There are a number of them living and surving in the wild in Orange County CA. Ema was found as a baby and raised by a very kind man and then on to find an incredible home as a pet.
Pin-Tailed Whyday Nestling: Pin-tailed Whydahs are another non-native species now found here in Southern Caliornia. We raise them and find them homes as pets or aviary birds.
Shakespeare: Shakespeare is a Scandaroon Pigeon. He is a show breed of bird and has been adopted into a wonderful aviary home with other pigeons.
We take in many diverse types of birds and are grateful to all of you for supporting our efforts! Thank you!