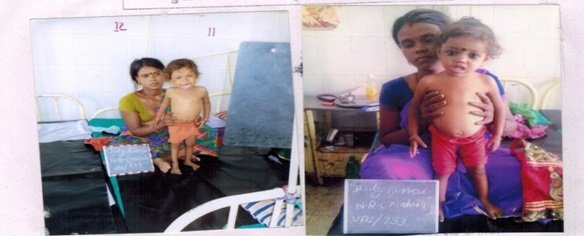 We thank all our supporters for donating towards our campaign to save the lives of malnourished children.

During the three months (1st August 2015 to 31st October 2015), 71 malnourished children were admitted (25 Boys and 46 Girls). In this particular period, we have successfully discharged 54 children. We make an effort to cure all children who are facing the problem of malnutrition.

The steps to cure a malnourished child:
Feeding of admitted SAM child (As per protocol); Feed Preparation for admitted mothers; Provision of food to mother;
Administration of Medication: Albendazole, Vitamin– A, IFA, Zinc, Folic Acid, Magsulf, Potclor; Administration of Medication: Antibiotics, Immunization etc.; Child friendly games and puzzles
Statistical analysis of: Follow up data extracted from community level. Comparative analysis of target weight status of last batches.

By following these steps, children who have achieved the target weight of 15% when discharged are asked to come for 4 follow ups to check if they are healthy or have they started losing weight.

We also have done capacity building of mothers and family on health, hygiene and nutrition in both NRC.


Impact story of a child
Name of the child – Juli
Father's Name – Munna
Mother's name – Renu
Block – Mahua
Age- 2 years
Renu Devi and her husband Munna lives in Mahua, she has only one child. There are six members in the family and only husband and wife has to take care of them. Both parents earning was very meager and could not afford a good diet. Renu's only daughter Juli was ill from a long time but due to so much of work she was unable to take care of her. Whenever Renu was asked about Juli she says, "How can I take care of my child and work simultaneously, due to this my child is always ill." With prevailed circumstances, she was in poor health and also suffered from different problems majorly low appetite and ear pain. When Asha told her about NRC then too she was not ready to come, as she doesn't want to leave her work.
Then other women of her village made her understood that she should go to NRC as her child is very ill and NRC is totally free of cost. Then Renu agreed to take her child to the NRC.
When Juli came to NRC her details were:-
Weight – 6.900
MUAC – 11.3
Zscore- <-3SD
On the first day Juli's appetite was low, and then she was given regular feed due to which her appetite started improving. After six days she started consuming mix diet and her health improved day by day thereafter. When her Grandmother came to meet her after 3 weeks she was very happy to see her and also said that if Juli would not have been brought here she would not have survived. Today Juli is healthy.
At the day of discharge:-
Weight – 7.950
MUAC – 12.3
Z Score - <-15D


What do you think of our initiative? Your thoughts will help us grow.