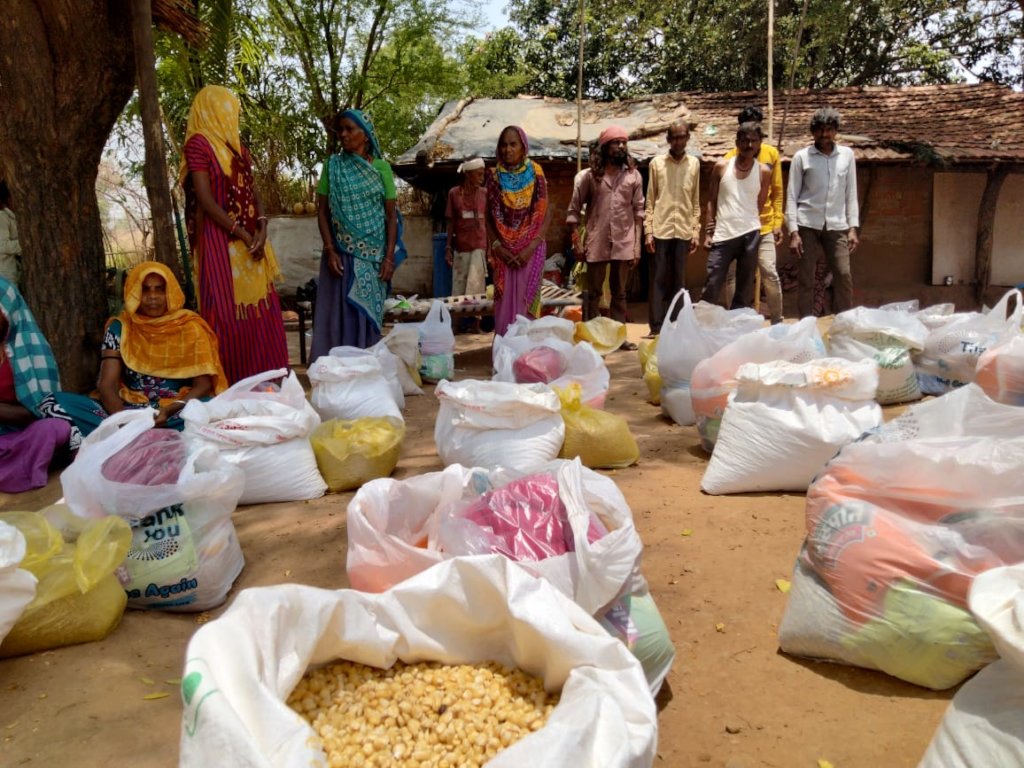 The second wave of Covid magnified the impact on rural communities. Those on the margins, who had barely started tying some threads were once again faced with a situation, more complex than before. Contact with community leaders & institutions, Panchayats and local Government about the local situation brought out the despair and dismal situation in rural Gujarat. In the second wave, Utthan applied its learning's from the first wave response while combatting the challenges of its own team affected by Covid and impacted by the loss of near and dear ones. RCRC Survey[1] of January 21, showed that in Gujarat the number of HHs earning less than Rs.5000/month had increased from 49% to 73%, amongst the 3 highest increases across 11 States. In our work areas 38% households were still cutting back on food consumption in coastal districts and 25% in tribal districts. The situation of work under NREGA brought out from a 53 village Utthan survey in 1st week of May 21, showed that NREGA works had been initiated only in 30% villages. SHGs and group processes had broken down in the face of COVID and the aftermath of Cyclone Tauktea, loss of livelihoods resulting in loss of savings, non-repayment of existing loans; so, these options for credit support were not available to women farmers.
Utthan efforts to respond to the situation
Immediate Humanitarian response: Food and rations were ensured for 380 families. Approx. 3 lakhs for food, masks and other essentials in the very initial stages.
Community Awareness and Counsel across 250 villages through a pool of 15000 community leaders (men and women leaders/groups, youth leaders, teachers, Panchayat, Talati, ASHAs, anganwadi workers, other contacts). 5,00,000+ persons were influenced on their rights and entitlements. Digital dissemination, spiraling of information when people gather at Ration Shops.
Village level strategy formulation & Support to Panchayats: Support in listing status of reverse migrants, ensuring check-up of those returning. Status of 309 migrants was listed along with Panchayats & ASHAs and referred for medical checkup. Authorities were contacted for the release of 50 quarantined fishermen from Mahuva after due process. In 60 villages across tribal and coastal areas, accompanied ANM, ASHAs, sanitary inspectors to build awareness and monitor the situation.
Facilitated access to announced Government reliefs and monitoring its implementation through information sharing and advocacy to strengthen the voices and needs of the marginalised affected by Covid at the Policy level. Monitoring the implementation of Central & State Government relief packages and Facilitating possible interventions was done through detailed analysis of the access of food basket & Anna Brahma Yojna in 120 villages with positive outcomes of district level advocacy.
A Quick Survey in 100 villages of Utthan's work areas in five districts in early May 21 built clarity and guided our response. Along with Utthan's data, ground reports from Rapid Rural Community Response to Covid 19, a coalition of nonprofits of which Utthan is a member, highlighted the huge challenges that confront rural India; providing suggestions on how to respond to the second wave of COVID-19 https://idronline.org/responding-to-the-second-wave-of-covid-19-in-rural-india/. Utthan's 100 village survey

[2]

on Impact of Covid 19 & 20 village Death dipstick survey as part of RCRC, brought out
Utthan's survey to assess the impact of Cyclone Tauktea which severely hit coastal Bhavnagar, Amreli & Bharuch districts of our work area was taken up in 35 villages (Joint Rapid Needs Assessment

[3]

as part of the collaborative, Inter Agency Gujarat) helped Utthan bring out the emergency needs of communities and present to Govt.
31 team members of Utthan & Community Fellows were trained online, to better understand the disease, prevention, care and response - for careful roll out in collaboration with Healing Fields Foundation

[4]

. It also coordinated the training for 118 team members of RCRC Gujarat member organisations as well.
Awareness on Covid appropriate behaviour through Community influencers – 1000 Covid response volunteers from 106 villages further trained.
106 villages were provided with basic safety and diagnostic equipment like oximeters and thermal guns & training on their use."With these equipment's we feel safer in discharging our duties. Earlier we were given equipment but then they were taken back." Local Government health workers
Gram Panchayats were supported to understand the concept of activating Covid Community Care Centres and strategizing around it. However, the demand generation and confidence building for use of these Centres remained a challenge.
Utthan provided multiple relief support to emergent needs and Intermediate support to Social Solidarity Enterprises to build resilience in 235 villages on the principles of its People to People Social Solidsrity Enterprise model over the 1st and 2nd wave
- 170 women farmers from whom grains were purchased for the ration kits made an income of Rs.15,09,000. Comparatively, women got a 16% benefit by selling at their farmgate with no worry of drudgery and price negotiations. This amount was thus infused back into the local economy, into women's accounts.
- 7805 kitchen garden relief partners supported another 23000+ families through sharing of excess vegetable produce in first phase and the 2075 partners in second wave are expected to share with 6000+ families.
- Rs. 5,11,835 was earned by involving 67 women in masks production
- Approximately 70% of kharif support relief partners of first phase returned double the seeds provided as relief. Decentralised Seed banks were set up to store these seeds for next season. 800 of the women farmers provided Kharif crop seed & input were supported through the seed return back from 1st wave support wherein relief partners returned double the seeds provided as relief into decentralised Seed banks. It is expected that women farmers supported in 2nd phase will similarly return double the seed quantum as solidarity to continue this cycle.
- 1300+ families were supported to access multiple Government Schemes
- Work to support survivors of violence was continued by the Justice Committees of Federations. 16 interviews were specifically done with different categories of women to build our own understand of the impact of Second wave of Covid on Women & Girls and accordingly devise strategies.
Utthan's networks helped several coordinated efforts on ground and in dialogue with stakeholders esp. Govt. Close connect was maintained with RCRC esp. for coordinated efforts, learning and exchange, advocacy on covid impact on rural India at national level and Gujarat chapter level. Three rounds of intensive data collection for Multi state surveys to Monitor rural lives during the pandemic as part of a national network, Rapid Rural Community Response to Covid-19 (RCRC) to inform our work and various stakeholders in addition to Utthan's own surveys. Positive discussions were held by RCRC Gujarat with the Nodal person Covid response, MoHFW. Utthan also came together in the Inter Agency Group, Gujarat for Joint Needs Assessment in the aftermath of the Cyclone. Meeting with the TDOs were held to understand Govt.'s action plan who shared that their assessment of damage is ongoing. Efforts through WGWLO & MAKAAM strengthened responses with women farmers.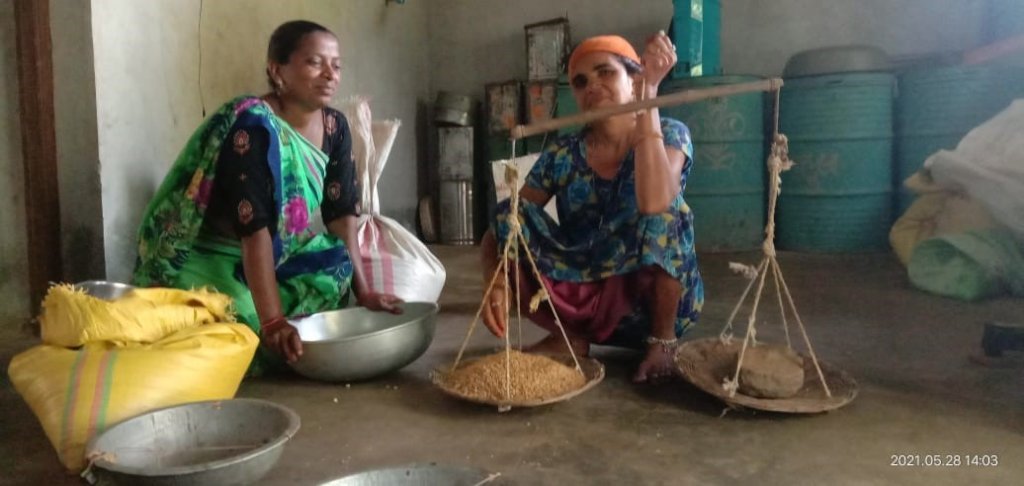 Links: