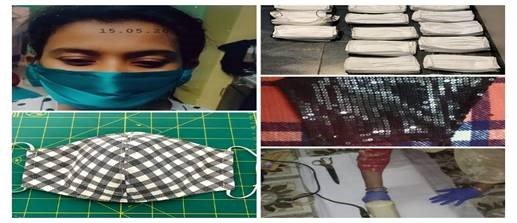 2020 has been an unprecedented year for all humanity and an extremely difficult time for the underprivileged and underserved. Many businesses have closed, people have lost their jobs and livelihoods - many even family members. The after effects of the pandemic will endure for years – but it's our sincere prayer that we have collectively used the time to better ourselves, and others in the process. For us at Animedh Charitable Trust (ACT), it has been a time of reinforced rigor and passion to give and ACT to make an even bigger difference. Thanks to the fantastic and relentless support of our team, donors and sponsors, we continue to look at the positive side of things. Life is beautiful, all we have to do is look. As I reflect on our 2020 journey, I would like to share some highlights that make us grateful and blessed.
Rukhsar and other warrior artisans made life saving masks
Covid 19 pandemic proved to be the darkest period that stretched over several months, during which ACT artisans and their families were struggling to cope . In Rukhsar's words, our Jogeshwari centre artisan, " I am deeply grateful to ACT for my tailoring skills training, which enabled me to get orders for mask making and could work from home, keep myself & my family safe and manage my household expenses, solely from my income. I also worked with other ACT artisans and in all we made more than 33000 masks that kept thousands of people safe and protected. " Bravo, Rukhsar and all our warrior artisans, so proud of each one of you!
This year, we redefined our Mission statement to encompass what we do and how we intend to make a difference: Animedh Charitable Trust (ACT) acts to make a difference in the lives of vulnerable children, youth and women in underserved communities by:
Fostering individual capacity through building self-awareness, personal development, education and livelihood skills;
Facilitating knowledge, resources and crucial linkages to enable the individual's empowerment and progress;
Contributing to a resilient, sustainable and just society for all.
With that intent, we worked on these crucial thematic areas and impacted lives as given below:
Children's Education (3500 + children)
Skills Training & Livelihood Empowerment of Women (3000+)
Water & Hygiene Solutions enabling livelihood for Women (35000+)
Early Childhood Development & Disabilities Support (150 + children and families / care givers)
Adivasi community based Mental Health & Well-being Services (1000 families-1500 children, 1000 youth and 1200 women)
With 50+ staff and field personnel, our team works very passionately and is committed to the above mission.
ACT is registered with the Mumbai Public Trusts Act, 1950 and also under IT Sec 12 AA and Sec 80G which permits donors to avail 50% tax rebate. We are also registered under FCRA. Our transparency pledge is, 'We will do what we say and say what we do' and you will witness this on our website as well as social media.
We shall be ever grateful for your support and shall utilize the donation funds on the thematic area of your choosing from above, towards creating a positive impact in society through our endeavors with underserved children, youth and women.
This week is our biggest fundraising moment of the year. It's when we launch the 'Act to Make a Difference' campaign that brings in donors who will propel us into 2021 and beyond. You are one of our loyal donors and so I am reaching out to you once again. Please consider making a donation to a vertical of your choice by clicking on the link above and do forward to your friends and colleagues who may be as generous as you.
All of us at Animedh wish you and your loved ones a healthy and peaceful holiday season and a happy 2021!
Warmly,
Nivedita Desai – Managing Trustee