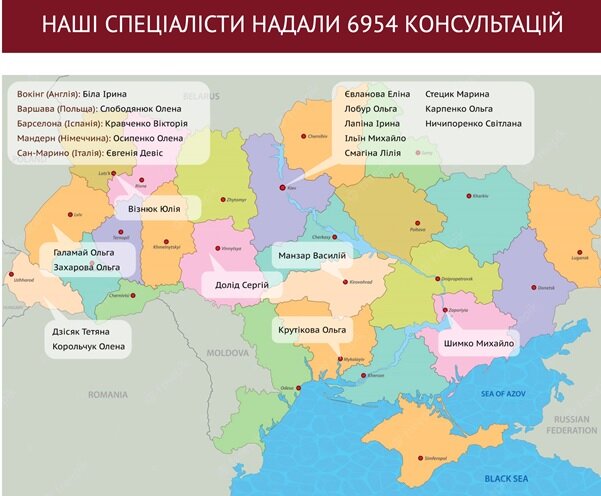 Since the beginning of our project, we have helped numerous Ukrainian refugees and forcibly displaced persons. Our colleagues are working both in Ukraine and other countries in European Union. In total, 6954 consultations.
Trust is very fragile, so we strictly adhere to ethical standards in working with each client because the effectiveness of crisis work depends on this. We know how difficult it is sometimes to open up and talk about your problem to a psychologist, especially given the numerous publications in the mass media covering the details of the personal lives of victims of mental or physical violence. We will not evaluate the actions of the people responsible for the distribution of such information but will only remind you of some principles of our work:
all information obtained in the process of crisis work with the client is not subject to either deliberate or accidental disclosure without the consent of the client himself;
every conversation or correspondence, including through messengers, remains only between the specialist and the psychologist; documentation of the work of psychologists contains only professionally necessary materials, and access to these materials by outsiders is excluded;
the psychologist does not collect additional information about the subject without his consent and works only with the information necessary for the performance of his professional task.
Crisis work in a technogenic or natural disaster, terrorist attack, war, epidemic, or another mass phenomenon must be subject to public interests and the general organization of the system of assistance to victims and eliminate its consequences. Therefore, the order of assistance to victims and issues of protecting their lives and health must comply with legal norms and established requirements of organized authorities (military, civil, emergency, other). These are important organizational aspects that, if not observed, can harm someone in dire need of help. As for the activities of crisis psychologists, the legal component of this process, as well as the observance of safe conditions of their work and the necessary results, must be ensured by the established form of organization of the professional society to which they belong.
We have all encountered war for the first time, adjusting our lives and organizing our activities under martial law conditions for the first time. It is a complex, responsible, and variable process, but we know why we are doing it. The war forces us to speed up and sometimes hastily make decisions; however, there are unshakable postulates in the work of each specialist that cannot be violated, and we adhere to them without exception.