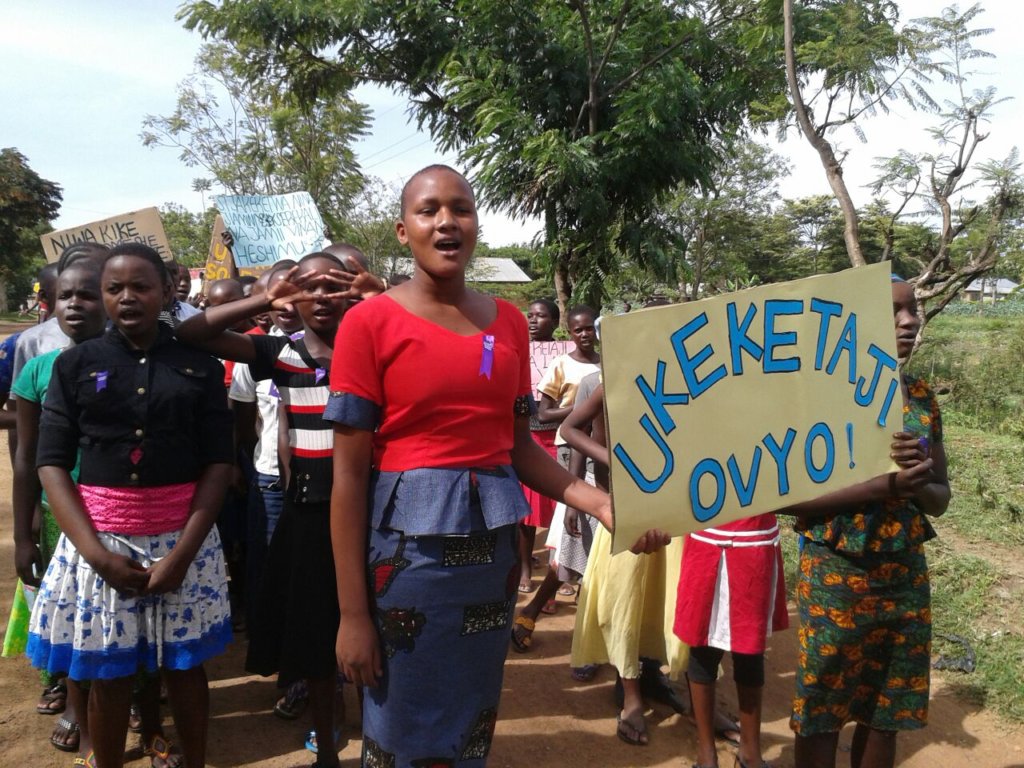 WE ARE NOT VICTIMS! WE ARE GIRLS WHO SAY NO TO FGM! WE REJECT FORCED EARLY MARRIAGE! WE HAVE A RIGHT TO GO TO SECONDARY SCHOOL!
On March 8th, it will be INTERNATIONAL WOMEN'S DAY and this month also we are taking part in GlobalGiving's 2017 Girl Fund Campaign and any kind donations made to our project up to March 13th could qualify us for additional funding. We are also hoping to demonstrate the Effectiveness of our Project.
Our girls will be marching through Mugumu on March 8th, holding banners saying "Get rid of FGM", "Our bodies are our own", "We have a right to go to Secondary School". Last year our procession was led by our then youngest girl, Lucy* aged 10, and this was her story:
"I was in Standard 3 when my father tried to force me and my sister aged 12 to be cut and ready for marriage. My eldest sister who was already cut advised us not to accept. She told our neighbour who took us on his motorcycle to Masinki village where we found a Safe House volunteer. We are happy because the Safe House helped me and my middle sister to continue with our studies. I am in Primary School Standard 4 now, and my sister has started Secondary Education." Lucy's sister is one of the girls in the attached picture, very proud of her new uniform and setting off to secondary school for the first time. (*Name changed to protect her identity).
My wife and I have just returned from the Safe House- an inspiring and heart-warming visit. We were privileged to meet these strong and determined girls and young women, each of whom has made her own decision to reject what they see as the old-fashioned and harmful customs of their people. But in making that decision they have known that they may have to face beatings, hostility and emotional blackmail from their parents ("You know we are poor. The man who will marry you will give 10 cows! 10 cows! Think what that would mean to our family). On Sunday 29th January, Mama Rhobi our Project Director, took me to visit a village, 40 km from Mugumu, called Maji Moto (literally 'hot water', named after local thermal springs). The Land Cruiser took 1½ hours over rocks I never thought a vehicle could manage to reach it. Then Rhobi told me that this year's youngest girl, just 8 years old had walked from Maji Moto to Mugumu. What a child!
It was a very great pleasure to be able to go and thank supporters of the Safe House and Vocational Training Centre. This year the police, led by Commander Matthew Mgema have been quite superb and very active in arresting the cutters in the villages. Another star is WPC Sijali. She comes from the local Kurya tribe herself and speaks KiKurya (the tribal dialect) and is able to explain their duties to parents who are weak in Swahili, the national language, and who also may be illiterate. We were also glad to thank the excellent committee from the local Mosque, which has provided food and soap for girls, irrespective of faith. Indeed, the wonderful co-operation between Christians and Muslims is a mark of Tanzanian society, which believes in 'UMOJA' – Unity. It's a lesson to us in the West.
Two years ago, GlobalGiving made a special grant for the food-growing project at the Safe House. This is going very well, led by Mama Bibi, a trained horticulturalist. Some more land has just been acquired, and now, to everyone's relief, that the rains have come, the crops are growing well. They make an important contribution to the girls' diet. Thank you, Global Giving.
It was my 74th birthday, and the Safe House girls and staff gave me a great party, but it was also an occasion when I could present a plaque which will hang in the new Dining Hall which Global Givers have helped to build. It records thanks to all Global Givers, and some by name. To all of you I say a big ASANTENI SANA- Thank you very much!