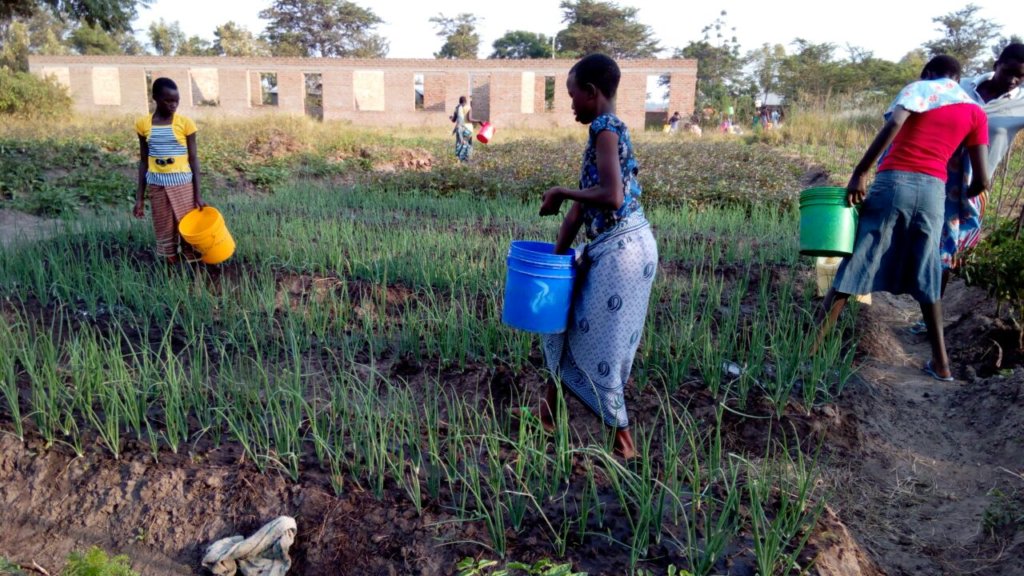 Dear generous Global Givers
WE HAVE DONE IT! Thanks to your wonderful giving and the very kind support of some major grant-giving Trusts, we have now raised enough money to complete and equip the Dining Hall and Kitchen and probably to construct the perimeter fence as well- I say probably about the fence, because I'm waiting for the response of a major safari lodge operator, which will, I think provide any balance needed. In the photo above you can see some of our girls in the vegetable garden and behind the new block which is up to lintel level. At the beginning of this month we sent £10,000 (nearly $13,000) and we shall send the same again as soon as it is needed. A large team of builders is working on the project, and I anticipate rapid progress in October and November so that the rooms are habitable by the start of the 'cutting season' in December, even if some finishing remains to be done. The start of building was greatly delayed by heavy rains in the early part of the year. Rhobi Samwelly, the wonderful Director is such a good manager, planner and exhorter of the builders, that if anyone can get it completed in time, she will!
A Canadian documentary film maker, Giselle Portenier (look her up on Google) has been at the Safe House this past week and said ; "Rhobi is among the most inspiring wonderful women I have met in my lifetime."
If you have been a regular supporter of this project and would like to have your name recorded on a framed notice in the Dining Hall, please email me at TanzDevTrust@gmail.com. Likewise if you would be happy to have your picture there, then please email me a head and shoulders passport type photo, but looking happy!. I feel I have come to know many of you over the past years of sending you thank you letters. If you decide that you want now to stop supporting this project and to direct your giving elsewhere, the Safe House team and I thank you very, very warmly for your generous support.
ON-GOING SUPPORT
The Safe House and its attached Vocational Training Centre (VTC) need a team of staff. The VTC currently offers training in tailoring, computing and horticulture, but these courses do not yet reach the level that would allow them to be certificated by VETA, Tanzania's Vocational Education Training Authority. It is hard to retain high quality staff without providing accommodation. But if Global Givers continue to support the Safe House, it would certainly be possible to rent housing for maybe 3 staff or more. We are also applying to a Global Women's NGO for support to enhance the staff salaries above the minimum paid now. The purpose of all this is to enable 'our' young women to fulfil their role as independent, income-earning adults, able to occupy responsible administrative, commercial or political posts. In this way they'll be able to influence decisions on behalf of women and girls and serve as role models for the community; and when they marry to be better mothers, providing for the personal needs of their families and lifting their aspirations.
One of our team is at the Safe House now and another is going in November. My wife, Ann and I will follow in February, so it should be possible to provide some good up to date information and pictures and to refine future plans.
Finally, A BIG, HEARTFELT THANK YOU from all the Girls, and the Safe House Team in Mugumu and the UK.