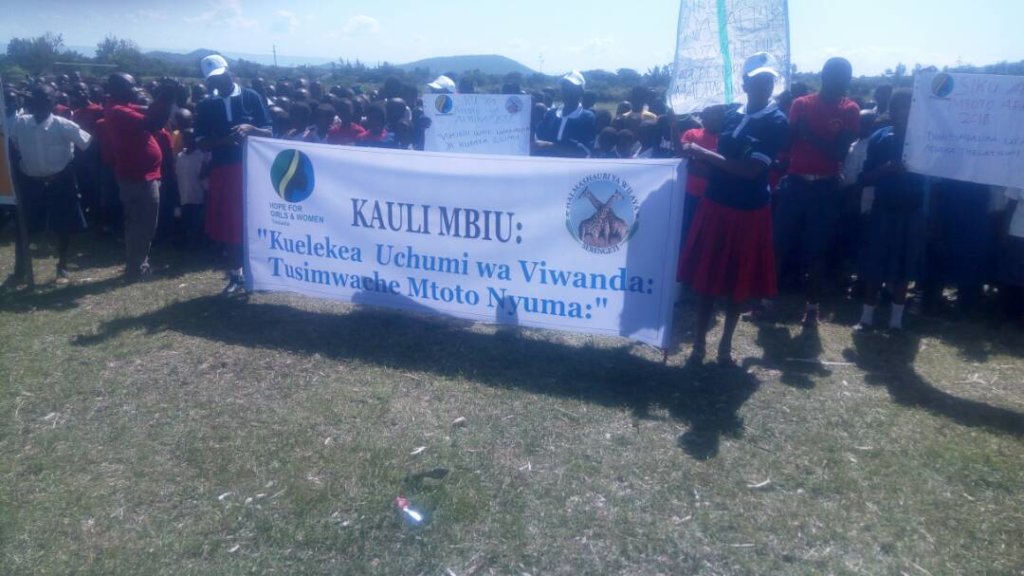 We are delighted that the UNFPA have decided to award Rhobi's organisation Hope for Women and Girls a capacity building grant so that she can deliver a text based FGM reporting system in time for the major cutting season expected in December. This will be pilotted in Butiama District with the full cooperation of the governement officials there and assistance from UNFPA. The idea is then to roll it out more widely the following year.
The support from UNFPA comprises a grant of $20,000 to enable Hope to publicise the new system with outreach work in each village with roadshows, drama presentations and debates. At these they will also put up posters in the schools, clinics and village offices detailing how the public can report FGM, as well as distribute mini postcards. Hope will also organise various radio adverts alerting people in the weeks leading up to the cutting season, and also warning about the illegality and dangers of FGM more generally. Radio adverts and shows are a really good way of reaching many people in this area where very few people have electricity or tv.
Furthermore the grant entitles Rhobi and her staff to access a wide range of training, mentoring and support, and is of course an endorsement of her work as an anti-FGM activist over many years. So well done Rhobi!
In further good news the film about Rhobi In The Name of Your Daughter will be shown at a VIP screening hosted by the European Union and attended by representatives from the Ministry of Gender, the Police Department and many NGOs, and also at the Zanzibar Film Festival. We are hoping this will really maximise its impact. It will be shown on the BBC and other international TV stations later in the year, dates yet to be confirmed, and we are hoping to arrange screenings in villages in Serengeti before the cutting season too.
Last month Hope participated in the Day of the African Child celebration, and 6 girls were sponsored by NOMAD to visit their tourism facilities to learn about careers in tourism. They have also offered to sponsor girls into a vocational course on this - so many thanks NOMAD.
So thank you again for supporting Rhobi's FGM work in Tanzania. If you would like more frequent updates about her work please follow Hope on Facebook, Instagram or Twitter and their blog.
With gratitude
Janet