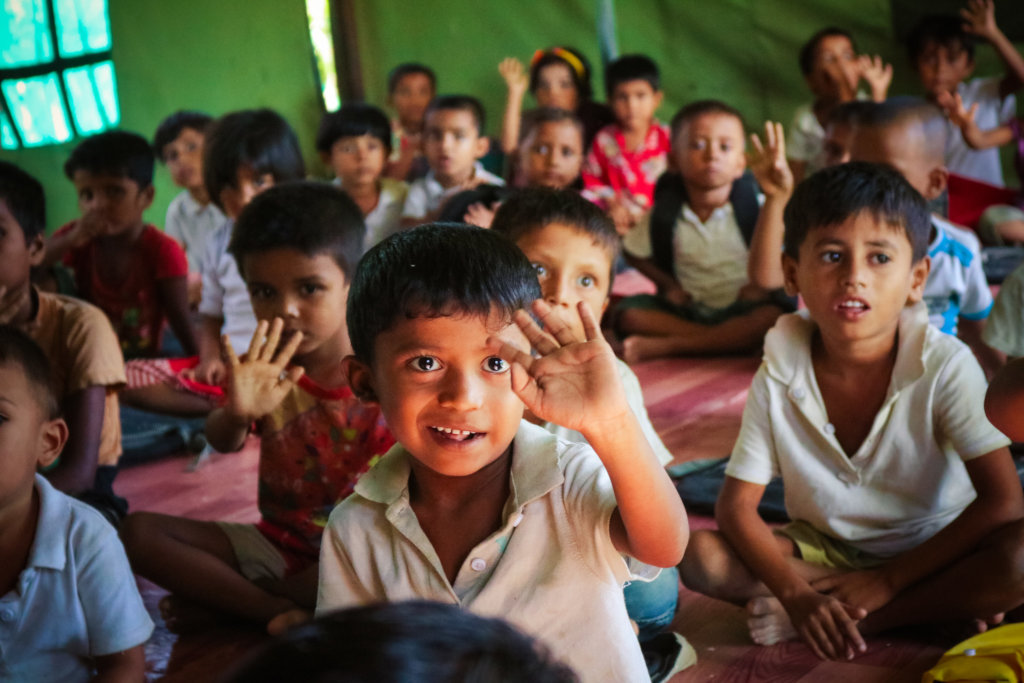 The Rohingya crisis is one of the biggest humanitarian crises of this century. The government of Bangladesh has already taken many initiatives to secure the lives of one million Rohingyas who have been staying here as refugees for the past three years. Amid all this chaos, maybe we are forgetting that a whole new generation of Rohingya children has been missing out on their childhood. They have hardly got any incentives for a good life, let alone education facilities. For introducing them with a better childhood, JAAGO Foundation started its Safe Haven Project (SHP) for Rohingya children back in 2018. JAAGO has always visioned of a better tomorrow, where every child will get a chance to fulfill their colorful dreams, no matter what background they come from.
The Safe Haven Project aims to provide these disenfranchised children with a safe abode, where they can heal from the trauma of this genocide, where they can experience a normal childhood; where they can participate in various social activities & learning processes.
Who are the Rohingya people?
The Rohingya are an ethnic group from Myanmar, the majority of whom are Muslim, unlike the other Burmese people, who mostly practice Buddhism. They lived in the northern part of the Rakhine State for generations. In the 2014's census in Myanmar, they were not officially recognized as an ethnic group and hence are not eligible to call themselves as the citizens of Myanmar.
As their legal rights were clearly declined by the state, gradually they became subject to different types of exploitation & abuse such as human trafficking, child labor, child marriage, gender-based oppression, etc. In August 2017, the armed conflict ensued in the Rakhine state, which ultimately turned into a massive genocide and forced the Rohingya to leave their motherland to save their lives.


Rohingya Children: Scapegoats of this crisis

Rohingya children are described as some of the most marginalized on the planet. Approximately half of a million are children in the refugee camps, who have already witnessed a ruthless genocide in such an early stage of their life. Many of them came here alone, witnessing the murder of their dear ones right before their eyes. They were severely traumatized and were in need of immediate medical attention. Later various organizations came forward to help these children heal from their bloody experience. JAAGO's Safe Haven Project had a similar motive as well.
75% of the newborns are delivered in unsafe and unsanitary shelters. Most of the children suffer from communicable diseases such as diarrhea and respiratory infections. Acute malnutrition and lack of proper medications are some of the obstacles there to a healthy generation. Most of them are deprived of access to formal education or vocational training and are subject to neglect, abuse, sexual violence, early marriage, etc. These children need your constant love and support to move forward and have a normal life, which Safe Haven is committed to providing them with.
JAAGO's Contribution: The Safe Haven Project (SHP)
Back in 2018, JAAGO felt the importance of creating a safe platform for Rohingya children, suffering from the acute post-traumatic stress disorder. And that's how the Safe Haven Project started its journey. Now it is providing support to 500 children in Kutupalong camp, where there are 244 boys and 256 girls. This project consists of carefully designed learning processes, suitable for kids living amid such crises and proper counseling to alleviate or counteract post-traumatic stress disorder.
This project focuses on boosting trauma management, cognitive understanding, emotion regulation, social skills development, conflict resolution, and diligence. Ensuring personal protection and proper hygiene lessons are also part of day-to-day activities.
Safe Haven also provides these children with counseling to support their different psychological needs. The goal is to make them feel safe and become a child again. A counselor visits the camp once in a month to have private sessions with the children. Also, local Rohingya staff have been employed to engage with them.
Safe Haven Project during this Pandemic
For the last 5 months, all the learning centers were closed due to the Covid-19 pandemic. The Kutupalong camp was sealed off and all the activities were suspended except food distribution and medical facilities. But our teachers have been in touch with their students and made sure everyone is staying safe. Currently, we are collecting data and making a plan to implement the 'Tel-Ed' program into the camp.
Our government has already enabled a 3G/4G network there. So now we are planning to introduce an online teaching-learning process over there after getting approval from RRRC. This process is safe, cost-effective, easy to implement, and has a wonderful monitoring system developed by JAAGO. But in order to introduce this interactive, blended online teaching-learning process over the camp, we need to digitize our learning centers first.
Our partners and donors previously helped us provide nutritious food to the refugees and immunize them with vaccination. So we are hopeful that you will extend your helping hand this time as well, to resume our educational activities under this program.
Gratitude Note
The goal of our project is to provide the Rohingya children with a safe abode, where they can experience a normal life again with the help of proper counseling and quality education. This journey couldn't have been possible without our patrons, NGO partners, corporates, donors, and well-wishers who have been our companions in the path of fulfilling this dream. Thank you for your generous support to our Safe Haven Project, which has been able to put a smile on the faces of 500 Rohingya children. We would love to express our appreciation on behalf of them. Our current activities still require a lot of support and we are on the way to developing the project even better. So we sincerely request our well-wishers and donors to keep supporting us. Your help and support have always inspired us to move forward and do better.