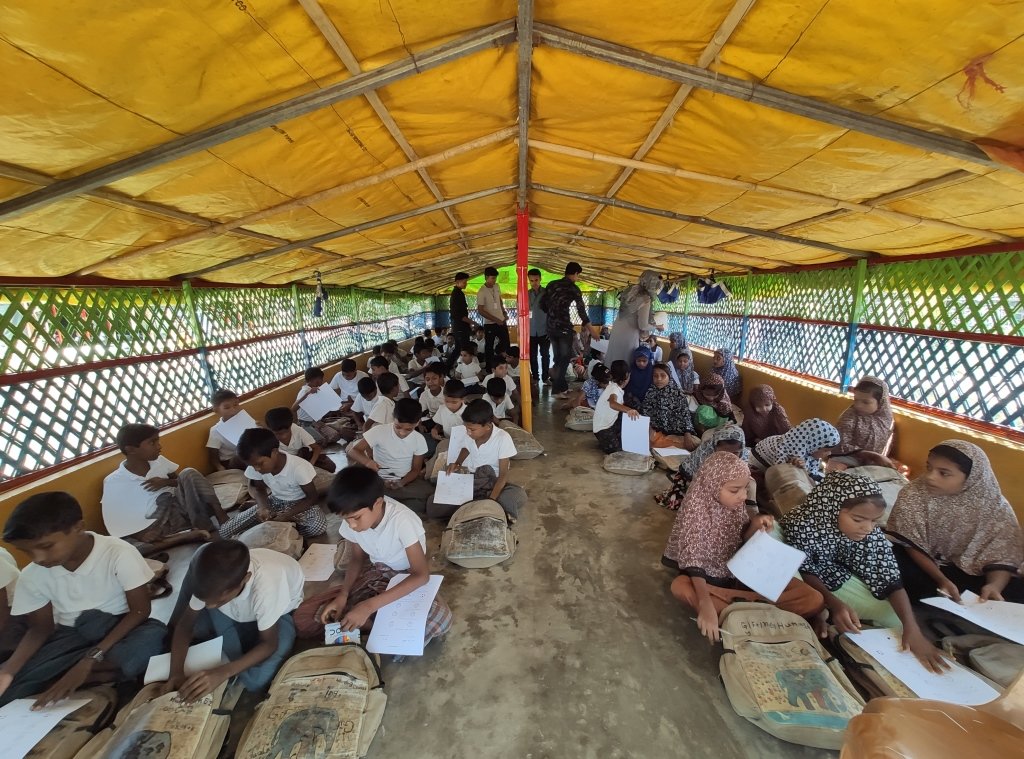 For the last three years, stateless Rohingya refugees have been focusing on solely the aspect of survival. According to a UNICEF report, more than 900,000 stateless Rohingya refugees living in the camps of the Cox's Bazar district in southeast Bangladesh have been in shortage of basic nutrition, health care, water, sanitation, hygiene and most importantly, education.
Intervention of a number of UN agencies and international organizations has undeniably upgraded the recovery process of the Rohingya refugees. New infrastructures, toilets, food, water have been ensured for a large part of the population who fled persecution and violence in Myanmar. Yet the root cause of the violence that affected the lives of these refugees remains unresolved. The refugee crisis crosses the second year and it is very well understood that the children and young people are considerably more vulnerable and they both want and need more than just survival. Conditions have not been established that would allow the refugees to return to their homes. As a result, the Rohingya refugees will remain in Bangladesh for the immediate future. The gap in their education will certainly create obstacles for them in future. JAAGO Foundation's project "Safe Haven for Rohingya Children" is working to provide them a sense of stability and protect them from the suffering of the violence and trafficking they have faced at a very early age.
Infrastructure development for the children
The Rohingya in Myanmar are either confined to camps or live in partially destroyed villages, denied the opportunity for work, formal education, and freedom of movement. Monsoon season is now underway, introducing the threat of cyclones to an already vulnerable population. So authorities in Cox's Bazar are turning to a new solution to ease the suffering of refugees: infrastructure.
The living conditions were unbearable in the Rohingya camps in the beginning. They lived together in a "mega-camp"consisting of temporary houses, built with materials that were available at the crisis period i.e., bamboo and tarpaulins. The emergency management of the camp rapidly turned it into a highly congested space with no proper facilities such as water or electricity. In the Safe Haven camp, we have been working on constructing a proper classroom and stable environment for the children. During this quarter, we have been able to construct proper classrooms, including white board and library and also install solar panels in the camp in order to receive adequate electric supply.
Evaluating the progress of their knowledge
The Government of Bangladesh does not permit providing regular education curriculum for Rohingya refugee children and without adequate support, children face the prospect of growing up without an education and without the means to process the horrific events they have lived through. In order to improve the level of the education for the Rohingya children, we try to deliver quality English, Mathematics, Burmese, Art and General Knowledge based on the UNICEF recommended curriculum. While concluding the 2019 session we have taken assessments of the children to evaluate their development throughout the year. We have divided the children into 4 different age groups starting from 4 years and above. Compared to the progress of last year, in 2019 they have done much better on average.This explains that not only do children benefit from the daily opportunity of learning; they are also much able to express themselves through writing, drawing and also have the opportunity to enjoy being children.
Doze of Immunization to ensure good health
Cholera is an extremely virulent disease that can cause severe watery diarrhea. It takes between 12 hours and five days for a person to show symptoms after ingesting contaminated food or water. Cholera affects both children and adults and can kill within hours if untreated.
A multifaceted approach is the key to control cholera, and to reduce deaths. A combination of surveillance, water, sanitation and hygiene, social mobilization, treatment, and oral cholera vaccines are used. Despite the progress and efforts made by humanitarian agencies to improve water and sanitation conditions in Rohingya camps, cholera remains a concern. Oral cholera vaccination is the most effective way to protect such a large section and reduce the risk of disease outbreak. In December 2019, World Health Organization (WHO) declared that more than 6,35,000 Rohingya refugees and Bangladesh host community will be vaccinated against cholera in a month-long campaign. This is the 5th round of cholera vaccination since they arrived in Bangladesh in 2017. With the support by the Ministry of Health and Family Welfare, World Health Organization, UNICEF the children in our Safe Haven camp also received cholera vaccination to protect them from this acute diarrheal disease. This campaign was monitored by Ministry of Health and Family Welfare (MOHFW), Office of the Refugee Relief and Repatriation Commissioner (RRRC), WHO, UNICEF, UNHCR, International Centre for Diarrhoeal Disease Research (iccdr,b) and other partners.
Thank You Note
We are very grateful to the donors of this project as they are not only helping these young minds to germinate, but also paving a way for their better future. Our current activities still require a lot of support and we are on the way to develop the project even better. We have come a long way, but our ambitions are high and we aspire to build capacity of these young migrant children and provide ventilation to them through the power of education and extra-curricular activities. We sincerely request our well-wishers and donors to keep supporting us!