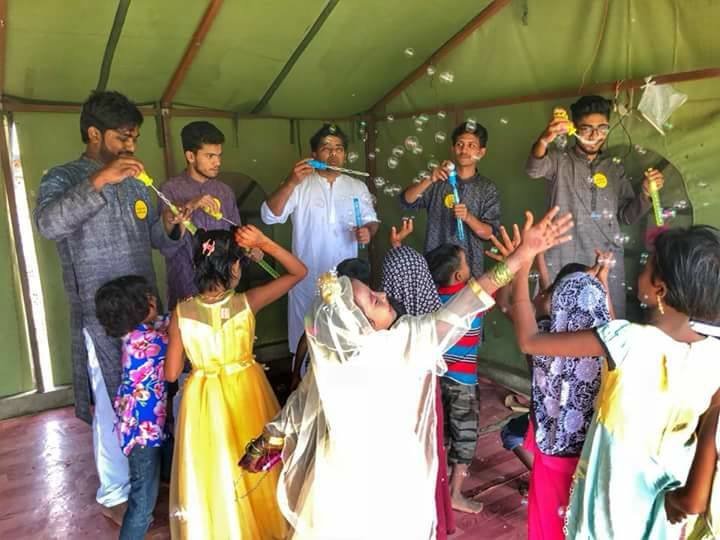 Cherishing Hopes for a Glance of Silver Linings
The early stage of every human's life is very significant because it's the best time of learning. This is the time when we go through the mental growth that determines our future paths. Childhood means simplicity, when children's perspective remains so naïve that they can look the world in a different view and sees the beauty in everything. Unfortunately, the children of Rakhaine State of Myanmar had gone through a terrible traumatic experience from very early stage of their life.
The Safe Haven Project (SHP) aims to support the physical and mental wellbeing of these disenfranchised children by providing them with a safe space where they are engaged in regular childhood social experiences, learning, and emotional healing. Through the Safe Haven Project, JAAGO is serving upwards of 500 Rohingya refugee children per day. JAAGO has undergone training in crisis-learning from supportive international organizations, as well as trauma-therapy techniques to administer to the children for their emotional and mental wellbeing. Additionally, local Rohingya support staff has been hired to engage with the children.
Spreading Happiness on Sacred Occasion of Eid
As a part of Trauma management, JAAGO's Founder Mr. Korvi Rakshand went to Safe Haven for Rohingya Refugee Children at Unchiprang, Putibonia, Whaikkong, Cox's Bazar, Bangladesh to celebrate Eid Ul Fitr 2018 with the rohingya children. We cater 500 girls and boys at the Safe Haven where they had been provided gifts, clothing, meat, rice, sugar, semai etc. on the sacred event of Eid. It was the first Eid for these children in Bangladesh after they fled horrors of ethnic cleansing. They deserve to have a proper celebration just like you and me. Your contribution on our project enabled us to make this visit and bring a little smile on these innocent children's faces.
Improving Skills for Sustainable Learning
Dream is a word, which has different meaning to different people. At our Safe Space, dream is something which pushes them to survive and get back to their homeland with an assurance of safety. Though our facility is not a formal education center, we have designed a curriculum which enables these children to learn basic Math, English etc. We welcome volunteers from different places of the world so people get to know what they are going through. Recently, some volunteer from Singapore visited Rohingya kids along with some friends to spend time with these children and conducted a workshop for teacher and kids on basic Math, English and Arts. The kids had an excellent time with the group as they had quality time with physical activities and rhymes. Finally, they had been distributed raincoats and stationery which will useful for them in upcoming days.
Ensuring Nutrition's, Cleanliness and Hygiene Practice
The Safe Space for Rohingya Children gives them assurance of safety from the horror they faced on their homeland. But they are facing challenges such as lacks nutrition, safe drinking water, cleanliness challenge etc. We have ensured tubewell facility, some nutrition boost etc. but to ensure these dire needs, we are looking to raise funds for these basic needs.
Life at Rohingya Camp
Story of Humaira
Age-10
JAAGO's Safe Haven for Rohingya Refugee Children
Previous story:
During influx, Myanmar army looted and burned her village. She saw army dragged one of neighbor outside and took her away with them. Her neighbor was gang raped and later killed by Myanmar army. It increased huge panic in the surrounding place. Then people started fleeing in Bangladesh. One day, her father was working in their farming field, suddenly, he was shot and killed by the army. Army snatched her family's belongings as well. She was studied in grade 4 during influx. She was taught English, Burmese, and Arabic in school. There were a separate classroom of regular studies and a separate classroom for athletics. Her teachers were supporting to them as well and now; she is missing them a lot. Army sometimes attacked their schools as well and separated older girl students from everyone, then took them to a second location to gang rape them. Among those girls, her elder sister was there who was studying in grade 10. After series of rape and different physical abuse, soldier dropped her in the house. One of her uncles was shot and killed in front of her eyes when they trying to cross the Naf river on the way to Bangladesh. During their painful journey to Bangladesh, they did not have enough money to cross Naf river by boat, so they made the journey by barefooted.
Present Story:
When she came to the camp-22, unchiprang, teknaf, nothing was too easy at the camp. She saw her parents to struggle a lot to collect food, clean water and also making a shelter for them. They always feel unsafe at the tent because of their fear and some other incident happened at the camp. When her family member sent her to the safe haven she was so scared, the fear always working in her mind that, she was experienced back in home. At first, she doesn't want to come to the safe haven. When we talk to her parents and knowing her story we made a plan for her that she can bring her younger brother as well with her at the safe haven then she agreed to come. And now she feels the most safest place at the camp is safe haven.
Thank You Note
It is with the utmost sincerity that we convey our gratitude to the national and international sponsors, corporate partners, donor agencies and supporters from various fields. Without their contribution and support, this journey would not have progressed and prospered in changing lives of these unfortunate children. We requests them to continue providing their irreplaceable support to this humanitarian cause, so that we can ensure each child can overcome this trauma with the help of JAAGO's Safe Haven for Rohingya Refugee Children.