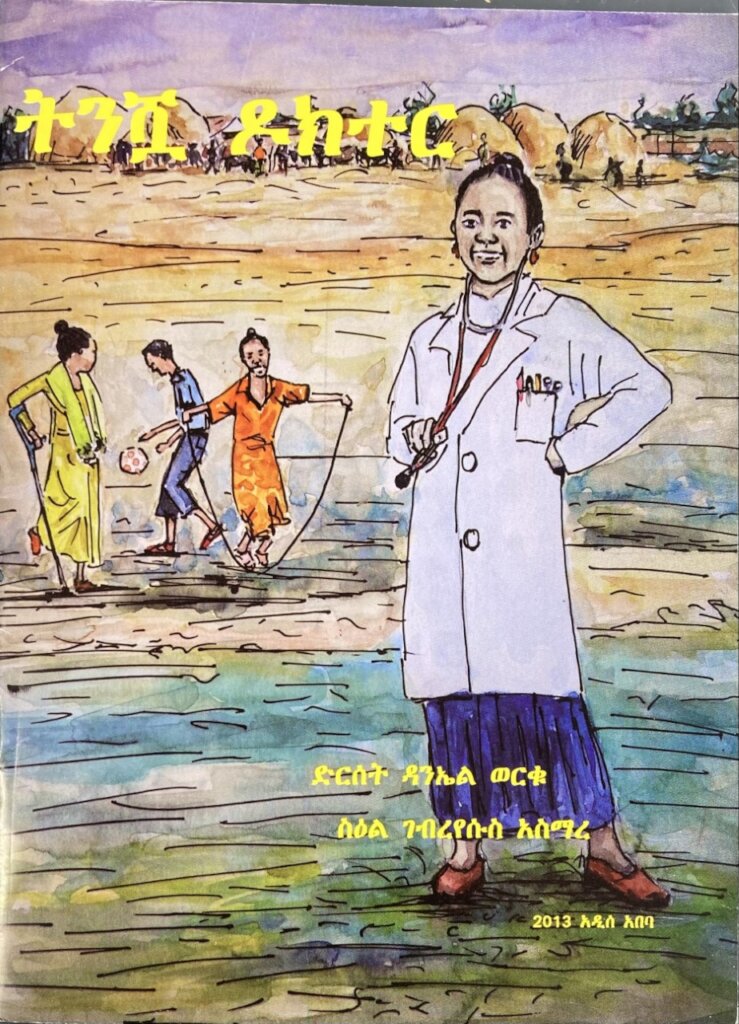 In Ethiopia as in much of sub-Saharan Africa, high blood pressure is a common health problem. Which, if untreated, leads to severe illnesses including heart disease, stroke and kidney failure. Although the THET Ethiopia NCD Alliance (THENA) is involved in the effort to screen individuals for high blood pressure, a big problem is persuading patients to attend the clinic and take their treatment. Many patients abandon the clinic for a variety of reasons; there is a strong preference for traditional healers and the use of herbalists, holy water and the like.
Story telling is a traditional and well-established way of communicating ideas in Ethiopia. WIth your generous and unwavering support, we commissioned the production of a short story written by the well-known Ethiopian author Daniel Worku (one of the country's foremost children's authors), and illustrated by an Ethiopian artist Gabreiyesus Asmare.
Our objective was to produce a short, illustrated book (see picture 1) aimed at 10–14-year-olds - the next generation who are now in school, are about to join the workforce, and assume some of the caring responsibilities for older family members. This generation will also be that from which the next group of health workers will be recruited.
In producing this story our aims were for it to stand on its own by having a multiplicity of layers/strands that deal with aspects of life that are relevant to this age group; things such as the tension between tradition and modernity, gender differences and tensions, generation gaps and more. Needless to say, the message regarding the perils of ignoring the modern medical clinic is clearly articulated in the story and runs throughout it. We worked to produce a story that is indigenous in topic, and composition. With the hope that it might be adopted as such and be propagated, in time, from within the community itself. The aim is that the message embedded by us is not one that competes or contradicts indigenous cultural ways and beliefs.
Having produced the book the next step is to gauge responses of both children and parents. This is underway, by Tsion Afework of Addis Ababa University and Daniel Worku, the book's author. So far, we have done a public reading at a book fair at the Addis Ababa Exhibition Centre (see picture 2) and plan readings at I Care Ethiopia (a charitable organisation that provides homeless mothers with children with childcare day provision and assistance in starting up new small business enterprises), and within several private homes where there are children of the target group. After readings there will be discussions led by Tsion Afework (see picture 3). These discussions will be directed at getting a sense of the audience's understanding of the story, the variety of topics involved and whether the story - text and illustrations - is one that engaged them to want to read it again and pass it on.
We are keen to see how the embedded message regarding the dangers of ignoring what the modern clinic has to offer is received.